HCM City to implement third relief package worth 7.3 trillion VND
Ho Chi Minh City will carry out the third relief package worth 7.3 trillion VND (around 320.7 million USD) sourced from the local budget to help more households and informal workers affected by the COVID-19 pandemic, said Vo Van Hoan, Vice Chairman of the municipal People's Committee.
Speaking at a press conference held by the city's Steering Committee for COVID-19 Prevention and Control on September 20, Hoan said given complicated developments of the COVID-19 pandemic in the city and prolonged social distancing, people face more difficulties due to job loss and having no income.
Therefore, in addition to the social security relief packages of the city's Vietnam Fatherland Front Committee and other organisations and individuals, the municipal People's Committee continues to implement the third relief package to help ease difficulties for local residents.
According to reports from the People's Committees of districts and Thu Duc city, there will be about 53,483 poor and near-poor households with about 210,178 people and a large number of migrant freelancers. More than 7.3 million people need assistance.
The package will be implemented on the principle of continuing assisting poor and near-poor households and workers in difficult circumstances who have been supported in the first and second packages as well as adding new cases who need help. Each person will receive 1 million VND.
"The ultimate goal of the city is to provide support in a practical, fair, transparent and inclusive way to the most difficult persons," Hoan said.
Therefore, he said, it was necessary for local authorities to ensure no duplication or omission happen in the distribution of the relief aid, adding that the payment of relief funds should not discriminate between permanent and temporary residents./.
Former director of Transposition classical music cooperation project dies 
Geir Johnson, formerly the head of the Vietnam-Norway classical music cooperation project Transposition, has died, aged 68.
Transposition was founded in 2006 and actively operated from 2007 to 2015. It involved collaboration between Vietnamese music institutions and Norwegian ones and was largely financed by the Norwegian Government.
During this period many notable productions were staged in Saigon by the HCMC Ballet, Symphony Orchestra and Opera (HBSO), one of the music institutions involved, under the umbrella of Transposition. They included the ballets Nutcracker, Cinderella, and Coppelia, the operas Dido and Aeneas and The Magic Flute, plus many others, and a large number of concerts.
Some of the ballets were originally choreographed in the early days by the Norwegian choreographer Johanne Jakhelln Constant, and then frequently revived.
Transposition was suspended in 2015 following a change of government in Norway, and the dramatic decline in the value of the Norwegian currency. Johnson always hoped it could be revived.
In 2015 he edited a book Vietnam Overtures on the history and development of Transposition.
Geir Johnson led a very full life as a composer, writer, performer and project organizer. He composed over 60 works, including Silent Spring for string orchestra, commissioned and performed by the Vietnam National Symphony Orchestra (VNSO) in 2014. He also wrote choral works, song cycles and string quartets. He published articles in more than 100 periodicals worldwide, and wrote novels and short stories.
He founded Norway's Bergen National Opera, and when Transposition started work was the director of the Ultima Oslo Contemporary Music Festival.
His musical work wasn't entirely confined to classical music. He was briefly a member of a rock band, and in 1993 composed Sentimental Journey for orchestra, in homage to the Beatles drummer Ringo Starr.
Transposition was also involved in exchange programs. Taken almost at random from many such exchanges, in May 2010 oboist Do Kien Cuong from the HCMC Conservatory and horn-player Kim Xuan Hieu from the VNSO went to Norway as visiting students of conducting, while in November of that year Swedish guitarist Magnus Andersson conducted master classes for guitarists at the HCMC Conservatory for the second time.
In 2015 Geir Johnson was awarded a medal by the Ministry of Culture, Sports and Tourism in Hanoi in recognition of his work with Transposition.
Johnson began his performing life early, as a boy soprano. Once embarked, he never stopped. Earlier this year he told me he was preparing a sound installation on an island just outside Oslo in commemoration of an order of nuns who lived there 400 years ago, was organizing another piece about the Swedish king Karl VII, and also arranging performances of a song-cycle he had written for his wife.
In 2010 he wrote "Since 2007, Transposition has transferred knowledge between the partner institutions through concerts, workshops, residences for students and performers, musical education, development of archives and libraries, documentation and instrument maintenance."
Transposition means a change of position and the consequent adoption of a new perspective. Both Vietnam and Norway, it was envisaged, would benefit in this way from their cooperation, and so it proved. Geir Johnson will be sorely missed by all who knew him here in Vietnam.
PM orders establishment of hotline 019 – No COVID of Vietnam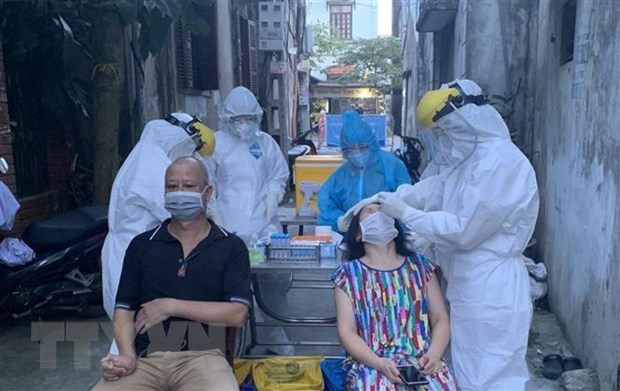 Medical workers take samples for COVID-19 testing in Hanoi's Long Bien district.
The Government Office has issued an official dispatch conveying Prime Minister Pham Minh Chinh's instruction to set up hotline 019 – No COVID of Vietnam.
To step up the application of information technology in the fight against the COVID-19 pandemic, PM Chinh asked the Minister of Health, in coordination with relevant ministries and agencies, to establish the hotline and submit to the World Health Organisation (WHO) for global use.
Vietnam recorded 8,681 new COVID-19 infections, including 13 imported cases, in the past 24 hours to 17:00 on September 20, according to the Ministry of Health.
The number of domestic cases was 8,668, down 1,357 infections as compared to the previous day. It also marked the lowest number of daily infections over the past month.
The country has to date logged 695,744 COVID-19 cases, ranking 47th out of 222 countries and territories worldwide in terms of infections per one million people./. 
AmCham calls on US President to donate more COVID-19 vaccines to Vietnam

The American Chamber of Commerce in Vietnam (AmCham) has written to US President Joe Biden, seeking more COVID-19 vaccines for Vietnam.
The chamber acknowledged and appreciated the more than 110 million doses the United States has sent to nearly 60 countries worldwide, including five million Moderna doses and one million Pfizer doses to Vietnam.
It was also grateful for the cold storage facilities and tens of millions of US dollars of other pandemic-related support donated by the United States.
In recent months, Vietnam has endured a severe outbreak which has triggered difficulties for millions of people as production has slowed down or been suspended throughout the supply chain.
Meanwhile, Vietnam accounts for nearly a third of the United States' footwear manufacturing and a fifth of the apparel manufacturing by US dollar value.
For example, more than half of Nike's footwear manufacturing is in Vietnam, while Gap and Lululemon each rely on Vietnam for a third of their manufacturing.
The suspension of factories in Vietnam has threatened global supply chains and added to a long list of challenges that US brands face in delivering goods at reasonable prices ahead of the upcoming holiday shopping season.
Getting people vaccinated is the key to getting things back to normal. AmCham's members believe that the increasing donation of COVID-19 vaccines from the United States to Vietnam will not only help fight the pandemic in Vietnam but also benefit the American people as millions of American workers are directly dependent on suppliers having a healthy workforce.
The donation will also help save lives in Vietnam and their livelihoods, which will support the United States' continued economic recovery. Therefore, AmCham called on the United States to quickly donate its excess vaccines to Vietnam.
The United States has been the largest donor of COVID-19 vaccines to Vietnam with six million doses.
RMIT University to represent Vietnam at ASEAN Data Science Explorers Regional Finals
Team Dastronaut from RMIT University Vietnam will represent the country at the virtual Regional Finals of ASEAN Data Science Explorers (ASEAN DSE) 2021 slated for October 6, 2021.
The team came first at the ASEAN DSE 2021 National Finals held online recently. It was followed by two teams from the British International School, and Foreign Trade University and Vietnam National University. The three winners were judged based on their ability to design a best all-round concept that tackles ASEAN socio-economic issues, driven by data insights. The judging criteria look at the creativity, feasibility, innovation, and the team's ability to demonstrate the solution's implementation.
Team Dastronaut comprises Phan Le Minh An and Vuong Anh Chien, whose project is aimed at revolutionising urban waste through a combination of mandatory rules and incentives to promote trash sorting habits from residents, setting up an e-commerce waste app – where companies can log in and purchase waste products as input materials for their manufacturing process.
Amid the ongoing COVID-19 pandemic, ASEAN DSE continues to equip youth across the region with essential digital skills by organising its key activities, such as enablement sessions and data analytics competitions, virtually. Running for the fifth year, ASEAN DSE has a renewed focus on sustainable development goals (SDGs) that target climate and sustainability.
In addition, the programme has also collaborated with non-governmental organisations (NGOs) in ten ASEAN countries to deliver in-person enablement sessions to youth with limited access to technology and youth with disabilities.
Speaking at the national finals, Ambassador Nguyen Hai Bang, Permanent Representative of Vietnam to ASEAN, said that ASEAN DSE is a learning platform for young people, helping them hone important skills of the 21st century such as digital science, creativity, teamwork and effective communication, and leveraging these skills to deliver data-driven solutions to help ASEAN overcome socio-economic challenges and achieve the United Nations Sustainable Development Goals./. 
Hanoi hospital given support to treat critically-ill COVID-19 patient
Early last month, Hà Nội's Thanh Nhàn Hospital for the first time used Extracorporeal membrane oxygenation (ECMO) to treat a critically ill COVID-19 patient.
The patient, Hoàng Văn Ngọc, 48, from Hoàng Mai District, was placed on ECMO for two weeks after all other forms of heart and lung support failed. Ngọc recovered from COVID-19 and was discharged from the hospital a few days ago.
"His recovery is a source of happiness not only for himself but also Thanh Nhàn Hospital's health workers, particularly those who directly provided him with whole-hearted medical treatment and care," said vice director of the hospital Nguyễn Thị Lan Hương.
Hương said that Ngọc's recovery was a motivation for the hospital's medical workers in treating COVID-19 patients.
When using ECMO to treat Ngọc, Thanh Nhàn Hospital's doctors received professional support from their colleagues at leading hospitals including the National Hospital for Tropical Diseases and Bạch Mai Hospital, Hương said.
"When Ngọc was placed on ECMO, health workers were at his bedside almost all the time, closely caring for his breathing and monitoring his blood," she said.
ECMO works by temporarily drawing blood from the body to allow artificial oxygenation of the red blood cells and removal of carbon dioxide with a machine.
Doctor Lê Văn Dẫn, who directly provided Ngọc treatment, said that the patient was transferred to Thanh Nhàn Hospital on August 3.
"He is young, does not have any underlying health conditions but his COVID-19 development turned critical very fast," Dẫn said, adding that medical techniques like dialysis and a high-flow nasal cannula (HFNC) failed.
"As Ngọc quickly suffered respiratory failure with serious lung damage, we decided to use ECMO for him on the night of August 8 as the last hope to save him," said Dẫn who is deputy head of Thanh Nhàn Hospital's Intensive Care Department.
"It took more than three hours to place the ECMO on him. However, after that, the oxygen concentration in his blood was low and kept decreasing," he said, adding that medical workers had to stay next to him all the time to adjust the machine and ensure sufficient oxygen supply.
"Three days later, Ngọc's condition started improving with increasing oxygen concentration," Dẫn said.
"Despite Ngọc's improved health indicators, doctors worried as his lung injuries were already in the stage of solidified lesions and fibrosis."
"We continued to use the ECMO and adsorption systems with aggressive therapeutic measures. Gradually, the patient's condition showed signs of improvement with improved oxygen index and more stable blood pressure. We had to gradually reduce sedation to assess the patient's consciousness and movement of his hands and feet," Dẫn said. 
"This was the time we could see the patient's chance of survival," doctor Dẫn said.
Ngọc said that recovering from COVID-19 was like being born for the second time.
"I could not remember clearly how I was taken to Thanh Nhàn Hospital. At that time, I could hardly breathe. It was like someone was holding my nose tightly," he said.
All he could do at that time was to try to inhale deeply as per doctors' instructions.
"I told myself to keep trying, following doctors or I would die," he said, adding that at some moments, he was unable to get any oxygen.
"When I felt I could not go on anymore, I gave up. I was lying quietly, motionless, but in my mind, I thought about my death," Ngọc remembered.
As soon as Ngọc fell into a coma, he was provided intensive care and placed on ECMO.
"When I woke up after the coma, I was so happy to see everything and people around as if I started a new life," Ngọc said.
A few days later, he said that he still had difficulties breathing and he had to practise daily with support from medical workers.
His health condition started to improve. He felt much better with his breathing becoming regular.
Ngọc tested positive for SARS-CoV-2 with a very high viral load after spending 12 days in a concentrated quarantine area in Thanh Trì District.
Ngọc was taken to Đống Đa District Hospital for COVID-19 treatment. After only two days at the hospital, he was transferred to Thanh Nhàn Hospital as he had strong reactions to SARS-CoV-2 with breathing difficulty, respiratory failure and lung consolidation. His computerised tomography (CT) scan results at that time showed that 80 per cent of his lungs were damaged. Before getting COVID-19, Ngọc reportedly had no underlying medical problems.
Returners from HCM City face difficulties finding jobs at home
Many people are facing difficulties finding a job in their hometowns in the poor central highlands localities after returning from the southern region due to the recent Covid-19 outbreak.
According to statistics from Gia Lai Provincial Department of Labour, Invalids and Social Affairs, some 17,000 people have returned to the area from southern localities in recent months. Most of them have completed a quarantine period for Covid-19 prevention and have started seeking jobs.
Puih Bia, 21, returned home to Pleiku City in the Central Highlands Province of Gia Lai two months ago after her company suspended operations due to the latest Covid-19 outbreak in the southern Binh Duong Province. She has failed to find a job at home while her small savings are running out.
"I've contacted and sent applications to many companies here but some said that they had no plans to recruit more workers while the others told me to wait," Bia said." Many companies said that they even had to reduce the number of employees due to financial difficulties and shortages of orders caused by the pandemic".
H'Luong, 25, also returned home in Gia Lai Province's Grai District after losing their job in the Covid-19 epicentre of HCM City over a month ago. After completing a quarantine period for Covid-19 prevention, H'Luong contacted some acquaintances and firms in the area to seek a job but it seems not promising.
"I moved to HCM City to seek a better life a year ago because I had no farmland and nor good job opportunities here in my hometown," H'Luong shared. "But the virus outbreak forced me to return home as the cost of living in HCM City was too high. Now the situation here is even worse due to the pandemic. I can only hope that the pandemic will soon be brought under control so I can return to HCM City again."
In Gia Lai's neighbouring province Dak Lak, over 80,000 people of mostly working age have also returned from some southern provinces in recent months.
H'Nhip in Krong Ana said that she had worked at a garment company in Dong Nai Province for ten years before returning home in July following the virus outbreak.
"Dak Lak is also reporting more infections in recent days," she said. "There's little hope of a job here and I'm living on my savings but at least I don't have to pay the rent and the food here is also cheaper. I'll return to Dong Nai to work when the pandemic is controlled."
According to a representative from Dak Lak Provincial Department of Labour, Invalids and Social Affairs, Tran Thi Minh Ly, there was now high demand for jobs in the area from people who have returned from southern localities.
"We've tried to connect with local firms and organise nine career fairs to help arrange jobs for these people but it is impossible to deal with this huge number," she said.
Meanwhile, authorities in Gia Lai Province expect that returning workers can find suitable jobs when the coffee harvesting season nears. The province has a total 80,000 hectares of coffee and is facing difficulties hiring temporary workers from other localities due to social distancing rules for Covid-19 prevention. 
Deputy PM inspects COVID-19 prevention and control in Dong Nai
Deputy Prime Minister Vu Duc Dam on September 20 had a working session with leaders of the southern province of Dong Nai on COVID-19 prevention and control.
At the working session, Secretary of the provincial Party Committee Nguyen Hong Linh said Dong Nai has implemented social distancing measures for two months and 11 days.
According to the official, if the restrictions persist, local people, businesses, and authorities will face many difficulties. As the province has a low vaccination rate, the reopening might make the disease spread but restrictions will lead to exhausted resources.
Linh said vaccine is key to regional economic connectivity in the time to come and proposed increasing vaccination rates of localities in the region to ensure the connectivity taking place smoothly and safely.
He added that Dong Nai prioritises good treatment of COVID-19 patients, zoning areas where COVID-19 cases are detected, and granting autonomy to enterprises for their sustainable and safe production.
Concluding the meeting, Dam stated the Government will prioritise vaccine distribution for Dong Nai, other localities in the Southeast region, and western provinces.
He agreed with Dong Nai leaders' opinions on letting enterprises and people be active, responsible and creative in pandemic prevention during the reopening period. He also noted that it, however, does not mean that the authorities will loosen its management.
Dam requested Dong Nai follow COVID-19 prevention and control regulations, particularly in testing, contact tracing, and treatment, ordering the work to be suitable, creative, cost-effective, and safe./. 
Singer Y Jang Tuyn dies of COVID-19
Singer Y Jang Tuyn, 42 years old, famous vocalist from the Bana ethnic group passed away this morning after a month of COVID-19 treatment.
The singer's nephew Thảo An shared, the family is waiting for the cremation procedure to receive his ashes.
Tuyn had a history of high blood pressure, treated COVID-19 at the field hospital No 13 in mid-August, then transferred to Chợ Rẫy hospital on September. In the first two weeks, he was in good health, can communicate with people via text messages. However, the situation worsened, he had to breathe with an ECMO machine.
Before testing positive for COVID-19, the male singer celebrated his birthday through a livestream. Y Jang Tuyn sang for the fans for three hours straight and encouraged everyone to be optimistic and love each other to overcome the difficulties of the epidemic.
Y Jang Tuyn was born in 1979. He represents the class of modern Central Highlands singers who want to break through the familiar path by choosing diverse music genres.
In 2016, he released the album One Week Seven Days, which includes songs of various genres such as pop ballad, dance, funky and latin.
The Central Highlands singer won the third prize of Sao Mai contest in 2001, the third prize of Television Singing contest in 2003. He is a member of the Việt Nam Musicians Association, Việt Nam Journalists' Association, Hồ Chí Minh City Music Association, and is currently a music editor of The Voice of Hồ Chí Minh City People.
He released many albums such as Nẻo quê (2005), Thirsty (2006), Nostalgia for the Plateau (2013), We Marines (2013), Hoan ca mùa xuân (2015), Homeland paintings (2015).  
Previously, many Vietnamese artists also died of COVID-19 and left endless grief for audiences across the country such as Cải Lương artist Bạch Mai, singer Lệ Thu, painter Lê Thánh Thư, Rocker Trung Thành Sago, Cải Lương artist Kim Phượng, singer Phi Hải, Meritorious Artist Khải Hoàn. 
4,000 foreigners vaccinated in Hanoi
About 4,000 foreigners in Hanoi were vaccinated against the COVID-19 pandemic from September 15-18.To fulfil the target of administering COVID-19 vaccines to all of foreigners living, studying and working in Hanoi, Hanoi has instructed the medical centre of Nam Tu Liem district to prepare for the inoculation.
 
The medical centre of Nam Tu Liem district has coordinated with the 115 Emergency Centre and Hanoi International Friendship Hospital JSC in the preparation work.
The vaccination has been carried out at the My Dinh National Stadium in My Dinh 1 ward, Nam Tu Liem district.
 Since the fourth wave of the pandemic broke out in Vietnam late April, Hanoi recorded 3,901 cases, of which 1,597 cases were detected in the community./. 
Hanoians flock to the streets after social distancing
Hanoi's streets have become crowded after the city removed travel restrictions from 6 am on September 21.
Vice-chairman of Hanoi People's Committee Chu Xuan Dung said the social distancing period in Hanoi had ended and Hanoi would continue easing restrictions on businesses and various activities.
"Hanoi will not divide major red, yellow and green zones and travel permits inside the city will be scrapped. There won't be any new administrative procedures for individuals, businesses and organisations," he said.   
At 6.30 am, thousands of people flocked to Nguyen Trai, one of the main streets leading to the city centre, causing minor congestion. Nguyen Xien Street also saw similar scenes and congestion occurred on Lang Street at 8 am. Police were sent out early to regulate traffic.   
According to the Hanoi Department of Health, 19 districts and towns reported no new community cases from September 6 to 15.
During the fourth Covid-19 wave from July 29 to September 20, Hanoi reported 3,925 cases including 1,598 community cases and 2,327 cases in quarantine centres.
Efforts made to bring special Mid-Autumn Festival to kids amid COVID-19
Many children in Ho Chi Minh City, the country's coronavirus epicentre, have enjoyed a special Mid-Autumn Festival this year despite social distancing regulations thanks to joint efforts of authorities, organisations and volunteers.
In the past three days, the dormitories of migrant workers in Son Ky, Tay Thanh wards in Tan Phu district; Tan Nhut, An Phu Tay wards in Binh Chanh district; and Hiep Phuoc Industrial Zone in Nha Be district have been full of the sounds of happiness with children's laughter.
Youngsters celebrated their Mid-Autumn Festival with mooncakes, milk, small boxes of candy and biscuits, as well colourful paper lanterns. These are in gift packages for the full-moon festival local authorities, youth unions and benefactors, in the costumes of Hang Nga and Uncle Cuoi, the two traditional characters of the festival, presented to children in the city's pandemic-hit areas.
Nguyen Thi Tuyet Thu, a migrant worker in Son Ky ward in Tan Phu district said it had been a long time since she last heard the sound of children laughing.
"I thought everybody was busy putting the pandemic under control and would ignore the children's festival," she said.
Tuyet Mai, another migrant worker in An Phu ward in Thu Duc city, said the pro-longed social distancing has put her family and neighbours in serious financial difficulties.
"Having the gifts on this occasion is really meaningful and special for us. It has brought joy to the children and made us feel warm in these really hard days," she said.
The city's Department of Labour, Invalids and Social Affairs showed that the department, in cooperation with the city's Fatherland Front Committee and the Youth Union, has presented gift sets worth 300,000 VND (12 USD) each to disadvantaged children in seven social welfare centres and 40 dormitories in the city.
Tran Thi Kim Thanh, head of the department's Office for Child Protection, Care and Gender Equality, said this year's Mid-Autumn Festival was very special due to the complicated developments of the COVID-19 pandemic and social distancing.
She said the department as well as local authorities, mobilised teams to visit and give moon cakes and lanterns to children in special circumstances, children of migrant workers who were seriously affected by the COVID-19 pandemic, and children in field hospitals and quarantine sites.
The department also called upon organisations and individuals to donate online learning equipment and textbooks to children to help them get back to school, she said.
Under the programme jointly held by the city's Youth Union, the city's Fatherland Front Committee, the Department of Labour, Invalids and Social Affairs, and the Ho Chi Minh City Women's Union, a total of 5,000 gifts, 1,300 sets of textbooks, learning equipment, and 50 scholarships worth nearly 2.5 billion VND (109,120 USD) have been presented to disadvantaged children and those who are receiving treatment against COVID-19 in the city.
Van Thi Bach Tuyet, deputy head of the National Assembly delegation of HCM City said during her visit to the city's Children's Hospital 2 and the Field Hospital No11 that this Mid-Autumn Festival, children would not celebrate as usual due to the social distancing regulations, but joint efforts of social organisations, charity groups and benefactors have contributed to caring for disadvantaged children, helping them to overcome this difficult period.
The Khan Quang Do newspaper collaborated with the Sharing group, and presented gifts to 1,000 children with cancer, HIV, and children infected with Agent Orange, as well as orphans in the city.
A further 5,000 gifts were given to children infected with COVID-19 and children whose parents are infected with COVID-19. The gifts were donated by the municipal Party Committee's Mass Mobilisation Department, the Vietnam Youth Social Work Centers, and the Vietnam Young Doctors Association.
Dr Phuong Vu, from the Social Work Department of City Children's Hospital, said many parents who were taking care of children at the hospital could not hide their tears of happiness when seeing the bright smiles after days of fighting with illness.
Y Ngan, a migrant worker at Tan Thuan Processing Zone, said she felt so touched seeing her five-year-old son have a fun time and have parties with moon cakes and fruits with volunteers at the Field Hospital in district 7.
Van Trung, who works as a builder, said he and his child just came to the field hospital for ten days with so many concerns and worries, but the child had a very happy time this Mid-Autumn Festival./. 
NA Standing Committee discusses reports by Government, Supreme Court, Supreme Procuracy
Performance reports by the Supreme People's Court and the Supreme People's Procuracy, and the Government's reports on crime fight were the focus of the 15th National Assembly (NA) Standing Committee on September 20.
In the morning of the sixth working day of the NA Standing Committee's third session, participants gave opinions on the 2021 performance reports by the Supreme People's Court and the Supreme People's Procuracy, along with the Government's reports on the prevention and control of crimes and law violations, the enforcement of judgments, and the corruption combat this year.
They said despite numerous difficulties caused by the complex COVID-19 situation in Vietnam and the world, under the Party's leadership and thanks to the close coordination among agencies in the political system, the Supreme Court, the Supreme Procuracy and Government agencies have shown good performance and recorded improvements in different areas.
NA Vice Chairman Nguyen Khac Dinh said the reports by the Supreme People's Court, the Supreme People's Procuracy, and the Government have been prepared thoroughly and feature many reforms. He asked for the reports to be updated with August and September statistics so as to be submitted to the parliament at its second session in October.
In the afternoon, the NA Standing Committee commented on the reports by the Government, the Supreme People's Court, and the Supreme People's Procuracy on the settlement of complaints and denunciations in 2021.
Dinh noted the legislature will exercise its supervision over complaint and denunciation settlement nationwide.
The NA Standing Committee requested relevant Government agencies, the Supreme People's Court, and the Supreme People's Procuracy to take into account opinions raised at the meeting to further detail the reports, which as NA Chairman Vuong Dinh Hue said must straightforwardly look into the truth, tell the truth, and give precise assessment of the reality, and identify right issues./. 
Gov't officials congratulate Cao Dai followers on biggest festival
Officials from the Government's Committee for Religious Affairs on September 20 visited and offered congratulations to representatives of the Cao Dai Temple (Tay Ninh Holy See) in Ho Chi Minh City on the occasion of the religion's biggest festival - "Hoi Yen Dieu Tri Cung".
Nguyen Tien Trong, vice chairman of the committee, expressed his sympathies for the Cao Dai Temple's representative board over the difficulties in organising religious activities amid the complex COVID-19 situation in HCM City.
He pledged to create favourable conditions for the representative board, dignitaries, and followers of Caodaism to practice their religion and carry out disease prevention measures.
The official appreciated the board's encouragement to their dignitaries and followers to comply with the anti-pandemic rules issued by the Government, the Health Ministry, and the HCM City administration.
Trong also applauded their active efforts to support the poor and those hit hard by the pandemic and assist frontline forces, voicing his hope that the representative board, dignitaries, and followers of Caodaism will continue engaging in charitable activities and supporting the COVID-19 fight in HCM City.
Thanking leaders of the committee for their attention, Professor Thuong Sang Thanh, head of the Cao Dai Temple's representative board in HCM City, said despite complex developments of COVID-19, Cao Dai followers still have a stable life and have seriously adhered to anti-pandemic regulations.
They have also stayed united to help pandemic-hit people, encourage their descendants to take part in voluntary programmes to assist frontline forces, and support other followers who have contracted the disease, he added.
"Hoi Yen Dieu Tri Cung" is the biggest festival of Cao Dai followers in a year. It is a great religious banquet for the Great Mother and nine female immortals of the Dieu Tri Palace (Jasper Pond Palace) held annually on the 15th day of the 8th lunar month – the Mid-Autumn Festival, which falls on September 21 this year. Followers believe the banquet implies a practice that enables them to achieve their goal of liberating themselves from the cycle of birth and death. They pray for good weather, national peace, and prosperity on this occasion./. 
Vice President delivers COVID-19 aid to Dong Thap
Vice President Vo Thi Anh Xuan visited the Mekong Delta province of Dong Thap and presented gifts in aid of the local COVID-19 prevention and control on September 20.
Accordingly, she delivered 5,000 rapid test kits and ten tablets to needy children in Lap Vo district; 18 gifts worth 500,000 VND (21.83 USD) each to children at the provincial general social protection centre; and 20 gifts worth 2.5 million each to disadvantaged workers at the Vinh Hoan Joint Stock Company.
In addition, the Vietnam Fatherland Front Central Committee donated 300 million VND to the provincial fund for COVID-19 prevention and control and the Vietnam General Confederation of Labour presented 250 million VND to workers at the Vinh Hoan company, while the National Fund for Vietnamese Children gave 200 million VND to local disadvantaged children. The T&T group offered Dong Thap 30,000 COVID-19 test kits and 50 tonnes of rice, while the Dong Thap-based IMEXPHARM Corporation presented five charity houses worth 50 million VND each.
At the handover ceremony, Vice Chairman of the provincial People's Committee Doan Tan Buu informed Xuan on the local COVID-19 situation. As of 5pm on September 19, the entire province recorded 8,122 infections with 198 deaths and 886 under treatment. The province has so far administered 365,611 doses of vaccines.
The locality still sees 84 areas under lockdown measures. Support policies have been implemented for 66,662 freelancers and 2,601 household businesses.
Praising efforts made by local authorities, organisations and people in curbing COVID-19, the Vice President requested the province continue prioritising pandemic prevention and control to maintain the new normal condition and help residents stabilise their lives and production.
Plans for safe and effective vaccination as well as prompt delivery of social welfare assistance for needy people are necessary, she noted./. 
Cosy full moon festival provided to disadvantaged kids
The moon is getting full and the Mid-Autumn Festival is fast approaching. Full moon gifts were delivered to disadvantaged children in Ho Chi Minh City's District 3 on September 18 by the military radio and television centre in cooperation with the charity Bình An, the Vietnam People's Army's youth board, and the High Command of Military Region 7.
 
Thanks to the "Full Moon Night - 2021" programme held by those involved, the kids' faces glowed with happiness in feeling the atmosphere of the full moon festival just around the corner. They were given star-shaped lanterns, milk, and candy to celebrate the festival during lockdown.
With support from benefactors, the programme was able to present more than 14,000 gifts worth over 87,000 USD. Though the number of gifts falls short of the expectations of kids in the city, they play an important role in providing a joyful occasion for those that are disadvantaged. 
A true full moon festival has come to these disadvantage kids thanks to the military officers and benefactors./. 
Quang Ninh reopens some economic, sport, cultural activities
Some economic, sport, and cultural activities have been resumed in Mong Cai and Ha Long cities of northern Quang Ninh province after a long hiatus due to COVID-19.
Since 12:00pm on September 20, Mong Cai has reopened some services and activities, including Tra Co Beach; physical and sport activities and related services such as golf, tennis, football, gyms, fitness and yoga centres, swimming pools, billiards clubs; entertainment and cultural places and services; beauty and spa services; internet and online game services; places of worship and religion; dine-in restaurants; street restaurants, coffee shops, sidewalk tea stalls; weddings; and political, cultural, and social activities and events.
Ha Long city has also permitted some activities since the noon of September 19 such as public beaches, sport activities and services, and activities celebrating the Mid-Autumn Festival that falls on September 21.
Local authorities also requested serious implementation of anti-pandemic measures, including the 5K principle (khau trang - wearing facemasks, khu khuan - disinfection, khoang cach - keeping distance, khong tu tap - no gathering, and khai bao y te - making health declaration), in those activities.
By late September 19, Quang Ninh administered more than 1 million doses of COVID-19 vaccines to local residents, nearly 170,000 of whom received full two doses. In particular, 90 percent of the eligible people aged 18 and over in Ha Long has got inoculated.
The province has stayed free from COVID-19 community transmission since June 28.
Those who want to enter Quang Ninh have to show certificates of full vaccination against COVID-19, as well as a negative RT-PCR test result for the SARS-CoV-2 virus.
Persons who have finished quarantine in other localities still have to undergo compulsory health quarantine for seven days at quarantine sites in Quang Ninh and an additional seven-day home quarantine, except for foreign specialists and workers who have been fully vaccinated and finished their concentrated quarantine periods./. 
Hanoi promotes creative space initiatives
The capital city of Hanoi is promoting creative space initiatives, as part of its commitment as a member of the UNESCO Creative Cities Network (UCCN). 
In early September, the municipal Department of Culture and Sports, the Architecture Magazine and units concerned announced 18 top ideas selected from 93 entries to the "Designing Hanoi Creative Space" contest. The success of the contest showed that the city is facing a great opportunity to form its new characteristics from the development of creative spaces. 
Among the outstanding ideas from the contest, the "Red River Artistic District" by architect Doan Ky Thanh and collaborators won applause for its uniqueness and breakthrough creativity. The project wants to transform the 5-ha alluvial area in Phuc Tan ward, Hoan Kiem district into a green artistic space. It also proposes planning and architectural solutions to realise the goal.
Meanwhile, based on a plan to move industrial facilities out of urban areas, a group of architects gave birth to a so-called 4.0 railway district at the old Gia Lam train factory. They want to turn the old industrial estate into a hub to connect tech start-ups as well as link them with consumers, students, investors and tourists. 
The project "Hanoi Artistic Path" by the Avant Architectural Investment and Consulting JSC and Arb Vietnam Co.Ltd and the project "Hanoi – Thousands-year-old city" by Nguyen Van Tu and Nguyen Thanh Duc also won high praise.  
According to experts, when building creative space projects, characteristics and core values of converted sites are maintained while new factors are added to bring a breath of fresh air to them. 
Phan Dang Son, Chairman of the Vietnam Association of Architects, said all awarded projects are highly feasible in design, and some of them could be built immediately. Following the contest, the board of juries are ready to discuss with authors and Hanoi authorities to embark on the works when conditions allow.
Hanoi now has over 60 creative spaces focusing on culture, arts, architecture, design and handicrafts which operate freely but most of them are of a small scale.
Roughly two years since its accession to UCCN, Hanoi has engaged in a plethora of creative ideas to realise its ambition of becoming a capital of design and innovation in Southeast Asia, one of which is the contest "Designing Hanoi Creative Space" .
Held between May 2020 and July 20, 2021, the contest aimed to encourage ideas and solutions to renovate creative spaces destined to evolve into popular tourist destinations and wonderful entertainment hubs in Hanoi.
It took place in the context that Hanoi is in dire need of more public spaces, while 92 polluting factories in the capital city are left vacant after being relocated. Given the small land area of Hanoi, transforming old factories into creative spaces is expected to improve local residents' living environment.
Hanoi used to be a thriving ancient city built by the Vietnamese people a long time ago. The city was built on the fertile alluvial land along the Red River, which gives rise to a high concentration of population along the river bank.
Having been the residential area of many people for generations, Hanoi is considered the economic and cultural centre of the whole Northern Delta region in the modern day. 
According to the 2021-2025 master plan approved by the government, Hanoi will have a core area, with 30 percent of which to be urbanised while the rest will be allocated to green and ecological space.
Along with that, Hanoi will also consider opening more pedestrian spaces, holding more cultural and artistic activities to improve the spiritual life as well as promote and inspire more creativity in the community in the future./. 
Go'vt committee accompanies Buddhist dignitaries, followers in HCM City COVID-19 fight: Official
The Government Committee for Religious Affairs will always accompany Buddhist dignitaries and followers in Ho Chi Minh City in the fight against COVID-19, Vice Chairman of the committee Nguyen Tien Trong pledged at a working session with leaders of the Executive Board of the Vietnam Buddhist Sangha (VBS)'s chapter in the city on September 20.
Expressing sympathy over losses that the VBS in HCM City has suffered due to COVID-19, Trong hailed the engagement of Buddhist dignitaries and followers in the city's pandemic prevention and control activities as well as their contributions to the national COVID-19 vaccine fund and support to frontline forces.
He affirmed the efforts of the HCM City VBS's Executive Board has shown that Buddhism always accompany the nation and uphold national solidarity amid difficulties. He expressed his hope that they will continue to take part in charity activities and assist the city in pandemic prevention and control.
For his part, Most Venerable Thich Thien Duc, deputy head of the Executive Board of the VBS chapter in HCM City, thanked the Government Committee for Religious Affairs and the city's authorities for paying great attention to Buddhist dignitaries and followers amid the complicated developments of COVID-19.
Along with strictly implementing pandemic prevention and control regulations, Buddhist monks, nuns and followers have actively joined hands in charity activities and supported frontline forces, he said.
Since June, the board has worked online on digital platforms, maintaining its guidelines to Buddhist dignitaries in their operations, while adjusting the plans to organise the VBS Congress in districts as well as the celebration of the VBS' 40th founding anniversary, said Venerable Thich Thien Quy, deputy head and General Secretary of the board.
He said that over 500 billion VND (21.8 million USD has been raised among Buddhist dignitaries and followers in the city for çharity and pandemic prevention and control activities. In the future, the boad will continue to join hands with the local authorities and agencies in the work, thus resuming normal life in the city soon.
Latter the same day, the Government Committee for Religious Affairs's working team also visited and worked with representatives of the Cao Dai Tay Ninh Church in the city and the HCM City Cao Dai Church./. 
Mid-Autumn Festival artworks on virtual display
Latest artworks on Mid-Autumn Festival by painters of an art group called Gallery39A (G39) are on display at its Facebook fanpage as part of an online exhibition launched on September 20.
A total of 30 artworks were created with plaster carvings or painted with oil, acrylics and gouache or on "dó" (poonah) paper, a paper traditionally made from the inner bark of the dó tree in Vietnam, and old newspapers by 17 G39 painters, five of whom are children.
The youngest among the child artists is just four years old while the oldest are 13.
It is an annual exhibition by the G39 artists who had to hold this year's event virtually because of the COVID-19 pandemic.
"Mid-Autumn is a festival, a reunion," said painter Le Thiet Cuong of the group. There is nothing cozier that the painters and their latest artworks reunite for the festival again this year, even just in an online event, he said.
The exhibition will run until the end of this month.
Mid-Autumn Festival, also known as the children's festival in Vietnam, takes place on the 15th day of the 8th month on lunar calendar, which is also the brightest and full moon day of the year. This year the festival falls on September 21./. 
Vietnam limits social distancing, boosts testing in at-risk areas
Vietnam has adopted a fresh COVID-19 prevention and control strategy, with a primary focus on enforcing limited social distancing and conducting COVID-19 testing in high-risk areas.

According to the Ministry of Health, as many as 23 cities and provinces nationwide have so far implemented social distancing measures, bringing about certain results, including halting the spread of the virus among the community.
Despite this initial results, Minister Nguyen Thanh Long says the implementation of extended social distancing measures and the extensive testing campaign has had exerted a negative impact on business production and the lives of local residents.
In order to cushion its impact, Minister Long has suggested limiting social distancing in small spaces and conducting COVID-19 testing in at-risk areas to further control outbreaks within the course of 14 days. 
Assoc. Prof. and Dr. Nguyen Huy Nga, former director of the Preventive Medicine Department, says the latest strategy can be viewed as appropriate given the current context.
"The virus has already spread to the wider community as opposed to entering from abroad. In addition, the vaccination rate is increasing considerably, especially in big cities like Hanoi, Ho Chi Minh City and some other COVID-19 hotspots in southern Vietnam. Therefore, extensive social distancing is not necessary as it has negatively affected the national economy and people's life," Dr. Nga explains.
According to the health professional, "We need to start living with the virus, considering it part of our life. We need to shift our strategy from extensive to limited social distancing, and have to gradually accept it."
Nga therefore supports enforcing social distancing in specific places, as opposed to a larger area like a commune or a district when an infection case is detected. Thereby COVID-19 testing can only be conducted in small areas in order to swiftly detect and separate possible infection cases from the wider community.
He also supports conducting COVID-19 testing in at-risk and high-risk areas categorised by the Ministry of Health, as opposed to extensive testing as carried out recently, which is very costly and lacks efficiency.
"Depending on the local health situation, we can offer a reasonable and effective form of testing," says Dr. Nga.
In his opinion, these steps suit the actual situation and contribute to saving resources, particularly in terms of manpower, budget, and medical equipment.
Furthermore, he suggests that home quarantine for F0 cases, as it is being done in Ho Chi Minh City and several southern localities, should be replicated to other localities nationwide, including Hanoi.
"Home quarantine is not too costly, and F0 cases and their relatives themselves are aware of COVID-19 prevention and control measures," Dr. Nga states.
He also suggests that every healthy individual should be fully vaccinated against COVID-19 and should continue to strictly follow COVID-19 guidelines set out by the Ministry of Health in order to better protect themselves from virus infection.
Vietnam is currently battling against a recurrence of the SARS-CoV-2 virus, which has since late April spread to 62 out of 63 cities and provinces across the country. Nearly 700,000 infections have now been detected nationwide, with half of them recorded in Ho Chi Minh City, the country's largest COVID-19 hotspot. 
Ambassador expects North Morava's greater investment in Vietnam
Vietnamese Ambassador to the Czech Republic Thai Xuan Dung has expressed his hope that businesses of North Morava province would continue to invest in Vietnam across multiple fields such as health care, education, clean energy, and mining industry.

Vietnamese Ambassador Thai Xuan Dung has recently held a working session with leaders of the Czech Republic's North Morava province on cooperation in economy - trade, education, and technology, mining technology and COVID-19 prevention and control.
In his speech at the meeting, Ambassador Thai Xuan Dung showed his elation at the positive development of the traditional friendship and all-around cooperation between Vietnam and the Czech Republic over the past seven decades. This relationship has been further strengthened when both nations have pushed up closer cooperation and offered mutual support in the fight against the COVID-19 pandemic, the local diplomat said.
The Ambassador also congratulated North Morava on its great achievements in socio-economic development, especially the effective vaccination and good control of the COVID-19 pandemic in recent times.
He expressed his sincere thanks to local authorities for facilitating, and helping the Vietnamese community in vaccination to cope with the coronavirus pandemic.
In the context that the EU has adopted the Europe-Vietnam Free Trade Agreement (EVFTA) and the Czech Republic is also the first EU member state to ratify both EVFTA and the EU-Vietnam Investment Protection Agreement (EVIPA), Ambassador Thai Xuan Dung said he hopes that this will serve as an important foundation that helps Czech and EU businesses gain entry into the Vietnamese market as a means of promoting trade and investment activities between the two countries.
For his part, Governor of North Morava Ivo Vondrak acknowledged the contributions of the Vietnamese community and thanked the Vietnamese Embassy in the Czech Republic for their attention given to cooperation activities between North Morava and Vietnam.
According to him, with a long tradition of cooperation between Vietnam and North Morava province, the local administration will continue to support and further promote scientific research cooperation activities regarding education, training, mining technology and student exchange between the two sides in the coming time.
Ambassador Dung affirmed Vietnam's readiness to create favorable conditions for North Morava businesses to invest in Vietnam. He also suggested the two sides continue carrying out signed cooperation agreements on economy-trade, investment, culture, tourism, education-training and labor cooperation after the pandemic is brought under control. 
Hand sanitiser dispensers effective model at Gia Lai schools and hospitals 
A technician at Military Hospital 211 in the Central Highlands province of Gia Lai has invented an automatic hand sanitiser dispenser to prevent coronavirus infection.
Major Lê Mạnh Hùng, who works in the X-ray department, ordered components online and assembled them by himself.
He also designed solar panels to run the robot outdoors or in places without electricity. In early April 2020, the first hand disinfecting robot was put into use at the gate of Military Medical Hospital 211 in Pleiku City.
The robot has a 2W motor pump, running with a 12V battery, distributing between 0.5 and 5ml of sanitiser depending on the setting.
The dispenser is connected with a two-litre bottle of disinfectant and a spraying pipe. It also has a sensor which can recognise hands and ignite the pump to dispense liquid.
The sensor TV screen attached to the machine also displays the 5K message.
Within a radius of 3-5m, the robot can recognise people around and speak, reminding people: "Please wash your hands and measure body temperatures. Thank you."
The body temperature measuring machine is connected to a computer, helping medical staff in the reception directly monitor temperatures without close contact. In particular, when detecting a person with a high temperature such as a fever, the device keeps releasing a warning sound to alert medical staff.
The robot can be placed at offices, elevators, corridors or mobile at training grounds and halls, Major Hùng said.
The sanitiser liquid box was designed in a small shape of 30cm long and 20cm wide.
Users can save time, avoid surface contact and limit the risk of infection at offices or classrooms, he said.
Hùng has built 14 automatic hand sanitiser dispensers. His invention received first prize at a national creative technical competition of medical and military sector in April 2021.
Teacher Mai Thị Thúy Hiền, principal of Nguyễn Bỉnh Khiêm Primary School in Pleiku City, said Major Hùng donated a dispenser to the school.
Since it was operated in September 2020, it has shown its efficiency.
"Before we had the machine, we had to mobilise teachers to measure body temperatures and spray disinfectant at the school gate. Thanks to the robot, teachers now can save time and prevent overcrowding at the school gate," she told Vietnam News Agency.
Colonel Trần Vương Linh, director of Military Hospital 211, said the hospital was marked a 'green' facility because it is one of a few hospitals in the areas without COVID patients.
The invention of Major Hùng has made positive contribution to the hospital's prevention and control work, Linh said. 
Source: VNA/VNS/VOV/VIR/SGT/SGGP/Nhan Dan/Hanoitimes  

Ministry: 24 cities, provinces offer online, television teaching