Vietnamese pianists win Putra International Piano Competition 2019 awards
A total of five Vietnamese pianists have won prizes at the Putra International Piano Competition 2019, which recently concluded in Kuala Lumpur, Malaysia.
During this year's competition the Vietnamese contestants competed in both the concerto and solo categories.
Vo Minh Quang was awarded the silver prize in the piano solo young artist category, for those aged 29 and below, in addition to the gold prize in the piano concerto young category, also for those aged 29 and under.
Dam Vu Nhat Minh won the silver prize in the piano solo junior category, for those aged 10 and below, while Bui Minh Anh secured a bronze prize in the piano concerto senior category, for those aged 18 and below.
Both Pham Mai Khue and Nguyen Hai Anh won encouragement prizes in the piano solo intermediate category, for those aged 15 and below, and in the piano concerto senior category, for those aged 18 and under, respectively.
The final round of the event saw 135 contestants from 10 countries compete with participants coming from Malaysia, Indonesia, Thailand, Vietnam, Singapore, China, Japan, Australia, Armenia, and the Republic of Korea.
In addition to the awards for the Vietnamese entrants, pianist Luu Duc Anh, a teacher at the Vietnam National Academy of Music, was among the members of the competition's judging panel.
Police stop cross border drug smuggling operation in Danang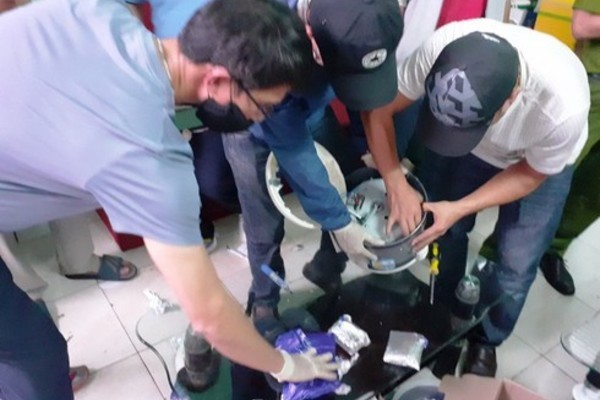 A large quantity of drugs are hidden inside electric cookers
Border guards have successfully broken up a major drug trafficking case at the Lao Bao international gate in Danang, seizing a large quantity of drugs in the process following the joint efforts by various local drug prevention units.
According to initial reports, police forces caught a suspicious woman on September 23. The suspect was in the process of loading electric cookers into a car on Hoang Van Thai street, Hoa Minh ward, Lien Chieu district.
Upon conducting a search of the electric cookers, the police discovered a total of 4.5 kg of ketamine and over 3,000 pills of synthetic stashed away.
Once under questioning at the police station, the suspect, identified as Bui Thi Thuy, 41, of Phuc Xa ward, Ba Dinh district, Hanoi, admitted to being hired by another woman to receive the shipment.
A local police officer stated that this was the work of a drug trafficking ring which operates between Laos and the Lao Bao international border gate. The group's activities have been under surveillance for several months.
The case is currently under further investigation.
Hải Phòng police seize 600kg of questionable herbal medicine at diabetes seminar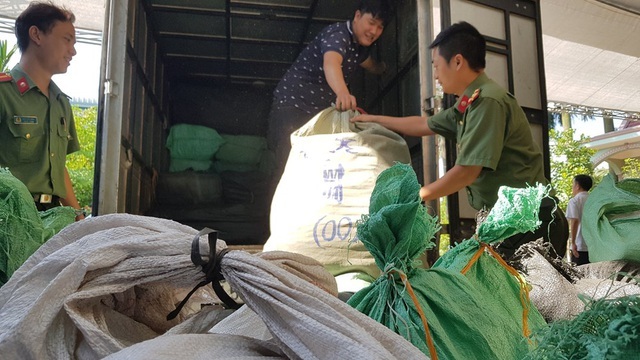 Hải Phòng CIty police seize herbal medicine at a seminar in Kiến An District. — Photo dantri.com.vn
Police in the northern city of Hải Phòng seized nearly 600kg of herbal medicine at an illegal seminar held in Kiến An District on Monday.
Local police reported the seminar, titled "Curing Diabetes With Herbal Medicine", had been organised without a licence by a so-called physician named Nguyễn Thị Nghê, 35, from Hà Nội's Quốc Oai District.
The seized products were purported to be able to treat diabetes.
A representative from the city's Department of Health confirmed it had not granted a licence for the sale of herbal medicine or the seminar to Nghê.
Police discovered the event after following adverts on social networks offering free medical examinations for diabetes patients in Hải Phòng for people under 15 and those with disabilities.
Around 200 diabetes patients from Hải Phòng, Ninh Bình and Hà Nội had attended the event.
On September 12, Nghê also organised a seminar to sell herbal medicine in An Đồng Commune, An Dương District, attracting many patients, dantri.com.vn online newspaper reported.
Hanoi hosts 7th workshop on decentralised wastewater treatment in Asia
The seventh workshop on decentralised domestic wastewater treatment in Asia took place in Hanoi on September 24.
The event was jointly held by the Vietnam Environment Administration (VEA) under the Ministry of Natural Resources and Environment, the Technical Infrastructure Agency under the Ministry of Construction, and Japan's Ministry of the Environment.
It focused on policy framework, regulations on urban wastewater management and technical standards to promote the work towards realising one of the sustainable development goals (SDGs) on reducing 50 percent of untreated wastewater in Asia by 2030.
Addressing the event, VEA Deputy Director General Nguyen Hung Thinh said environmental protection requires great efforts of governments and people, while cooperation, experience sharing and technology transfer between countries hold significant meaning in SDG realisation and economic development.
The workshop in Vietnam will help put forward ideas to adjust and supplement regulations on wastewater management in the draft Law on Environmental Protection, as well as facilitate the implementation of international agreements which Vietnam has signed, he added.
At the event, representative of the Ministry of Environment of Japan Yuji Hirose introduced the decentralised wastewater treatment system in Japan (Johkasou), and highlighted that Japan has worked with countries in the region like Vietnam, Cambodia and Thailand to develop the system.
Takayuki Matsuda, Director of the Office for Promotion of Johkasou of the Japanese Ministry, said that through the Japan-ASEAN Integration Fund, the Japanese government has supported the launch of a conventional centralised wastewater management system throughout Southeast Asia./.
Hoang Hanh among Missosology's Hot Picks of Miss Earth 2019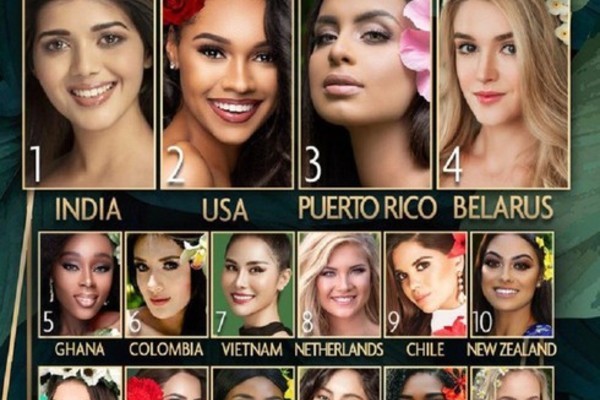 Missosology's First Hot Picks
Missosology, the world's leading beauty pageant magazine, has named Vietnamese representative Hoang Hanh among its First Hot Picks for the Miss Earth 2019.
In the overall list, Hoang Hanh was ranked in seventh place, followed by representatives from the Netherlands, Chile, and New Zealand.
Topping Missology's First Hot Picks was the contestant from India, trailed by the representatives from the US and Puerto Rico in second and third places, respectively.
Coming just ahead of Hoang Hanh was the beauty from Belarus in fourth position, while the representative from Ghana was ranked in fifth place.
Born in 1992, Hanh stands at 1.76 metres tall with measurements of 88-63-94.
The Vietnamese representative has previous experience in pageants having finished as the first runner-up during Miss Asia Beauty 2017.
She is also skilled in taekwondo, having won 10 medals whilst taking part in several events.
The Miss Earth 2019 pageant is a global show which will see 77 contestants take part in the pageant and will get underway during October in the Philippines.
Man prosecuted for flare injury at Hanoi football clash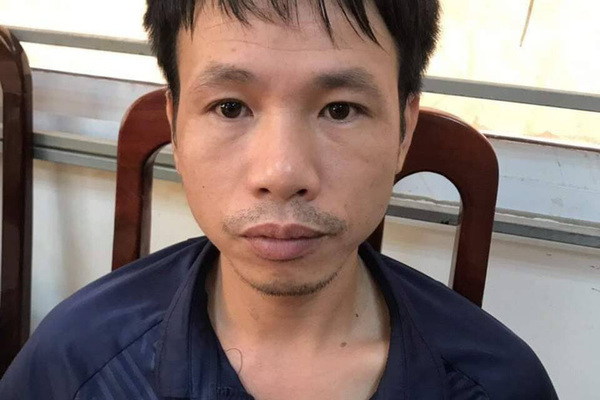 Vu Trung Truc
A man in the northern province of Nam Dinh has been prosecuted for setting off flares which wounded a woman at a recent football match held in Hanoi recently.
Vu Trung Truc from Giao Thuy District will be detained for two months for being accused of causing disorder in a public place.
According to the police, on September 11, Truc brought around 20 flares to cheer VLeague 1 clash between Hanoi FC and Nam Dinh FC at Hang Day stadium. He then gave three flares to three different people and then sold some to another.
At around the 55th minute of the match, Truc set off some flares and one of them hitting a woman who was standing at the opposite stand. He then tried to escape.
The victim, who is a journalist, was burned to the bone with a serious and large gash in her leg, which required operations.
At the event, a policeman also sustained a light injury because of flares.
Thousands of illegally-transported mobile phones seized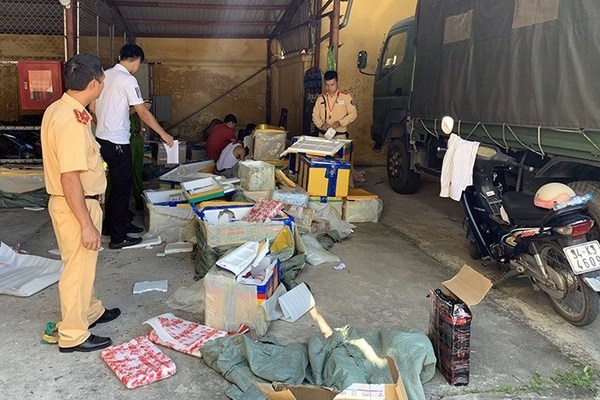 Police in the northern province of Quang Ninh have busted the illegal transportation of around 3,000 mobile phones and around 50 laptops.
The electronic products belonging to Phuc An Khang Trading Service Transport Company in HCM City were found on a truck driven by Vu Duc Thanh, 27, from Thai Binh Province's Thai Thuy District on National Highway 18 in Mong Cai City.
The laptops were hidden in boxes of dry farm produce and cosmetics.
The driver failed to show papers proving point of origin and or receipts.
The investigation is now under investigation.
Second child drowns at newly-opened Hanoi water park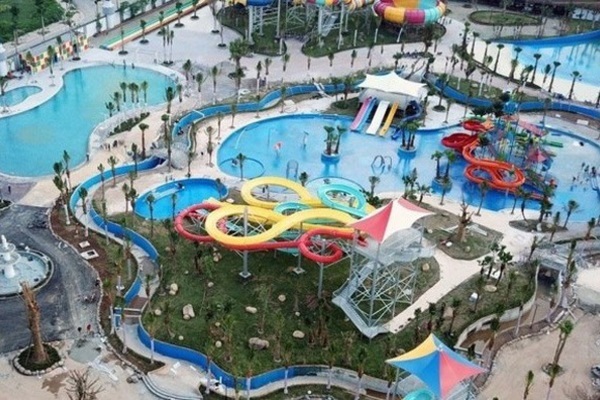 Thanh Ha Water Park
A six-year-old boy drowned at newly-opened Thanh Ha Water Park in Hanoi, becoming the second death since only June.
The water park, located at Phu Luong Commune, Ha Dong District, opened in June.
According to local authorities, a woman with three children visited and a six-year-old boy drowned while there.
Despite being quickly found and then taken to a nearby hospital, the boy died right after that.
Earlier in June, another boy also drowned at the park's river area.
Hanoi's biggest water park is owned by the Muong Thanh Group.
Two dead in fishing boat fire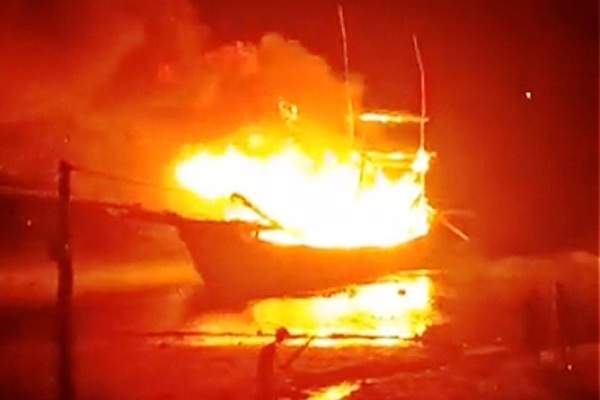 Two fishermen were killed and five other injured after a boat burst into flames in Thanh Hoa Province.
The fishing boat belongs to Le Xuan Binh, a local in Hai Chau Commune, Tinh Gia District. The boat was docked on Yen River when it suddenly exploded and burst into flame.
The firefighters in Thanh Hoa said they received reports about the fire at 8.20 pm on September 23 and quickly sent a truck and 10 firefighters to the scene to extinguish the fire, save and search for the victims. At 4 am on the next day, the bodies of Le Xuan Binh and Le Xuan Hieu were found.
The firefighters and the police are searching for a missing victim. Five other fishermen were injured and had been admitted to the hospital.
The cause of the fire is under investigation.
Ministry warns about severe water shortages
Hoa Binh Reservoir.
The Ministry of Natural Resources and Environment has warned that the water levels at northern reservoirs including Hoa Binh, Son La and Thac Ba are very low and will lead to water shortages.
The ministry has sent an official document to the reservoirs' management boards about the issue and operational requirements as the dry season starts.
According to the ministry, the water level at Hoa Binh Reservoir was 98.9 metres, lower than the normal level by 18.1 metres. The water level at Son La Reservoir also dropped by 15.5 metres to 199.5 metres. The water level at Thac Ba Reservoir dropped by 5.4 metres to 52.6 metres.
The total three reservoirs only have 10.19 billion cubic metres of water, accounting for 54% of their capacity.
However, the water level at Hoa Binh, Thac Ba and Tuyen Quang reservoirs are required to reach a certain amount before the dry season. This year, the total amount of water at those three reservoirs is only 4.93 billion cubic metres, 2.74 billion cubic metres lower than required.
It is also predicted that the rainfall in October in the northern region will be lower than previous years by 20-40%, posing a high risk of water shortage to the north.
The ministry has asked the management board to save water and report on problems in order to ensure water security for the Red River Delta.
Vietnam shares experience in primary heathcare at UN meeting 
Minister of Health Nguyen Thi Kim Tien delivers a speech at the UN High-Level Meeting on Universal Health Coverage in New York on September 23.
About 81 percent of patients questioned said they are satisfied with medical services in Vietnam, Minister of Health Nguyen Thi Kim Tien cited an independent survey while delivering a speech at a United Nations meeting on September 23.
The UN High-Level Meeting on Universal Health Coverage took place in New York on September 23 during the UN General Assembly (UNGA) high-level week. The meeting, themed "Universal Health Coverage: Moving Together to Build a Healthier World", brought together heads of state, political and health leaders, policy-makers and universal health coverage champions from 169 countries around the world.
Vietnam has made various efforts in strengthening the primary healthcare system to provide better services to its people and allow them to enjoy state- and health insurance-funded medical programmes, Tien said.
A primary healthcare system has been established from the central to grassroot levels in Vietnam with more than 11,000 commune-based medical stations, most of which have at least a doctor, a nurse and a midwife working based on the model of family medical practice, the minister said.
She cited the "Tracking Universal Health Coverage: 2017 Global Monitoring Report" jointly produced by the World Health Organisation (WHO) and World Bank (WB), saying Vietnam scored 73 out of the 100 points in service coverage delivery index in the report, which was higher than the Southeast Asia's average score of 59 and the global average of 64.
About 90 percent of the Vietnamese population is covered in health insurance and the Government of Vietnam subsidises 100 percent of premiums for the poor and 70 percent of the premiums for the near-poor, she added.
Universal healthcare is a pathway to achieve Health-related Sustainable Development Goals, she continued, adding Vietnam has enforced 10 reforms to enhance effectiveness of its healthcare system, particularly improving the competence of primary healthcare clinics to provide better services for both ill and healthy people.
Vietnam has reformed its financial mechanism and invested in infrastructure development in the health sector while providing extra training for medical workers at primary healthcare service providers, Tien said, adding that the reforms have promoted patient-centred care to make the patients more satisfied with the local medical services.
The minister also said the biggest challenge to Vietnam's healthcare sector is how to come up with a suitable financial mechanism for universal medical system as more funding have been allocated to pay for treatment services rather than primary and preventive healthcare.
This UN High-Level Meeting on Universal Health Coverage aimed to garner financial and political commitments from countries and sustain health investments. The meeting was called for in December 2017 when the UN passed a resolution on global health and foreign policy, addressing the health of the most vulnerable for an inclusive society./.
Climate change awareness week launched in VN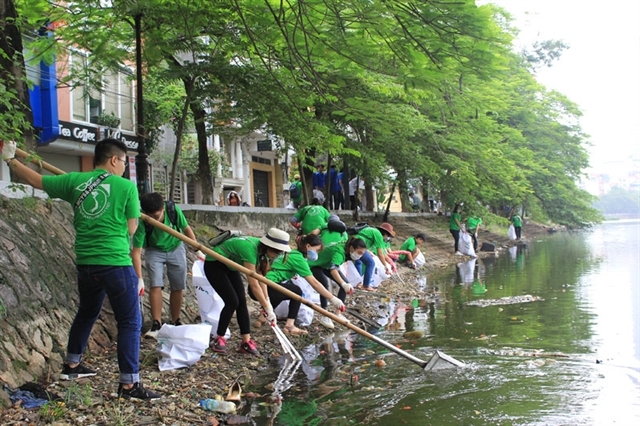 Volunteers collect rubbish from Trúc Bạch Lake, Hà Nội. — Photo hanoimoi.com.vn
A week-long series of activities to raise awareness about climate change is set to kick off on Friday across Hà Nội, Đà Nẵng and Hội An.
The European Union Climate Diplomacy Week 2019, co-organised by the Delegation of European Union (EU) to Việt Nam and the embassies of EU member states, aims to educate young Vietnamese generations about climate change and its impacts on their future.
"We want to show our support to the youth and value their efforts in bringing awareness to such a worrying and pressing issue like climate change," the Delegation of EU in Việt Nam chargée d'Affaires Axelle Nicaise said.
"Earth's future depends on our engagement, and so does life as we know it. We have seen last Friday millions of people around the world held a global climate strike, inspired by activist Greta Thunberg. Hence, we would like to join forces and promote more ambitious climate actions.''
The climate week will run through to October 6, with several activities including a cycling event in Hội An, a workshop with students from Đà Nẵng University and a cleaning operation around Long Biên Bridge in Hà Nội.
Fire breaks out at To Market in Hanoi
A huge fire broke out at about 7:30am on Monday at Tó Market in Uy Nỗ Commune, Hà Nội's outlying district of Đông Anh, fortunately causing no casualties, the Vietnam News Agency reported.
According to district authorities, the blaze started in the market's northern part where clothing is sold then quickly spread to nearby kiosks.
The local firefighting force, Hà Nội traffic police and Đông Anh District Police, were mobilised to extinguish the blaze and help evacuate traders and their assets.
Two hours later, at 9.30am, the fire was contained after many kiosks and goods were ruined.
Many kiosks were destroyed in the fire.
Bình Dương fraudster got detained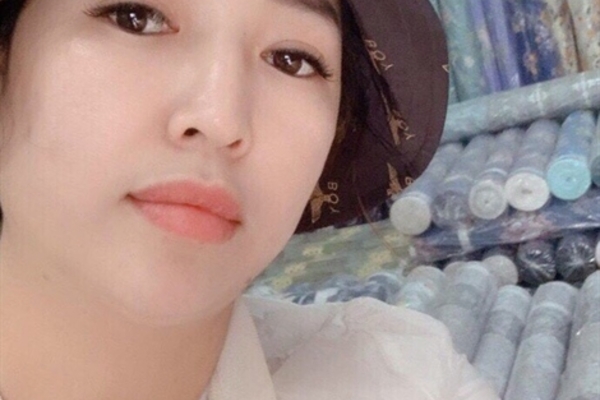 Trương Thị Cao Thảo is accused of stealing more than $6.8 million.
A woman accused of swindling investors out of millions of dollars has been arrested.
Trương Thị Cao Thảo, 33, is alleged to have conned the money from people who believed they were investing in a clothing company.
But after allegedly collecting VNĐ160 billion (US$6.88 million), Thảo sold her villa in Thủ Dầu Một City then fled with her daughter and boyfriend.
Tuổi trẻ (Youth) newspaper reported she is being held in custody following her arrest on Sunday while further enquiries are carried out.
Police believe they may be many other victims and are urging people who feel they have been scammed by Thảo to contact them.
Hanoi receives 18 air quality censors from Germany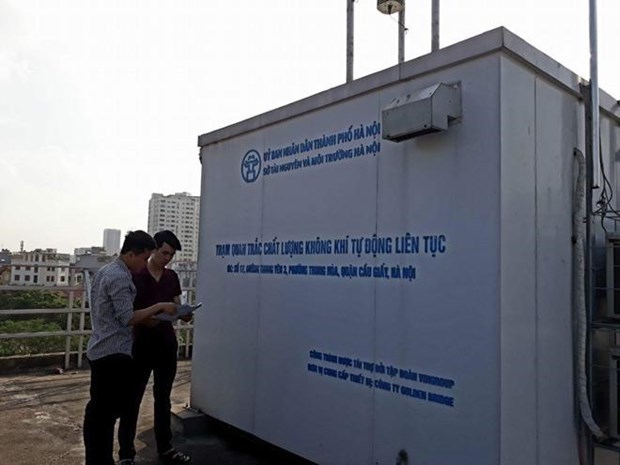 An air quality censoring station in Cau Giay district (Photo: Hanoimoi.com.vn)
Hanoi has agreed to receive 18 air quality censoring devices offered by the German Development Cooperation Organisation (GIZ) as part of efforts to improve the air quality in the capital city.
The devices will be installed in the city downtown district of Hoan Kiem.
The municipal People's Committee has assigned the Department of Natural Resources and Environment to coordinate with the GIZ and the People's Committee of Hoan Kiem district as well as relevant agencies to manage data gathered by the censors.
Air quality data collected by the censors will be made it public at website http://moitruongthudo.vn and apps in smartphones, screens at State agencies and public places in Hoan Kiem district.
Hanoi's air quality has been reported at harmful levels over recent days.
The monitoring results showed that the air pollution is mainly dust, especially PM2.5, a single particle that has a diameter of less than 2.5 micrometres./.
Thai Embassy supports flood victims in Thai Nguyen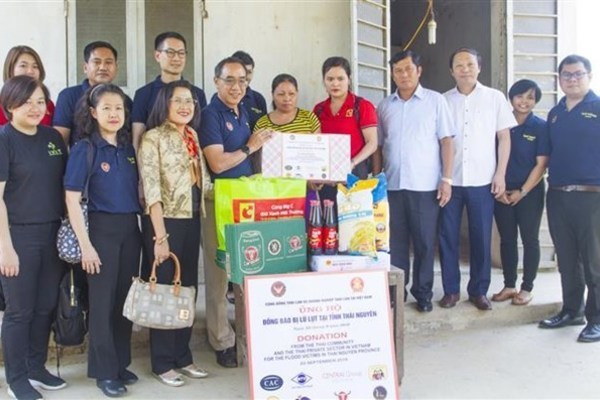 Thai Ambassador to Vietnam Tanee Sangrat, staff of the Thai Embassy and representatives of the businesses of the country pay a visit to people affected by recent disasters in Thai Nguyen province
Thai Ambassador to Vietnam Tanee Sangrat, staff of the Thai Embassy and representatives of the businesses of the country paid a visit to people affected by recent disasters in the northern province of Thai Nguyen on September 23.
On behalf of the Thai government, the delegation presented 20,000 USD in cash along with food and medicine to aid local people, especially poor households with disabled people, in Minh Lap commune of the province's Dong Hy district.
Hosting the delegation, member of the Party Central Committee and Secretary of the Thai Nguyen Party Committee Tran Quoc To expressed his gratitude to the Thai guests for their support to locals victimised by the recent rains and flooding which, he said, helps them overcome difficulties and stabilise their lives.
Earlier, heavy downpours on September 9-10 in Thai Nguyen claimed four lives, injured one, and submerged nearly 1,100 houses.
Floods triggered by the rains also submerged 670 ha of crops and many roads, causing losses estimated at over 20 billion VND (857,800 USD)./.
Hoi An Memories show hosts the one millionth audience 
The Ky Uc Hoi An (Hoi An Memories) – a 60-minute show on the history and development of Hoi An – has welcomed their one-millionth visitor.
A tourist from Belgium was the lucky winner. Two other Vietnamese visitors – the one millionth and one place and the 999,999th in the show's booking system – also received gifts from the organising board at the September 21 show.
Hoi An Memories – which had been shown for 500 nights since its debut in 2018, features 500 artists and has been seen as an amazing entertainment destination at night in the UNESCO-recognised world heritage site after lantern night in the old quarter and the Middle Autumn Full moon festival.
The five-part show features the daily life activities of Hoi An people including silk trade, ceramic production, art of folk performance, a busy trading and a culture cross of Japanese, Chinese and European through busy visit of merchant ships at Hoi An ancient trading port during the 14th century.
The show was recognised as the leading historical spectacle at the Best Hotels-Resorts Awards by Wanderlust Tips in the Republic of Korea in July of 2019.
The show was chosen to be on at Times Square, New York in the US in March of 2019.
According to statistics from the city, 1.7 million tourists, of which 1.4 million foreigners, have stayed in Hoi An during three quarters this year./.
Kao Vietnam becomes sponsor of national football teams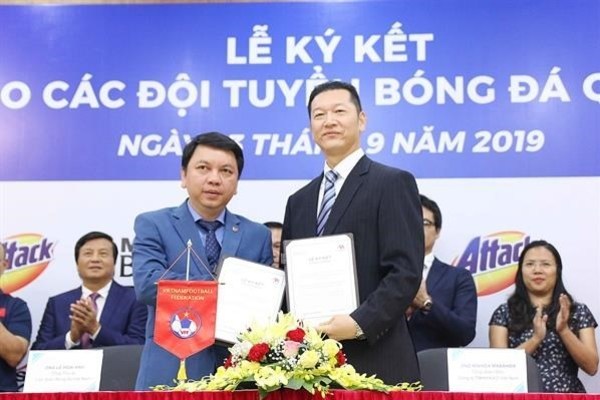 Kao Vietnam's General Director Nishida Masahide (R) and VFF General Secretary Le Hoai Anh at the sponsorship signing ceremony in Hanoi on September 23 (Photo: baovanhoa.vn)

Kao Vietnam Company has become a sponsor of the national football teams after a signing ceremony held Hanoi on September 23.
The company pledged to support the national men's and women's and the U23 squads for two years, starting from early this April.
Speaking at the ceremony, Vietnam Football Federation General Secretary Le Hoai Anh said Kao's sponsorship will help give players better conditions for training and competing.
On the other side, Kao Vietnam's General Director Nishida Masahide said he hopes the company's products will help care players' health and play a role in their success.
All three squads are preparing for big international fixtures this year. The men's team will entertain Malaysia next month in the 2020 World Cup qualifiers. The U23 team and the women's squad will participate in SEA Games in November in the Philippines.
Kao Vietnam is a member of Japan's Kao group with business in different fields including cosmetics, skin and hair care, human health care and chemical products./.
ASEAN photo-documentary film exhibition to open in Dong Nai
An exhibition of photos and reportage-documentary films on the ASEAN Community launched by the Ministry of Information and Communications will open in the southern province of Dong Nai on September 24.
The four-day exhibition will feature over 300 photos and nearly 60 reportage and documentary films on people in the ASEAN Community that won awards at the festivals for their photos, reportage and documentary films on ASEAN held in recent years.
The photos, reportage and documentary films reflect the cultures, costumes, traditions, languages, health, education, industries, agriculture, and environment of the people in ASEAN nations.
The event, aimed at promoting the achievements of ASEAN people in such areas as culture, economics, society and religion, manifests a united and dynamic ASEAN with great potential as well as raises the public awareness on the formation of the ASEAN Community.
The exhibition is also an opportunity for Dong Nai to introduce to international friends its potential, advantages, investment opportunities and its current socio-economic situation.
Founded in 1967, the Association of Southeast Asian Nations (ASEAN) groups 10 member countries, namely Brunei, Cambodia, Indonesia, Laos, Malaysia, Myanmar, the Philippines, Singapore, Thailand and Vietnam./.
European Climate Diplomacy Week 2019 to open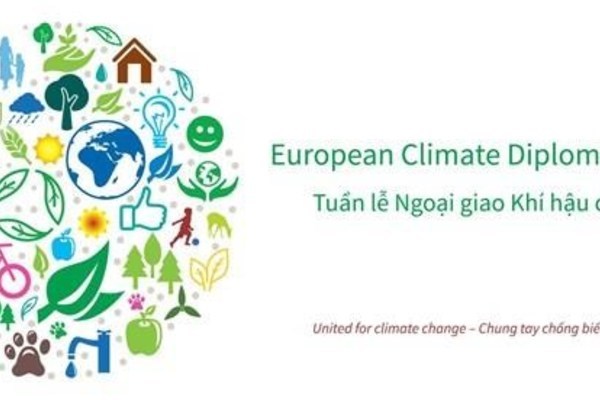 The European Climate Diplomacy Week 2019 will be held in Hanoi, Da Nang and Hoi An cities in the central region from September 27 to October 6.
The event is a joint effort between the European Union Delegation to Vietnam, the embassies of the EU member states and partners, affording participants a chance to boost cooperation in climate change.
The week will feature the inauguration of a rooftop solar power system, a seminar with students, a cycling event, a screening of a film which highlights the impact of ocean warming on coral reefs and marine species, and a clean-up campaign at the foot of Long Bien bridge.
It will target young people who will be most affected by climate change.
Chargé d'affaires of the EU Delegation to Vietnam Axelle Nicaise lauded young people for their efforts to raise public awareness of climate change.
As Vietnam is one of the five countries hardest hit by climate change, the EU is actively helping the country mitigate damage by funding studies on the impact of changing climate and proposing suitable adaptation measures./.
Ancient tea trees in Yen Bai receive recognition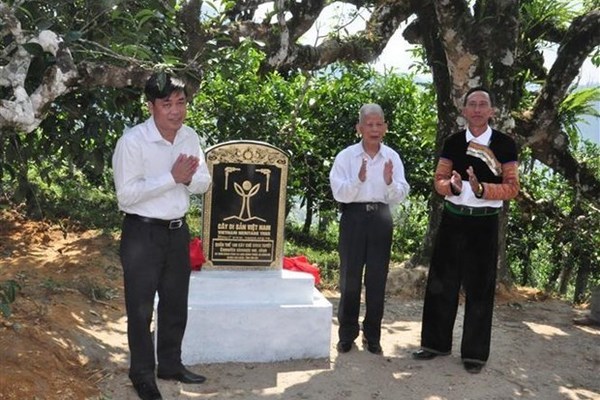 Ancient shan tuyet tea trees in Sung Do commune, Van Chan district of Yen Bai province have been recognised as Vietnam's heritage trees
Ancient shan tuyet tea trees in Sung Do commune, Van Chan district of the northern mountainous province of Yen Bai have been recognised as Vietnam's heritage trees by the Vietnam Association for Conservation of Nature and Environment (VACNE).
A ceremony to receive the recognition was held in the locality on September 23.
Sung Do tea complex is now home to over 100 ancient shan tuyet tea trees. The trees are grown in an area of 70 ha at an altitude of over 1,600m on Hoang Lien Son mountain range in the northern region.
The favourable geography, terrain and weather conditions have been the key to the development of tea trees which produce the shan tuyet variety.
The trees, along with natural landscape and cultural traits of the Mong ethnic people, are hoped to bolster ecological and exploratory tourism in Sung Do commune in the coming time, thus opening up a new development direction for locals.
At the ceremony, VACNE Vice President Prof. Dr. Dang Huy Huynh voiced his hope that local agencies will spare no efforts to conserve the local tea tree area and enhance communications to raise public awareness of the trees' significance and value.
On the occasion, relief aid were handed over to 20 disadvantaged families and students in the locality./. 
Social policy credit proves useful for poverty reduction: meeting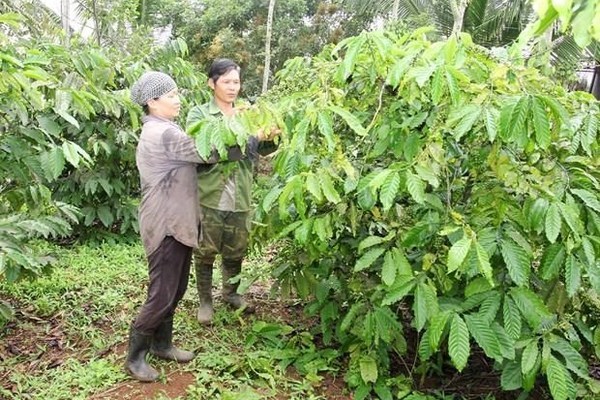 Farmers in Ea Nuoi commune of Buon Don district, the Central Highlands province of Dak Lak, tend coffee trees
Social policy credit has reached all the communal-level localities nationwide, greatly helping with efforts towards sustainable poverty reduction, heard a teleconference in Hanoi on September 23.
The event, looking into the role and effectiveness of social policy credit in poverty elimination, was held by the central steering committee for national target programmes for 2016 – 2020.
General Director of the Vietnam Bank for Social Policies (VBSP) Duong Quyet Thang reported that from 2016 through 2018, nearly 8 million poor households and others with disadvantages received loans from the VBSP totaling 221.69 trillion VND (9.5 billion USD at the current exchange rate).
That has helped more than 1.4 million households escape from poverty, created jobs for over 775,000 people, and assisted almost 200,000 underprivileged students to continue their study. The lending has also helped build nearly 4.9 million rural water and sanitation facilities, along with more than 108,000 houses for the poor.
He noted social policy credit, part of which is entrusted to the VBSP by localities as well as domestic and foreign organisations and individuals, has been funding more than 20 programmes and projects so far.
By the end of August 2019, total funds had surpassed 207.7 trillion VND while outstanding loans topped 199.82 trillion VND, up about 63 trillion VND and 57.29 trillion VND from 2015, respectively. The annual credit growth rate was 9.7 percent.
Vice Chairman of the Vietnam Farmers' Union Nguyen Xuan Dinh said over the last five years, social policy credit entrusted to the union has become funding for over 3 million poor and near-poor households and other underprivileged groups to improve their livelihood. It has also benefited nearly 132,500 disadvantaged students and financed the building of over 2 million water and sanitation facilities, along with 115,000 houses for low-income earners.
The credit has helped bring the household poverty rate down from 5.97 percent in 2015 to 5.5 percent in 2018 and practically supported the new-style rural area building, Dinh added.
Recognising the effectiveness of social policy credit, Deputy Prime Minister Vuong Dinh Hue, head of the central steering committee, said the VBSP and social policy credit form an important pillar of the national target programme on sustainable poverty reduction. Thanks to this pillar, the number of impoverished households declined "very fast" between 2015 and 2018, helping to fight loan sharking and implement the national target programme on new-style rural area building.
He asked local administrations to enhance their leadership over social policy credit provision and better mobilise resources for it.
The Deputy PM also requested the Finance Ministry, the State Bank of Vietnam and the VBSP to consider proposals raised at the meeting to improve its lending policy such as loosening lending limits, extending the term of loans given to the households that have just risen above the poverty line, and raising the limits of lending for production activities and clean water programmes.
From 2020 to 2025, the VBSP must raise its annual credit growth rate to at least 10 percent, Hue said, calling on the Vietnam Fatherland Front to promote the "For the poor" campaign to mobilise more donations from organisations, businesses and individuals to increase credit capital./.
Workshop raises public awareness on contraception, reproductive health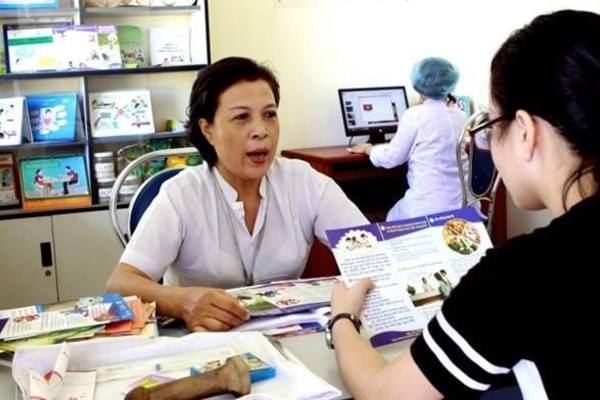 A medical worker gives health advice to a woman
A workshop on active contraception took place in Hanoi on September 23 in response to World Contraception Day 2019.
Co-organised by the Department of Population and Family Planning, Vietnam Women's Union, and Bayer Vietnam company, the workshop discussed causes of unwanted pregnancy, unsafe abortion, and the benefits of using contraceptive methods.
Speaking at the event, Director of the department Nguyen Doan Tu stressed contraception helps families control their reproduction, avoid sexual-transmitted diseases, and improve living standards.
According to the General Statistics Office of Vietnam, the country's population increases by nearly 1 million on an average annual basis.
Official reports showed that there are between 250,000 and 300,000 abortions a year.
On the occasion, a mobile app, named 'Song chu dong' (proactive life), was introduced. The app offers adequate information on reproductive health and contraceptive methods and enables users to connect with experts in the field. It is available on Android and IOs platforms for downloads starting from September 26.
The app is part of a family planning communications programme run by the three parties in the past three years. The programme has so far organised several seminars and competitions to promote safe contraception. By the end of 2019, it is expected to provide consultations for more than 25 million women nationwide./. 
Soft loan policy plays role in poverty reduction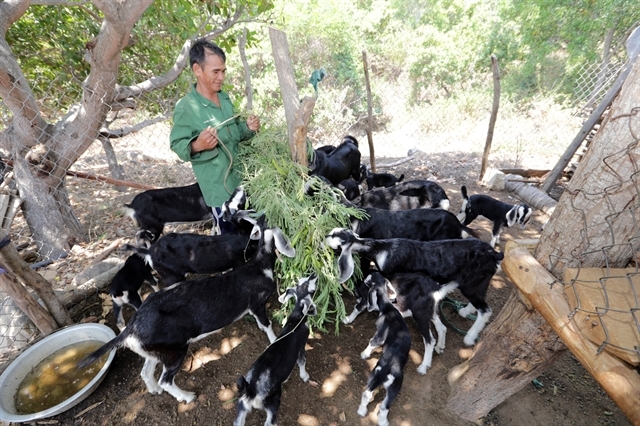 A farmer from Raglai ethnic minority group in central Khánh Hoà Province's Cam Ranh City got a low interest rate loan to develop crops and raise goats.
Nearly eight million poor households and families subject to special social policies have received soft loans worth nearly VNĐ222 trillion (US$9.56 billion) over the past three years, contributing to improve the living conditions of the poor, particularly in ethnic minority-inhabited and rural areas.
The credits, granted to the households from 2016 to August 31, 2019, have helped over 1.4 million households escape poverty, director general of the Việt Nam Bank for Social Policy Dương Quyết Thắng said at an online conference held on Monday to review the role and efficiency of credit policies in sustainable poverty reduction.
The loans helped create jobs for 775,000 labourers and funded the construction of 4.9 million rural clean water and environmental treatment facilities and more than 108,000 houses for the poor.
Nearly 200,000 poor students could continue studying thanks to the loans.
Vice Chairman of the Việt Nam Farmers' Association Nguyễn Xuân Định said credit programmes aimed at disadvantaged people showed breakthroughs in the leadership and direction of the Party and State in hunger elimination and poverty reduction efforts.
Offering credits with low interest rates for the poor helped to encourage them to find ways to work or do business to escape poverty themselves, he said.
Nguyễn Thị Quyến, a farmer from central Bình Định Province's Hoài Sơn Commune, said the loans helped her two children continue their educations and they both had stable jobs now.
Vice Chairman of the People's Committee of the Central Highlands province of Lâm Đồng, Nguyễn Văn Yên, said the credit policy was considered one of the key pillars in promoting economic development, particularly in changing production methods for poor households.
The policy has helped nearly 11,000 households in the province escape poverty over the past five years and contributed to reduce the province's poverty rate to 2.85 per cent in 2018 from 6.67 per cent.
Acknowledging the efficiency of the programme in implementing the national target of sustainable poverty reduction, Deputy Prime Minister Vương Đình Huệ said the Bank for Social Policy and the credit policy was one important pillar of the national target programme on sustainable poverty reduction.
This pillar helped reduce the number of poor households, prevent "black credit", creating resources for localities to implement the national target programme on sustainable poverty reduction and new-style rural area construction, and helping to improve the spiritual and material life of people, he said.
The policy has been widely applied, meeting the demand for credit by poor people, and helped to promote the proactiveness and responsibilities of poor people in poverty reduction, he said.
However, he added that measures were needed to improve the efficiency of the social credit policy and the operation of the Bank for Social Policy.
It was also necessary to increase inspections and supervision to effectively use and manage the fund, he said.
He urged localities to increase leadership and guidance over social policy credit activities, considering it their regular and key tasks.
They were also instructed to connect the policy with agricultural and rural development, education, vocational training, ensuring social security and sustainable poverty reduction.
The deputy PM suggested increasing the annual credit growth rate of the bank for social policy to reach 10-12 per cent. 
Int'l exhibition of baby products to kick off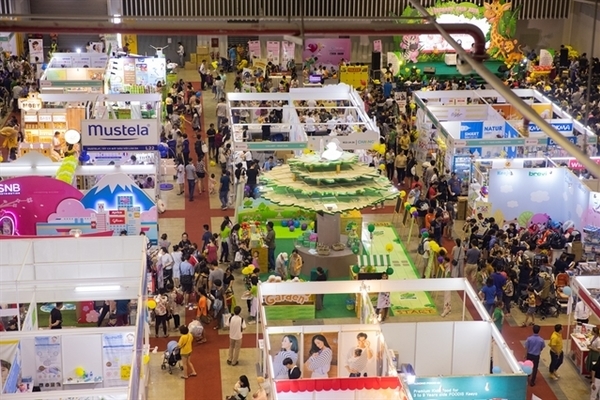 Vietbaby Hanoi 2019 exhibition will take place on September 26-29. Photo courtesy of COEX Vietnam
The Vietbaby Hanoi 2019 exhibition will take place on September 26-29 with 200 booths from more than 120 businesses from seven countries (South Korea, Chinese Taipei, Singapore, Hong Kong, Japan, Australia and Việt Nam).
The event will bring together booths, a playing zone, seminars and photo exhibitions with the theme of Mother's Choice - Baby's Future.
It aims to create a playground for children and a shopping space for mothers, helping the whole family spend fun time together.
The event will include seminars on nutrition and education for children, hosted by experts such as PhD of psychology Phan Thị Huyền Trân, Dr Lê Minh Trác and PhD Lê Bạch Mai, former vice director of the National Institute of Nutrition.
Art performances, a circus and magic show will be held during the four-day event. 8,000 gifts will be given out for free at the gate.
Following the success of the exhibition in HCM City, it comes to Hà Nội thanks to the collaboration of Coex Vietnam, SEGE Fairs, Vinexad - Advertising and Trade Fair Joint Stock Company, Mẹ Và Con (Mother and Child) Magazine and Webtretho Forum. 
Hồng Lĩnh Hà Tĩnh win promotion to V.League 1, Phù Đồng relegated
Hồng Lĩnh Hà Tĩnh players celebrate with the V.League 2 cup. — Photo of VPF
Hồng Lĩnh Hà Tĩnh won the V.League 2, the LS Cup 2019, and earned promotion to the V.League 1 for next season.
In the last match of the first division tournament on Sunday, the former Hà Nội FC B team came from behind to defeat Long An 2-1 on home turf and received their trophy.
Dương Anh Tú opened the scoring for visiting Long An at the 40th minute.
Phạm Tuấn Hải netted a double for the hosts to end the league on a high point for Hồng Lĩnh Hà Tĩnh, who finished on 53 points.
Phố Hiến FC, who drew with former V.League 1 side Cần Thơ 0-0, finished second with 40 points. They will play against the 13th-placed team of the V.League 1 in a playoff. The winner of the match will compete in the V.League 1 next season.
Currently Thanh Hóa are 13th in the V.League 1, which will run for two more matches and end on October 23. The playoff will be held on October 26.
Phù Đổng FC, who drew with Đồng Tháp 2-2 on Sunday, are the bottom team with 19 points. They will be relegated to the Second Division in 2020. 
Ecotourism prospects for Kieu hamlet on legendary Truong Son Dong Road
Located along the legendary Truong Son Dong Road at the foot of Chu Yang Sing Mountain, Kieu hamlet in Dak Lak province is ripe for tourism development.
Its history, ecosystem, and culture qualify Kieu hamlet to become ecotourism village exhibiting the culture of Vietnam's M'nong ethnic minority. VOV reports on Kieu's prospects as a new-style rural ecotourism village.
Since Y Gen Bya of Kieu hamlet began participating a year ago in a new-style rural ecotourism village project promoting the M'nong ethnic minority culture, he has been busy every day taking care of one hectare of coffee and 400 fruit trees and developing an agri-tourism farm.
His orchard is doing well, with most of the fruit trees in blossom and fruiting. As the farm develops, tourism businesses will start bringing visitors to explore and experience.
Y Gen Bya told VOV "Fruit trees like the local sandy soil and yield plenty of fruit. When the district administration advised me to develop agricultural ecotourism that promotes culture, I decided to participate in the project. They said businesses will bring tourists to experience our farms and this will give us extra income. We are very happy to benefit so much from combining ecotourism with new-style rural and cultural development."
The project is helping to preserve the M'nong culture in Kieu hamlet. This year brocade weaving in the hamlet has expanded, signaling that the local traditional craft will continue to thrive. Investment has been made in paving rural roads, repairing traditional long houses, opening gong training classes, and organizing M'nong cultural festivals.
Y'Drai M'Drang, Chairman of Yang Mao commune People's Committee, said 81 of 90 households in Kieu hamlet have joined the project and been given seedlings and fertilizer to grow fruit trees on about 120 hectares. They have also received financing to renovate 30 traditional long houses to provide tourist accommodations.
"We are developing fruit tree farms andpreserving the M'nong culture in Kieu hamlet. We are working with the district's culture and information section to revitalize brocade weaving, gong troupes, the new rice offering festival, Ea Ray singing, and playing a musical instrument called a Gui. Our culture should be preserved and promoted to attract tourists," said Y'Drai M'Drang.
Kieu hamlet was established in the mid 20th century for M'nong ethnic people. The 6,500-hectare village is located on Dong Truong Son Road beside the Chu Yang Sing mountain range. The area was at the center of Dak Lak's revolutionary base.
Nguyen Thi Phuong Hieu, Deputy Director of the provincial Department of Culture, Sports and Tourism, said "The roads, ecosystem, and traditional M'nong culture of Kieu hamlet are great advantages for tourism development. The provincial People's Committee should include Kieu hamlet in DakLak's tourism development planning between 2020 and 2025 and make it a key tourism destination. This will create more income for the locals and help them preserve their culture."