PM to attend 7th Greater Mekong Sub-region Summit
Prime Minister Pham Minh Chinh will attend the seventh Greater Mekong Sub-region (GMS) Summit held on September 9 via videoconference.
His presence will be made at the invitation of Cambodian Prime Minister Hun Sen, according to the Foreign Ministry's communique./.
Hanoi confirms five COVID-19 cases on September 7 morning
The Hanoi Department of Health reported five new COVID-19 infections from 6pm on September 6 to 6am on September 7, including one in the community and four in quarantine facilities.
Among the new cases, three were recorded in Ha Dong district, and one each in Dong Da and Cau Giay. The community case showed no symptoms of the disease.
Since April 27, when the fourth wave of COVID-19 began, Hanoi has logged 3, 585 cases, comprising 1,566 detected in the community and 2, 019 others already under quarantine.
As of 6pm on September 6, the capital collected 759,945 samples for COVID-19 testing.
In Vietnam, the infection tally reached 536,788 as of late September 6. Over 22 million vaccine doses were administered./.
Hanoi to carry out mass vaccination and testing programme
Chairman of Hà Nội People's Committee Chu Ngọc Anh sent an urgent dispatch Monday to speed up COVID-19 prevention efforts in the capital city setting a September 15 deadline to bring the situation under control.
Health workers will conduct mass testing for "100 per cent of all residents in city" to "filter out" COVID-19 cases from the community between now and September 12.
All people in areas with dangerously high numbers of infections and locked down areas or quarantine facilities will be tested once every two to three days. People in high-risk areas to be tested once every five to seven days, and people in other areas should have at least one test.
Residents can self test but under the guidance and monitoring of health workers. Lab tests (RT-PCR method) and rapid antigen tests, as well as pooled testing will both be deployed.
After September 12, the city will continue to collect specimens to screen for COVID-19 threats.
Also according to the dispatch, the capital city also aims to give at least one dose of COVID-19 vaccines to 100 per cent of the adult population and administer second doses for the eligible people before September 15, with priority continuing to be frontline medical workers, the elderly, people with underlying health conditions, and pregnant women.
More vaccination sites are expected to be set up, with longer working hours lasting into the night, while procedures for vaccination will be streamlined, to meet the inoculation target. 
As of Monday, Hà Nội has administered about 2.3 million vaccine shots (over 2 million first doses, over 200,000 second doses), about 24.97 per cent of the city's population and 33.98 per cent of the people above 18 years old.
Hà Nội will continue to enforce strict lockdown in high-risk areas, while commencing and preparing economic restarts in 'green zones' and 'yellow zones' (COVID-19 free and low but present risk areas, respectively) starting September 15.
After three successive stringent lockdown episodes for 45 days, the capital city is recording an average of 50 cases a day.
During the fourth wave of infections (since late April), Hà Nội has logged nearly 3,600 COVID-19 patients, with more than 1,500 found in the community.
According to the health ministry's criteria, 'under control' situation would mean no new clusters of infections in seven days, community cases trending down compared to the previous two weeks and decreasing by at least 50 per cent compared to the peak.
HCMC's total Covid recoveries exceed 125,000 cases
Local hospitals in HCMC yesterday, September 5, discharged 2,706 Covid-19 patients having recovered from the disease, sending the city's total number of recovered cases in the year to date to 125,481, according to the HCMC Center for Disease Control.
As of this morning, the city had recorded 251,933 Covid cases in total, with 460 of them being imported cases.
The southern city is providing medical treatment to nearly 42,900 coronavirus patients. Of them, some 3,000 are children aged under 16, nearly 2,800 are severely-ill patients put on ventilators and 22 others require ECMO support. Moreover, 222 new Covid deaths were confirmed in the city yesterday.
By last Saturday, the city had administered more than 6.4 million Covid vaccine doses, up around 123,000 doses against the previous day. Among them, nearly six million people were given the first dose, and approximately 450,000 people fully vaccinated.
Aside from the vaccination, the city has operated pop-up healthcare stations citywide to monitor and take care of Covid patients who are receiving home-based care as well as to provide them with medicines.
As of September 4, the city had over 111,300 patients undergoing home-based quarantine and care. Meanwhile, more than 24,000 other patients are being treated at concentrated quarantine centers.
Quang Nam tightens control over Ngoc Linh ginseng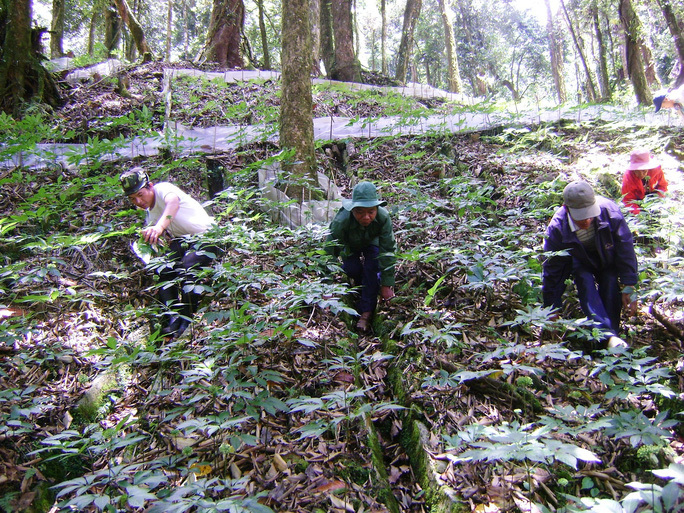 A Ngoc Linh ginseng area in Quang Nam.
The central province of Quang Nam has tightened control over the plantation and trading of the Ngoc Linh ginseng.
This is aimed to facilitate the management of projects which rent local forestry land for growing this kind of ginseng.  
Under a decision issued by Ho Quang Buu, vice chairman of the provincial people's committee, businesses that want to lease forestry land for Ngoc Linh ginseng processing projects have to submit their plan on project implementation. Projects which were approved by December 31 last year have been requested to submit their plans.
The local Department of Planning and Investment is assigned for inspecting the financial capacity of investors as well as the promised pace of project implementation. Meanwhile, the Department of Agriculture and Rural Development is responsible for checking ginseng point of origin to ensure authenticity. Enterprises that violate environmental regulations during the project implementation must be strictly punished.
The provincial market management board has been asked to co-operate with concerned agencies to closely manage Ngoc Linh ginseng trading activities. Transactions involving products of low quality or unclear origin will be strictly fined.
In April this year, the central province inaugurated the first-ever Ngọc Linh ginseng production plant with a total investment of VND125-billion (USD5.4 million). The project in the first phase is designed to produce 200,000 capsules and provide 5 million Ngọc Linh ginseng saplings per year.
Ngọc Linh ginseng, grown both in Nam Tra My District in Quang Nam Province and Kon Tum, was recognised as a national brand and given a Geographical Indication in 2018.
Stamp set on road traffic safety launched
The Ministry of Information and Communications (MoIC) and Vietnam Post Corporation, in collaboration with the National Traffic Safety Committee and VinGroup, officially issued a stamp set on road traffic safety (second set) on September 5.
The stamp set consists of four samples, with a size of 37 x 37 (mm), designed by painter Pham Trung Ha from the Vietnam Post Corporation, to be provided on the public postal network from September 5, 2021 to June 30, 2023.
The four stamps have prices of VND4,000 and VND6,000.
Earlier, the MoIC, the National Traffic Safety Committee and VinGroup jointly agreed to issue three sets of stamps on road traffic safety in 2020, 2021, and 2022 to convey the 12 golden rules of traffic safety. The first was launched on September 5, 2020, with four samples. 
They are expected to contribute to raising public awareness of Road Traffic Laws.
In 2011, the Ministry of Information and Communications also issued a set of stamps "Decade of action for road traffic safety (2011-2020)", featuring two stamps.
HCMC to extend travel pass in case of continuing social distancing
HCMC People's Committee has decided to extend the travel passes which have already been granted to residents, businesses and organizations in case the city continues social distancing after September 15, according to Lieutenant Colonel Le Manh Ha, deputy chief of staff at the municipal Department of Public Security. 
He was speaking at the conference hosted by the HCMC Steering Committee for Covid-19 Prevention and Control on September 5.
Speaking at the meeting, Mr. Pham Duc Hai who is Deputy Head of the Steering Committee said that the HCMC 's government has established the steering committee for planning and building of Covid-19 Prevention, Control, and economic recovery.
The committee includes 17 members, including Chairman of the HCMC People's Committee Phan Van Mai who is head of the committee, deputy chairmen and chairwoman of the People's Committee of Le Hoa Binh, Vo Van Hoan, Duong Anh Duc, Ngo Minh Chau and Phan Thi Thang.
The city has also set up advisory teams on economic recovery, Covid-19 prevention measures, social welfare activities and strengthening investment projects.
As of present, HCMC had 245,707 people infected with Covid-19, including 245,247 community transmission cases and 460 imported cases.
From January 1, 2021 to present, the total number of patients released from hospitals was 125,481 while the number of confirmed deaths was 10,452, he said.
Lieutenant Colonel Le Manh Ha, deputy chief of staff at the municipal Department of Public Security said that the HCMC Police Department, the Department of Health, the Department of of Labor - Invalids and Social Affairs, the Department of Information and Communications, the People's Committees of districts have updated information about vaccination data, Covid-19 patients and those who are granted travel pass into the National population database.
When HCMC launches safety requirements and cases of special necessity permitted to go out, the city's public security will control travel activities. QR code will be used to monitor people's travel instead of travel warrant.
On September 4, districts completed 80 percent of the second phase of testing. The city saw a decline in new cases, said Deputy Head of the HCMC Center for Disease Control Dr. Nguyen Hong Tam.
According to Deputy Director of the Department of Industry and Trade Nguyen Nguyen Phuong, the department has proposed the reopening model for traditional markets to the municipal People's Committee, and worked with relevant units and Binh Dien Wholesale Market to begin the transport of goods to help sellers receive commodities to provide for supply chains, traditional markets and community kitchens.
Viet Nam positive for home result against Australia
Under coach Park Hang-seo, Việt Nam have not lost on a match at the Mỹ Đình Stadium for three years. The hosts hope to maintain this record when facing Australia in a third-round qualification World Cup match on September 7 in  Hà Nội.
Under Park, Việt Nam have recorded 17 undefeated matches. Among them, they won all matches held at the stadium at the AFF Cup in 2018 before taking the championship crown. In the second-round of World Cup qualifiers, the hosts also beat Malaysia and the UAE, with a draw against Thailand.
Australia are different from previous rivals, but the Vietnamese players believe in a positive result.
"The third qualification round is tough. We have to prepare really well in spirit, technique and physique," said midfielder Lương Xuân Trường.
"Our target is to gain as many points as possible, both home and away. Việt Nam will never give up." 
Striker Nguyễn Tiến Linh is also looking toward to the match.
"We are in the best mood to face the leading continental team. My personal goal, also of my team, is to make history and participate in a World Cup finals for the first time," said Linh.
Coach Park faces a problem when key defender Đỗ Duy Manh was sidelined because of a red card against Saudi Arabia last week. Defender Trần Đình Trọng will be also on the bench as he suffered a thigh injury during the match.
Previously, full-back Đoàn Văn Hậu missed out because he had not recovered from a knee injury.
Park has called-up defender Trần Văn Kiên to strengthen his defence against Australia who have won every match they have played in the World Cup qualifiers, scoring 31 goals and conceding only two.
He also called-up striker Nguyễn Công Phượng to train with the team after he withdrew from the first match to welcome his baby son. However, due to difficulties travelling during the pandemic, Phượng may not compete against the Socceroos.
The South Korean manager will have some players back in action. Midfielder Trần Minh Vương, defenders Bùi Tiến Dũng and Nguyễn Thành Chung are all fit.
Park can also put his trust in key midfielder Nguyễn Quang Hải, who often scores against strong opposition.
"The stronger they are, the better Hải plays," said pundit Phan Anh Tú, former president of Hà Nội Football Federation.
"From club level to the national team, from V. League to continental tournaments, Hải has shown his confidence and skilled technique. Facing a stronger rival, he will perform amazingly," Tú said.
Australia landed in Hà Nội on September 4, and coach Graham Arnold said playing in the closed-door stadium would be great for his team as Việt Nam would not have home advantage.
He said his team were ready to bring the three points home.
Arnold said he was proud of Australia's performance beating China 3-0 last week, and they would do better in the coming game.
Striker Awer Mabil also wants to make history in Việt Nam.
"We are here to make history so it's really nice for the books, but we have more to come," Mabil said. "We are only just getting started. I am really, really excited for what we are going to do."
However, his teammate Martin Boyle, who scored against China, will not play due to ankle injury which sidelined him the second half.
Defender Ryan Strain will also not play due to an ankle strain.
The match will be officiated by Abdulrahman Ibrahim Al-Jassim of Qatar and will kick-off at 7pm and air on VTV6. 
Southern region to suffer from increasing thundery rains
According to the weather news from the National Center for Hydrology Meteorology Forecasting, the Central, Central Highlands and Southern regions have experienced thundery showers on the large scale with the average rainfalls of 40 mm to 80 mm, even over 120 mm in some places from last night to the morning of September 6.
The rainy and thundery weather condition was due to a low-pressure trough connecting with the operation of the southwest monsoon.
On September 6 morning, the hydro-meteorological stations in Asia-Pacific issued a warning of a newly-formed tropical depression in the east of the Philippines which is likely to develop into a new storm passing through the Central Philippines to enter the East Sea in the next two or three days.
The storm is expected to fuel the southeast monsoon, triggering thundery downpours across South and Central Vietnam in the upcoming days.
HCMC runs out of Moderna vaccine
HCMC has run out of the Moderna Covid-19 vaccine and is unable to provide the second shot in due time to people who have received the first jab.
According to the Ministry of Health's instructions, people should be given the same vaccine as their first and second shots. Only those who have got AstraZeneca as the first shot can be given the Pfizer vaccine as the second shot in case of limited Covid-19 vaccines, news site VnExpress reported.
Doctor Nguyen Hong Tam, deputy director of the HCMC Center for Disease Control (HCDC), said the city has yet to receive the Moderna vaccine to administer the second shot.
Associate Professor Dr Duong Thi Hong, head of the National Expanded Program on Immunization under the National Institute of Hygiene and Epidemiology, said the Ministry of Health had earlier instructed localities to retain half of the allocated Moderna vaccine for the second shot as Vietnam was yet to buy more doses of the vaccine.
The ministry allocated all Moderna vaccine doses to localities and did not stock up the vaccine for the second jab. To date, Vietnam has received five million Moderna doses presented by the United States and more than 40,000 doses donated by the Czech Republic.
Tam from HCDC said HCMC's healthcare sector was mulling scientific solutions to vaccinate those who have got the Moderna vaccine as the first shot.
Doctor Nguyen Hien Minh at the HCMC University Medical Center said the efficacy rate of the vaccine would not drop if the second shot was administered later than recommended by the vaccine producer.
At a recent press briefing, Deputy Director of the HCMC Department of Health Nguyen Hoai Nam said the city planned to use some 6.7 million vaccine doses for the second shot. From September 1 to 15, the city will vaccinate over 703,600 people who got the AstraZeneca vaccine as the first shot from June 20 to July 17, some 446,100 people who received the Moderna vaccine from August 1 to 15, over 24,900 people who got the Pfizer vaccine from August 11 to 25 and nearly 859,200 people who were administered the Vero Cell vaccine from August 13 to 25.
Two fined for taking street selfies amid social distancing
Two men have been fined for taking photos in the middle of the streets without face masks during the social distancing period in Pleiku City.
On September 6, Vo Phan Duyet, chairman of Dien Hong Ward People's Committee announced that they had fined two local men VND6m (USD262) for violating social distancing rules.   
The men brought a table and two chairs to drink in the middle of the street in Pleiku. They took the photos to post on their social media pages while not wearing face masks. The men said they were neighbours. They just took the photos as mementoes and went into their houses immediately.
The men have taken off the photos from their pages and promised to strictly follow social distancing rules.
Dien Hong Ward People's Committee fined the men VND3m (USD131) each for going out and not wearing face masks.
COVID-19 vaccination stepped up in coronavirus hotspots
The Ministry of Health (MoH) has requested that Hanoi, Ho Chi Minh City, and other major coronavirus hotspots in the southern region vaccinate all of their residents aged above 18, including pregnant women, with at least one COVID-19 vaccine shot by September 15.

In an effort to speed up vaccination, the MoH recommended that the administrations of these localities mobilise all capable forces, including private medical facilities, in order to carry out the scheme at full capacity.
Mobile vaccination units will be dispatched to residential areas, agencies, and especially areas under lockdown to ensure everyone will be given the first shot.
The Health Ministry also requested vaccination facilities use e-health record applications to monitor vaccination progress and instruct people how to fill out COVID-19 Vaccine Consent Forms and COVID-19 Screening Forms, whilst making medical declarations before being injected.
So far, major southern coronavirus hotspots such as Ho Chi Minh City, Binh Duong, and Long An have been allocated enough vaccine doses in order to provide the first shot for locals during the vaccination drive.
As of 8 a.m. on September 6, Vietnam has administered a total of 21,445,181 doses of COVID-19 vaccines, with 3,198,545 people having been fully vaccinated.
Various policies adopted to support poor students
Amid the ongoing Covid-19, many schools have spent tens of billions of dong to support students affected by the pandemic in addition to savings and increased investment in infrastructure for online teaching for the school year 2021-2022.
Many schools also let students owe tuition fees or only pay half of the tuition fees to share with students' difficulties due to the impact of the epidemic.
In the first semester of the new academic year 2021-2022, students of Vietnam National University in Ho Chi Minh City are eligible for a preferential study loan with zero interest rate, up to VND10 million a semester.
The program is implemented by the Ho Chi Minh City National University Development Fund, in order to provide timely support to disadvantaged students, so that students do not have to drop out of school because they cannot afford tuition fees.
According to Associate Professor Nguyen Dinh Tu, Director of the Ho Chi Minh City National University Development Fund, the fund has just launched 300 scholarships VND5 million each for students facing difficulties due to the coronavirus pandemic in addition to the above preferential loan program.
About 6,000 students have been receiving the support of the Vietnam National University in Ho Chi Minh City with scholarships and tuition fees in the academic year 2021-2022, said Associate Professor Nguyen Dinh Tu.
Nguyen Hoang Education Group has just provided timely support to new students at five universities including Hoa Sen University, Hong Bang International University, Gia Dinh University, Ba Ria - Vung Tau University, Truong Sa University, and Eastern University of Technology by launching the program "Zero tuition fee for students to overcome Covid-19", along with many incentives on tuition fees.
Accordingly, students are entitled to 12 months of zero interest installment payment via bank card to pay tuition fees for the academic year 2021-2022. Parents do not need collateral and no proof of income is required. The tuition package is up to VND500 million with zero interest rate.
In addition to loan policies, new students and former students will receive a tuition fee reduction from many universities from 5-50 percent in the 2021-2022 school year.
Principal of Ho Chi Minh City University of Industry Phan Hong Hai said that this year the school has spent VND40 billion (US$ 1,754,346) each worth 100 percent, 75 percent, 50 percent, and 30 percent of tuition fee.
Additionally, the school will give scholarships each semester so that students are motivated to study and carry out researches. With this amount, about 30 percent of the school's students will be beneficiaries. New students from low-income families can apply for the school's scholarships.
Likewise, Professor Nguyen Xuan Hoan, Rector of the Ho Chi Minh City University of Food Industry, said that the university has just announced to spend more than VND40.6 billion for scholarships and tuition fee support. Specifically, the school spends more than VND30.6 billion on scholarships and student support funds as well as a direct discount of 5 percent of semester 1's tuition fee for freshmen.
The city University of Economics has just launched a student support package worth VND25 billion, with a program to reduce tuition fees by 5 percent in the middle and final semesters of 2021 for learners and 1,000 scholarships to support learners affected by the Covid-19 pandemic.
Similarly, the Ho Chi Minh City University of Technology and Education has also allocated VND36 billion for scholarships to encourage talents.
Furthermore, the Ministry of Education and Training assigned the Department of Political Education and Student Affairs to continue organizing the program "Accompanying students in the summer season with Covid-19" on the fan page https://www.facebook.com/cthssvvn to provide psychological counseling services and training study skills. The Department of Political Education and Student Affairs will connect with relevant agencies to seek support from businesses that usually give aid to poor students.
Universities, academies, and pedagogical colleges must build a database of students volunteering to participate in the epidemic prevention and control, and students in university dormitories and rental houses outside to have appropriate support including necessities, financial assistance, tuition fee exemption and reduction.
23 players shortlisted for World Cup qualifier against visiting Australia
Head coach Park Hang-seo has named 23 Vietnamese players for their September 7 match against visiting Australians in Hanoi as part of the final round of Asian qualifiers for the 2022 FIFA World Cup.
The match will see defender Tran Dinh Trong be sidelined due to his muscle injury, while another defender Do Duy Manh will not be able to join his teammates after he was red-carded in Vietnam's 3-1 loss away to Saudi Arabia on September 2.
Instead, Bui Hoang Viet Anh and Tran Van Kien will replace Duy Manh and Dinh Trong in the line-up
Elsewhere, defender Truong Van Thiet who was part of the squad that travelled to Saudi Arabia, has not been named in the shortlist. Instead, his Viettel FC teammate Bui Tien Dung will return to the national squad after recovering from injury.
Talented striker Cong Phuong will not also be able to play due to his family affairs.
The rest of the team look set to remain unchanged as they showed up in the match against Saudi Arabia.
Vietnam are due to take on Australia at the My Dinh National Stadium in Hanoi at 7 p.m. on September 7. This will also mark the first match played in Vietnam to use Video assistant referee (VAR) and goal-line technology (GLT).
Vietnam are currently fifth in Group B after losing to Saudi Arabia in their opening match. Australia are top of the group following their 3-0 victory over China.
Govt says cancelling grocery orders placed with military amid lockdown to be punished
Prime Minister Phạm Minh Chinh has instructed the Minister of Public Security to penalise people cancelling orders for foods and other essential products they place with troops and volunteers who pool them to buy amid the total lockdown in many localities.
The Government Office said military and police personnel and volunteers buy and deliver foods and other stuff since people are prohibited from leaving home.
But in some places there have been cases of people cancelling orders, causing difficulties to the troops and volunteers and angering the public.
This has even been reported in the media.
Many localities have reported about people not accepting delivery or cancelling orders, turning off their phones when military and volunteers try to contact them to deliver goods, and saying they just wanted to check if it actually worked.
In order to ensure the efficiency of social distancing in HCM City, the military and police personnel have helped community-based COVID-prevention groups and volunteers shop and deliver food to people once a week from August 23.
People can register and pay for their food through support teams at their residential zones.
Needy and COVID-affected people will receive food and other essential goods.
The People's Committee has instructed the Department of Trade and Industry and large supermarket chains like Co.opmart, Lotte, Bách Hóa Xanh, and Vinmart to work with authorities in all 21 districts and Thủ Đức City to ensure distribution of goods.
According to statistics, the city's population is nearly 9.4 million, and the average daily consumption is 10,964 tonnes of rice, meat, fruits, vegetables, and processed foods.
Army, public security forces' help in fight against COVID-19 is necessary: Officer
Chief of the Ministry of Public Security Office and its spokesman Lieut. Gen To An Xo has stated that the presence of army and public security forces in the south is essential as on-the-spot forces are insufficient to meet requirements of the fight against the COVID-19 pandemic.
In a press conference following the Government's monthly meeting on September 6, Xo said during the fourth wave of COVID-19 infections, the ministry deployed over 5,000 officers and soldiers, more than 2,000 students from public security schools, 600 medical staff from hospitals to the southern region.
On September 6 alone, the ministry sent over 900 officers and soldiers to assist Binh Duong, Dong Nai and Long An provinces fat their requests.
Xo stressed that public security forces did their best to ensure security and safety while assisting in pandemic prevention and control.
Maj. Gen. Nguyen Van Duc, Director of the Department of Information and Education under the Vietnam People's Army's General Department of Politics, said the Ministry of National Defence sent more than 120,000 officers, soldiers and militia members to the southern localities with the highest determination and responsibility in the fight against COVID-19.
It also set up thousands of check-points in provinces and cities, and border areas to prevent illegal entry-exit. The army established 190 concentrated quarantine establishments, used military camps for quarantine, founded 11 temporary COVID-19 treatment hospitals with over 6,000 beds, and deployed over 600 military medical groups in Ho Chi Minh City and localities.
In the near future, the army will build prevention and control plans at higher levels and stay ready to assist forces not only in the south but also in other localities when necessary./.
HCMC plans to reopen goods transit point at Binh Dien wholesale market 
HCMC is considering reopening the goods transit point at the Binh Dien wholesale market in District 8, the largest of its kind in the city on September 7, said Nguyen Nguyen Phuong, deputy director of the municipal Department of Industry and Trade.
Phuong said the city would also reopen some traditional wet markets, most of which have been closed as the city has seen a sudden spike in new Covid-19 cases, the local media reported.
The Department of Industry and Trade has proposed the municipal government instruct districts to safely resume the operation of traditional wet markets to meet the local consumer demand.
As for the supply of food in the city, Phuong said the city had sufficient supplies of fresh food despite some difficulties during the first days of implementing the stay-at-home mandate. The city had also reviewed the supply of processed food and found that suppliers had faced many difficulties.
They have yet to be offered support in terms of goods supplies and granted travel passes. Therefore, the city will firstly support large suppliers and will work with the relevant agencies to add them to the list of entities prioritized to operate during the social distancing period.
Storm Conson forms in East Sea, heads toward Vietnam
A tropical low depression has strengthened into a tropical storm in the East Sea and is moving towards the northern coast of Vietnam, according to the National Centre for Hydro-Meteorological Forecasting.
Storm Conson is forecast to move into the northern part of the East Sea on September 8 and is likely to gain strength.
It will then move to the west towards the northern coast and dump heavy rain on coastal provinces this weekend and early next week.
Meteorologists also warned between 2-3 tropical cyclones would form in the East Sea this September, with half of them likely to affect the northern and north-central regions of Vietnam.
Also in September, more rain will lash localities in the north-eastern and north-central regions. Southwest monsoon will also cause heavy rain in the Central Highlands and Southern regions.
Back in July 2010, a tropical storm named Conson pounded Vietnam, leaving more than 10 dead and injured.
Dak Nong Province new COVID-19 hotspot with 16 local cases
Sixteen new infection cases were reported in the central highland Đắk Nông Province on Monday, making the province a new COVID-19 hotspot.
Dr Đặng Thành, director of the provincial Centre for Disease Control, said that the new cases were from BuBia and Bù Dzách villages in Quảng Tín Ward, Đắk R'lấp District. They lived in the same house and had close contact to one another.
The patients underwent rapid tests for SARS-CoV-2 with positive result on Sunday. Real-time RT-PCR tests on Monday confirmed the result.
Vice Chairman of the district's People's Committee Đỗ Thanh Cát said that the district decided to lock down the entire Quảng Tín Commune from 9pm on Sunday.
The commune also set up 33 checkpoints, including two in Hồ Chí Minh Road and 31 inter-commune checkpoints.
At two checkpoints that border neighbouring areas of the Đắk R'lấp District, authorities have tightened inspection on those who enter or get out of the area.
On Sunday, a sixth grader tested positive for COVID-19 at a local boarding school on the first day of the new school year.
He underwent two rapid tests at his school, with both results returning positive. His confirmatory test via the real-time RT-PCR method also came back positive.
The student has been brought to local COVID-19 treatment hospital while all teachers and students of the boarding school were required to remain on campus for COVID-19 tests.
Medical authorities have investigated his travel schedule and taken samples of people in Bubia Village, where the student resides, to promptly detect and separate infected people from the community.
As many as 100 people had close contact with the patient.
There have been 324 local infection cases in Đắk Nông since the fourth wave hit Việt Nam on April 27. Of those 166 have been given the-all-clear and 158 are still undergoing treatment.
No deaths have been reported in the province so far. 
Vietnam to attend ASEM Cultural Festival 2021
Vietnam will participate in the ASEM Cultural Festival (#ASEMfest) 2021 alongside 10 other countries, to promote its distinctive culture and strengthen cultural connections between Asia and Europe.
The festival will be held in Cambodia in November as part of the 13th Asia-Europe Meeting (ASEM) to be hosted by the Royal Government of Cambodia.
The ASEM Cultural Festival 2021 is scheduled to get underway between November 22 and November 26, to bring together dozens of artists from both Asia and Europe as they showcase the cultural diversity of both regions.
A range of music and dance performances, exhibitions, and film screenings will make up the festival programme, all of which will be held virtually due to the impact of the COVID-19 pandemic.
VN President seeks COVID-19 vaccine support from India
While receiving Indian ambassador to Vietnam Pranay Verma on September 6, State President Nguyen Xuan Phuc requested the Indian government lend 10 million doses of COVID-19 vaccines and provide other medical equipment to help it combat the coronavirus.

Phuc thanked the Indian government for donating medical supplies, including respirators, to Vietnam, and expected the Ambassador will lobby his government to provide continued support in the near future.
He asked the Ambassador to help promote cooperation between the two countries, through maintaining high-level contacts, implementing existing cooperation mechanisms such as the Vietnam - India Joint Committee on Economic, Trade, Scientific and Technological Cooperation, and holding political consultation online or in person.
The two sides need to cooperate efficiently in celebrating 50 years of their diplomatic relations, and realize the action program on the Vietnam – India Comprehensive Strategic Partnership for 2021-2023 in order to concretize the agreed areas of cooperation, he said.
The President suggested promoting bilateral cooperation in the areas of defense-security, cyber security, intelligence exchange, counter-terrorism, transnational crime prevention, as well as non-traditional security issues.
On economic and trade cooperation, President Phuc suggested that the Government of India open the door for Vietnamese goods, especially agricultural products like longan, rambutan and durian, to enter its market.
Vietnam always welcomes Indian businesses to increase investment in Vietnam in the areas of their strength such as processing and manufacturing technology, automobile supporting industry, information and communications technology, renewable energy, high-tech agriculture, and innovation, he said.
According to Phuc, the two sides should strengthen people-to-people exchanges, boost culture and tourism cooperation and soon resume flights when conditions permit.
The State President highly appreciated India's important voice, especially on the East Sea issue, and expected the two sides would continue to closely coordinate and support each other at multilateral forums including the United Nations Security Council of which both countries are non-permanent members.
For his part, Ambassador Pranay Verma welcomed President Phuc's proposals, and noted that given the impact of the COVID-19 pandemic, two-way trade between the two countries has grown well and could hit US$15 billion this year. He suggested that the Vietnamese Government continue to create favourable conditions for oil and gas enterprises of the two sides to expand their cooperation programmes.
The Ambassador also affirmed that he will make efforts to support Vietnam in restoring and preserving My Son cultural relic, a World Cultural Heritage site, with the project likely to be completed early next year.
Although India is focusing on the national vaccination programme, it always pays attention to the pandemic prevention of its partners, including Vietnam, he told his host, assuring that India will try its best to support Vietnam in its ongoing COVID-19 fight.
President Phuc said he would direct Vietnamese authorities to coordinate with the Ambassador and Indian authorities to effectively implement cooperation programmes between the two countries.
He also conveyed his invitations to the President and Prime Minister of India to visit Vietnam at an appropriate time.
Sa Pa surprisingly turns cold in mid-autumn
An unusual cold spell hit the famous northern resort town of Sa Pa on September 6, causing temperatures to plummet during the middle of autumn.

According to Luu Minh Hai, director of the Lao Cai Province Hydro-meteorological Observatory, temperatures in Lao Cai fell to 14.8 degrees Celsius, marking the lowest temperature recorded since the beginning of autumn.
This change can be put down to the weakened influence of the high-altitude wind convergence area, along with few clouds in mountainous areas, thereby causing large terrestrial radiation.
It is anticipated that winter-like conditions will arrive in Sa Pa early this year, with a much more severe winter expected in comparison to last year's forecast, Hai added.
HCM City to relax social distancing restrictions 'no sooner than September 15'
HCM City has developed a long-term plan to "live with the virus" as part of its effort to gradually reopen the economy "no sooner than September 15".
Speaking at a press conference on Sunday, Nguyễn Văn Nên, secretary of the city's Party Committee, said: "Based on the current pandemic situation, we can neither have zero community cases nor strict lockdown measures forever."
"The city must gradually open up the economy and find ways to live safely with the virus." 
Nên said the city would focus on getting life back to normal as soon as possible but no sooner than September 15, stressing that this would be done "safely and effectively".
"We have to live with the virus as we have to live with floods. It is important to know how to swim and have a life jacket to ensure safety," he said.
"To do this, the city is providing vaccines and medicine to residents," he said, adding it was also vital to raise citizens' awareness about the battle.
"We can't just focus on the pandemic fight without paying attention to production," he said. "The city will resume its dual goal of fighting the pandemic while ensuring socio-economic development as soon as it can."
The city is developing an economic recovery plan based on science and the experiences of other countries. "It has assigned a team of scientists, doctors, sociologists and psychologists to study all related issues in order to be able to safely live with the virus," he said.
A city pilot programme that will gradually open the economy will begin in District 7 and Củ Chi District, which have been able to contain the outbreak, according to the Steering Committee for COVID-19 Prevention and Control.
The city is also speeding up its pace of vaccinations. It targets having 100 per cent of people aged 18 and over vaccinated with at least one dose by the end of the month, and two doses by the end of the year.
Speaking at an online meeting with 63 provinces and cities on Sunday, Prime Minister Phạm Minh Chính, who is head of the National Steering Committee for COVID-19 Prevention and Control, said that cities and provinces should develop scenarios for reopening the economy based on the specific situation in their areas.
The PM has ordered cities and provinces that have contained the outbreak to ensure goods and raw materials in order to gradually restore production.
Cities and provinces that fully vaccinate 70-90 per cent of their population should also draw up scenarios for reopening their economies, he added.
He asked cities and provinces to continue to practice social distancing measures while ensuring food and clothing for people in need. People must have access to health services in communes, wards and townships in a timely manner, he added.
Many international experts have said living with the virus is a reality, and not an option, as it will become endemic. To live safely with the virus, most of the world's population should be fully immunised (80-90 per cent of the population), and more effective drugs should be used for treatment, experts have said.
HCM City has been under lockdown since August 23. It has recorded a total of more than 251,400 cases since the fourth wave. 
UNESCO, Vietnam Cinema Association jointly organise film making course
The United Nations Educational, Scientific and Cultural Organisation (UNESCO) Office in Vietnam and the Centre for Assistance and Development of Movie Talents under Vietnam Cinema Association will hold a course on non-profit film production with the enrolment taking place from September 6-30. 
It aims to providing basic knowledge for developing short film projects, finding suitable production processes and orienting careers for young filmmakers. 
The course will be conducted online in this October, with the participation of many well-known domestic and foreign directors and filmmakers include directors Pham Ngoc Lan, Truong Minh Quy, Bui Kim Quy, Trinh Dinh Le Minh and Thai director and film producer Pimpaka Towira.
To join the course, young filmmakers should submit proposals for a feature film, documentary or hybrid project. Each selected project will have a maximum of two team members participating in the course.
In addition to gaining knowledge, the projects taking part in the course will have the opportunity to receive two cash prizes of 1,000 USD each, two packages of camera and lighting equipment from sponsor HKFilm and an audio post-production package from sponsor Wallsound.
During the course, trainees will study about international film festival system, get an overview of domestic and international cinema, the  update new filmmaking trends, improve skills as well as directing and film production process. They also have a chance to learn from famous filmmakers.
Director Pham Ngoc Lan graduated in architecture majoring in urban planning before becoming a filmmaker. His cinematography is a harmonious blend of emotion and intelligence, sincerely and diligently cultivates thoughts about life.
He was named the best young director (under 30) at the fourth Hanoi International Film Festival in 2016 for his film Mot thanh pho khac (Another city).
Some of Lan's films have been selected to screen at international film festivals including Berlin Film Festival or Visions du Réel (Swizerland).
Pimpaka Towira is recognised as a pioneer of the Thai Independent film scene. She has more than 15 years of experience of organising film festivals. She was programme director at the Bangkok International Film Festival in 2001, 2008 and 2009, and programme director at the Bangkok ASEAN festival from 2015 to 2017.
The course is part of the E-MOTIONS project that contributes to the promotion of networking and creative environment design for filmmakers by UNESCO and its partners with support from Japanese Trust Fund./.
Hanoi police strengthens inspections at COVID checkpoints
Forces at COVID checkpoints on Monday began checking the movement of people with new travel documents as per a regulation on zone classification issued by the Hà Nội People's Committee.
Over September 6-7, the forces will remind people that they need to have a new travel document. This will help authorities to issue the documents.
According to Secretary of the Party Committee of Hà Nội, Đinh Tiến Dũng, the city's districts have been classified into three areas: red, orange and green.
The move aims to better control the pandemic and restore production and business in industrial and agricultural production areas, supplying essential goods for the red zone. 
Hà Nội Police Department has been assigned to advise the issuance of the new travel document to organisations, enterprises and individuals in accordance with regulations.
"In the first two days of inspection, the forces will remind organisations, businesses and individuals to voluntarily comply with regulations and evaluate and adjust the location of the checkpoints as well as traffic flow," Dũng said.
The secretary of the city's Party Committee also called on organisations, businesses and people to reorganise their operations, and increase online working to join hands with the city to fight COVID-19. 
The Hà Nội police also provided hotlines to assist people in applying for the new travel permit and shopping card in the red zones (Zone 1). 
Zone 1 areas are deemed high risk locations and urban areas with high population density and concentrated with agencies, businesses and services establishments.
Earlier, Hà Nội police set up 39 COVID checkpoints to implement the city's direction on controlling vehicles and people coming in and out of high-risk areas. 
Egyptian media outlets highlight Vietnam's development achievements
A number of media outlets in Egypt have given wide coverage of Vietnam's socio-economic and foreign development achievements as well as the Vietnam-Egypt relations to mark 76 years of Vietnam's National Day (September 2) and 58 years of diplomacy between the two countries (September 1).

Major newswires such as Gomhuriaonline (Republic), Almasryalyoum (Egypt Today) and Eventsmagazinenews published articles praising Vietnam's development achievements and its international integration efforts.
The articles noted during the past 76 years, Vietnam, from a poor, underdeveloped country in Southeast Asia, has developed into a strong state with its increasing role and position both regionally and globally.
In 2020, despite the impact of the COVID-19 pandemic, Vietnam achieved an economic growth rate of 2.91%, emerging as one of the countries that recorded the highest economic growth in the world.
The articles quoted Vietnamese Ambassador to Egypt Tran Thanh Cong at a ceremony to mark Vietnam's National Day, saying Egypt was one of the first countries that recognized Vietnam's independence and supported it during the past wars against foreign aggression.
The close bond between the two countries has increasingly been consolidated and developed in recent years, as demonstrated by the high-level reciprocal visits by the leaders of the two countries in 2017 and 2018.
Regarding economic cooperation, two-way trade turnover between Vietnam and Egypt reached US$515 million in 2020, an increase of 4.8% compared to 2019, and the figure is expected to rise to US$1 billion in the coming years.
The two countries have conditions for supporting each other for mutual development, in which Egypt is the gateway to the Middle East - Africa market, while Vietnam is the gateway for Egyptian businesses to expand their business and invest in the Southeast Asia region.
Ambassador Hazem El-Tahry, director general for Asia at the Egyptian Ministry of Foreign Affairs, said that Egypt wishes to expand friendly relations with all Asian countries, including Vietnam. He affirmed that the two countries share many common views at international forums.
Hanoi releases songs encouraging COVID-19 fight
The Hanoi Cultural Centre under the municipal Department of Culture and Sports has released eight songs to encourage people's spirit and solidarity amid the ongoing COVID-19 and express gratitude to frontline workers.
The songs were composed during a campaign for COVID-19 fight in response to a campaign to promote artistic works on the pandemic fight and the national action month for children in 2021.
Upon the launch of the campaign, as many as 65 songs and 165 poems by 111 authors were submitted. Of them, 40 songs and 70 poems have been selected by the jurors. 
To encourage the fight against COVID-19, the eight works will be broadcast on the local systems of loudspeakers across the capital city along with channels of the Hanoi Radio and Television Broadcasting.
Meanwhile, the fourth episode of the online monthly music programme "Sing for life, Sing for love" will be broadcast on digital platforms with the performance of well known artists like Thu Minh, Hoang Bach and Duong Cam on September 9. 
Donations to the programme will be used to purchase essentials for disadvantaged labourers affected by COVID-19, medics and frontline workers.
Launched by the Vietnam Youth Federation Central Committee, the Vietnam Volunteer Centre and relevant agencies, with the participation of leading artists, the online monthly music programme aims to help ease difficulties of pandemic-hit people and raise funds for the welfare packages for the vulnerable.
After three episodes, it has raised over 1.6 billion VND (70,265 USD) in cash and kinds, along with 20,000 N95 face masks./.
Vietnam's tourism promoted through ASEAN-RoK centre's videos
Tourism of Vietnam and other countries of the Association of Southeast Asian Nations (ASEAN) will be promoted to people of the Republic of Korea (RoK) and international friends via promotional videos produced by the ASEAN-RoK Centre.
According to the centre, from last year when global travel restrictions amid the COVID-19 pandemic began, it has alternatively produced videos introducing tourism spots and resources of ASEAN countries.
The programme, entitled "ASEAN Familiarisation Tour", is in an effort to enhance ASEAN-RoK tourism cooperation by promoting and discovering the charms and cultural resources of ASEAN tourism.
The first four episodes featuring Brunei, Indonesia, Myanmar and Vietnam will be streamed until September 8 on official YouTube Channels of the ASEAN-RoK Centre and ASEAN tourism agencies.
The episode spotlighting Vietnam offers virtual travels to various regions and mouth-watering foods in the country, one of the most frequently visited ASEAN countries by Korean travellers.
Vietnamese dishes familiar to RoK people include pho, banh mi, and banh xeo, as well as Hue royal cuisine, the highlight of Vietnam's food heritage.
Central Quang Nam province's Hoi An, a UNESCO World Heritage Site where the East meets the West; and regions where one can enjoy natural wonders of the country such as Tam Coc, Trang An, Dong Van Plateau, Phu Quoc, and Nha Trang, will also be introduced./.
European media highlight Vietnamese NA Chairman's visit
Italian and European media have highlighted the significance of Vietnamese National Assembly Chairman Vuong Dinh Hue's ongoing visit to strengthening Vietnam – European Union ties and promoting multilateral cooperation mechanisms in the region and the world.
From September 5-11, Hue is leading a high-ranking delegation of the Vietnamese NA to attend the fifth World Conference of Speakers of Parliament (WCSP) in Austria, and pay a working trip to the European Parliament and Belgium, and official visit to Finland.
In his article published by the daily Agenzia Stampa Italia, Andrea Fais said the NA Chairman's visit marks Vietnam's first high-level external activity with the European Union following the 13th National Party Congress and the election of deputies to the 15th NA, and one year since the EU-Vietnam Free Trade Agreement (EVFTA) took effect.
The author wrote that EU leaders now consider Vietnam a leading partner in Southeast Asia and a bridge between the EU and the Association of Southeast Asian Nations (ASEAN). The EU is also assisting Vietnam in expanding ties with other powers and international organisations.
Bilateral economic and trade ties have grown substantially, thus laying a foundation to promote collaboration in other strategic areas on the mutually beneficial basis, he wrote.
In sustainable development, the article said the EU needs to facilitate the transfer of green technology to Vietnam, a field in which Italy has advantages. The EU also needs to expand official development assistance to clean energy development and environment improvement projects in Vietnam's mountainous and rural areas.
The article also delved into bilateral cooperation in the COVID-19 fight and health care between the EU and Vietnam. Via the COVAX Facility, the EU has provided 2.4 million doses of vaccines for the country, demonstrating its commitments to Vietnam within the framework of the EU-Vietnam Framework Participation Agreement in crisis management.
Meanwhile, on Austria's Die Meinung paper, author Khaled wrote the top Vietnamese legislator's visit reflects Vietnam's good will and wish to contribute to ensuring peace, enhancing multilateral cooperation and fulfilling sustainable development goals.
The article highlighted Vietnam's stance on treasuring and promoting multilateral cooperation mechanisms to cope with global challenges at present.
According to the author, apart from discussions on multilateralism and peacekeeping, the fifth WCSP also focused on gender equality, impacts of the COVID-19 pandemic, inter-parliamentary cooperation and improving people's lives in the world.
In Europe, websites of the Vietnamese communities in Germany, Austria, the Czech Republic and Italy also regularly updated activities of the Vietnamese NA Chairman and the delegation during the visit./.
Southern COVID-19 hit localities urged to take stronger actions to reduce COVID-19 fatalities
The Ministry of Health on Sunday asked authorities in HCM City and other southern localities to take drastic measures to reduce COVID-19 facilities.
According to the ministry, Việt Nam has reported 13,074 deaths relating to COVID-19 by Sunday evening, accounting for 2.5 per cent of total infections in the country.
Việt Nam' COVID-19 fatality rate is now 0.4 per cent higher than the world average.
Particularly, until September 5, HCM City has reported 10,320 deaths out of 251,414 infections. Bình Dương Province saw 1,097 deaths out of 132,433 infections, while Long An Province reported 299 deaths out of 25,085 infections.
For weeks, the number of deaths reported daily in HCM City remained high despite a slight drop. On August 30, the city reported 335 deaths. On September 1, the fatality number fell to 217 but then, increased by 250 on September 2 and 222 on September 5.
According to the health ministry, the Government, ministries, agencies and authorities in southern localities have been making efforts to curb COVID-19 fatalities. However, the efforts have generated results more slowly than expected.
To further curb fatalities, the health authority urged HCM City, southern provinces and relevant agencies to further improve COVID-19 treatment.
The localities were asked to review and establish COVID-19 treatment fatalities.
They were suggested to make use of available infrastructure to establish COVID-19 treatment facilities. Existing medical facilities should be turned into COVID-19 treatment areas for patients with medium and severe illness while other sites could be used for patients without symptoms or with mild symptoms.
Commune/ward healthcare centres, mobile healthcare stations and COVID-19 community teams were called on to help managing and supporting COVID-19 patients staying at home.
The ministry also asked localities to improve the management and coordination in transporting patients from their residency to treatment facilities and between COVID-19 treatment facilities.
Localities must prepare sufficient medicine and medical equipment for emergency and intensive care units at COVID-19 treatment facilities.
At the facilities designed for patients with mild symptoms, oxygen bottles must be available to meet the needs of emergency treatment for patients breathing oxygen through a mask or oxygen with eyeglass frames.
At the facilities designed for patients with medium symptoms, high-flow oxygen ventilators, non-invasive ventilators, gas oxygen bottles, liquid oxygen cylinders, compressed air lines, pressure suction lines, and evaporators must be available to meet the needs of emergency and resuscitation for patients who require high-flow oxygen or non-invasive mechanical ventilation.
At the facilities designed for patients with severe symptoms, high-flow oxygen ventilators, invasive/non-invasive ventilators, liquid oxygen tanks, compressed air lines, pressure suction lines, evaporators, liquid oxygen cylinders and gas oxygen bottles must be available to meet the needs of emergency and active resuscitation for critically-ill patients.
Also in the latest notice sent to southern localities, the Ministry of Health asked them to review and arrange medical staff.
The local authorities are asked to provide proper training for available staff to meet the requirements of specific treatment facilities. 
In addition, the localities could call on the private health sector and retired medical workers to help in managing and offering care to COVID-19 patients.
Localities will strengthen the connection, consultation and remote treatment consultation between COVID-19 treatment facilities for seriously ill patients. 
The COVID-19 treatment facilities and the 115 emergency system will boost information technology applications for better communication. The improved connection will help increase the effectiveness in receiving, transporting and delivering emergencies for patients.
More congratulations sent to Vietnam on 76th National Day
Leaders of Croatia, Ghana, and Maldives have sent messages and letters of congratulations to the leaders of Vietnam on the country's 76th National Day (September 2).
President of the Republic of Croatia Zoran Milanovic and President of the Republic of Ghana Dankwa Akudo-Addo cabled their congratulations to President Nguyen Xuan Phuc.
Meanwhile, President of Maldives Ibrahim Mohamed Solih delivered his congratulatory messages to President Phuc and Prime Minister Pham Minh Chinh./.
Vietnam attends 18th Parliamentary Intelligence-Security Forum
A Vietnamese delegation, headed by National Assembly (NA) Vice Chairman Sen. Lieut. Gen. Tran Quang Phuong, attended the 18th Parliamentary Intelligence-Security Forum, which convened by the NA of Hungary on September 6 in both face-to-face and virtual forms.
Vietnam's participation in the forum reflected the nation's external policy orientation of proactiveness and self-reliance for peace, friendship, cooperation, development, multilateralisation, diversification, and comprehensive and extensive international integration, in which, the NA's foreign affairs serve as an important channel.
The attendance also demonstrated Vietnam's support for the Hungarian NA's hosting of the event given complicated developments of the COVID-19 pandemic.
Speaking at the opening ceremony, Speaker of the Hungarian NA László Kövér said intelligence-security plays a very important role, helping legislators acquire useful information for planning, making accurate decisions, and dealing with challenges, thereby creating advantages for national development.
The forum is set to discuss a series of matters including the risks of cryptocurrency; strengthening Parliamentary cooperation; risks of using biological weapons; human trafficking and "black credit"; abusive activities in global economic expansion; and illegal trade, money laundering, and foreign investment with malicious intent./.
Hanoi permits motorbike shippers to operate from 9am to 8pm
Motorbike shippers in the capital city of Hanoi have been allowed to operate between 9am and 8pm every day during the period of social distancing.
 
The municipal People's Committee made the decision following a proposal submitted by the Department of Transport.
All shippers, accordingly, will have to furnish a certificate with negative PCR or rapid antigen test results in line with the Ministry of Health's regulations.
Hanoi divides its localities into three zones for the application of different COVID-19 prevention and control measures starting from September 6.
The division will be based on the level of pandemic outbreak risk as well as characteristics of each locality such as geography, population and production, thus ensuring pandemic control measures and maintaining production.
After three times of applying social distancing along with mass testing, the city has found that infections mostly concentrated in inner districts, while lower risks are seen in other localities.
The division into three zones is expected to help the city prevent the spread of the pandemic and focus on stamping out COVID-19 in high-risk areas./.
Measures should be scientifically studied to adapt to COVID-19: PM
Prime Minister Pham Minh Chinh requested thoroughly and scientifically studying measures to adapt to the COVID-19 pandemic while chairing the Government's monthly meeting in Hanoi on September 6.
In the coming time, the top priority must be given to curbing the pandemic soon and gradually restoring production and trade, he said, adding that the mechanism of "safe travelling, safe production, safe services, safe awareness" must be set up.
PM Chinh asked ministers, with their functions, authority and tasks, to direct their sectors to stay determined to drive back the pandemic in September, and bring the country back to new normal.
About other key tasks, the PM ordered building recovery scenarios in the context of wide vaccination coverage, directing monetary, fiscal and other policies harmoniously, reasonably and effectively, maintaining macro-economic stability, controlling inflation, ensuring social welfare and undisrupted supply chains.
It is essential to realise the Government's Resolution on providing support for enterprises and cooperatives, especially in goods circulation, export-import customs clearance, and prevention of supply and value chain disruption, he said.
Agencies and localities were assigned to study the pilot serving of foreign tourists to Phu Quoc island city between now and the year-end, tackle difficulties in farm produce consumption, take synchronous, drastic and effective actions to follow the European Commission's recommendations to lift the "yellow card" warning, towards achieving sustainable fishery development.
The Government leader noted that administrations at all levels, agencies and sectors must ensure sufficient supply of food, housing and medical support for residents while adopting advanced technology to improve teaching and learning quality.
Regarding the implementation of the Government's Resolution No.01/NQ-CP, the socio-economic development in 2021 and socio-economic development plan in 2022, the public investment plans in 2021 and 2022, the economic restructuring plan for 2021-2025, the PM urged ministries and agencies concerned to collect feedback from Cabinet members, scientists and managers to submit to the Government and competent authorities.
Military Bank donates 1 million N95 medical masks to Ministry of Health
The Ministry of Health on September 6 received 1 million N95 medical masks worth approximately 40 billion VND (1.75 million USD) donated by the Military Commercial Joint Stock Bank to help protect frontline medical workers in the fight against COVID-19.
The masks was produced in and imported from the US, meeting the standards set by the US Food and Drug Administration (FDA).
Speaking at the handover ceremony, Deputy Minister of Health Tran Van Thuan thanked the bank for its assistance, considering it a great source of encouragement for doctors and medical staff serving pandemic prevention and control.
He said about 17,000 health workers have to date been sent to Ho Chi Minh City and southern localities to support them in the COVID-19 combat.
Tran Minh Dat, deputy general director of the bank, hoped that the masks will be helpful to and encourage the force in the nation's fight against the pandemic./.
ASOSAI Governing Board convenes 56th meeting
The Governing Board of the Asian Organisation of Supreme Audit Institutions (ASOSAI) held its 56th meeting in Hanoi on September 6 under the chair of Vietnamese Auditor General and Chair of ASOSAI for 2018 - 2021 Tran Sy Thanh and Chinese Auditor General Hou Kai, Secretary General of ASOSAI.
The meeting focused on important issues of ASOSAI, including a report on the organisation's financial situation, another on the implementation of the ASOSAI Strategic Plan for 2016 - 2021, a draft strategic plan for 2022 - 2027, and reports by working groups, especially the newly established working groups on auditing the Sustainable Development Goals (SDGs) and crisis management.
In particular, member SAIs would gain an insight into achievements by ASOSAI and its members in implementing the Hanoi Declaration. The Governing Board also selected the host of the 16th ASOSAI Assembly.
Concluding the event, Auditor General Tran Sy Thanh said since the 54th meeting of the Governing Board, the Chair, Secretary General, and members of the board have exerted efforts to achieve the targets and carry out the recommendations set out in the Hanoi Declaration on environmental auditing, realise the SDGs, and implement the programmes, projects, and activities for the last three years of the ASOSAI Strategic Plan for 2016 - 2021.
The Governing Board approved the establishment of the ASOSAI working groups on auditing the SDGs and crisis management. It also elected the Supreme Audit Institution of India as Chair of the 16th ASOSAI Assembly for the 2024 - 2027 tenure.
The mission, vision, core values, strategic targets, and priorities of the organisation stated in the ASOSAI Strategic Plan for 2022 - 2027 also received high consensus from the Governing Board's members.
Thanh noted the ASOSAI fund for COVID-19 response, worth 200,000 USD, has been deployed, helping member SAIs to cope with the pandemic.
The outcomes of the Governing Board's 56th meeting proved that ASOSAI is a professional organisation of cooperation, integration, and reform that is ready to cope with unceasing changes in the region and the world, he added./.
Further progress seen in curbing corruption
Vietnam has continued to see progress in curbing corruption this year, consolidating people's trust in the Party and State and heightening Vietnam's position on the international arena, according to a government report on anti-corruption in 2021.
The report was delivered at an extended meeting of the National Assembly's Committee for Judicial Affairs which was held in Hanoi on September 6 morning.
In July, the government issued a resolution on the Master Programme on State Administration Reform for the 2021 – 2030 period.
Close to 6,600 governmental organisations and units have been inspected in terms of openness and transparency, with violations detected in 98 of them, up 8.9 percent from 2020.
Public security forces launched probes into 478 cases, with 1,051 people accused of committing corruption and over 503 billion VND worth of assets recovered. Legal proceedings have started on 282 cases with 536 suspects involved.
Corruption will be likely to become increasingly sophisticated, complex and unpredictable in the following years, threatening the survival of the Party and regime, the report said.
Vice Chairman of the NA Committee for Judicial Affairs Nguyen Manh Cuong said economic and corruption-related crimes are increasing in terms of complexity and focusing on areas, such as bidding, auctions, equitisation, credit and banking, healthcare and education.
He warned that corruption risks are emerging from the COVID-19 crisis, with a number of officials and civil servants taking advantage of legal loopholes and abusing their positions to cause troubles to businesses and citizens.
Cuong proposed the government continue improving institutions on socio-economic management and corruption prevention./.
Enhancing parliament cooperation's role in Vietnam-European Parliament, Belgium ties
National Assembly Chairman Vuong Dinh Hue will make working visits to the European Parliament (EP) and Belgium from September 8-9 after concluding a trip to Austria to attend the fifth World Conference of Speakers of Parliament (WCSP5).
Vietnam and the European Union celebrated the 30th anniversary of ties in November last year. Over the past three decades, the Vietnam-EU relations have grown rapidly from cooperation in a number of areas to a Partnership and Cooperation Agreement (PCA).
The two sides have regularly exchanged high-ranking delegations, including EU visits by Party General Secretary and President Nguyen Phu Trong in 2013, Prime Minister Nguyen Xuan Phuc in 2018 and NA Chairwoman Nguyen Thi Kim Ngan in 2019.
European Council President Herman Van Rompuy visited Vietnam in 2012, which was followed by visits of European Commission President José Manuel Durão Barroso in 2014 and Vice President of the European Commission and High Representative of the European Union for Foreign Affairs and Security Policy Federica Mogherini in 2019.
Last year, despite the double crisis in health care and economy, both sides continued to realised their commitments with various cooperation activities in direct and online formats. They have coordinated closely in many areas, while supporting each other in COVID-19 fight.
The signing and ratification of the EU-Vietnam Free Trade Agreement (EVFTA), which took effect on August 1, 2020, was a new historical milestone in the bilateral partnership.
The deal has helped bring about new breakthroughs and opening up new prospects for the Vietnam-EU partnership. Only five months after the agreement was put into operations, two-way trade had seen strong progress, with surges recorded in the export of Vietnamese products such as aquatic products, rice, garment and textile products as well as leather and footwear.
As of 2020, two-way trade reached 55.39 billion USD, of which 40.05 billion USD was Vietnam's export revenue.
Currently, the EU is the third largest export market of Vietnam after the US and China, and the country's fifth biggest import market.
Meanwhile, Vietnam is the 17th biggest trade partner of the EU and the 11th largest provider of goods of the union among Asian countries.
The EU is also the biggest investor in Vietnam and the leading provider of non-refundable aid for the country.
In the first seven months of this year, two-way trade hit 32.2 billion USD, with Vietnam's exports valued at 22.5 billion USD, up 15.5 percent year on year.
The relationship between the Vietnamese NA and the EP has developed soundly, becoming an important pillar of the partnership between Vietnam and the EU. The two sides have set up bilateral friendship parliamentarians' groups.
Chairman of the NA Committee for External Relations Vu Hai Ha said that during his upcoming visit to the EU, NA Chairman Hue will hold talks with the EP President, meetings with the President of the European Council and representatives of European parliamentarians from important committees of the EP such as Committee on International Trade.
Ha said that along with the EVFTA, the NA leader will discuss with the European side the hastening of the ratification of the EU-Vietnam Investment Protection Agreement (EVIPA).
Vietnam and Belgium have also enjoyed impressive growth in their bilateral partnership since the establishment of diplomatic ties in 1973.
Belgium is one of the first European countries to engage in development cooperation with Vietnam. Since 1977, Belgium has provided soft loans and non-refundable aid worth nearly 300 million USD to Vietnam, 60 percent of which is non-refundable aid.
Total trade between the two sides reached about 3.1 billion USD in 2019 and 2.7 billion USD in 2020 due to impacts of COVID-19.
Belgium is currently the sixth biggest export market of Vietnam among European countries after Germany, the UK, the Netherlands, France and Italy.
Partnership among central and local economic agencies as well as sectors of Vietnam with three Belgian regions of Wallonie, Flanders and Bruxelles has been expanded.
As of July 2021, Belgium had 82 valid investment projects in Vietnam with total capital of 1.1 billion USD, ranking 23rd out of 131 countries and territories investing in Vietnam.
As scheduled, during his visit to Belgium, NA Chairman Hue will hold meetings with the Belgium Prime Minister and the Speaker of the Chamber of Representatives, as well as with leaders of some major firms of Belgium to seek ways to promote the growing collaboration between the two sides in all fields such as politics-diplomacy, economy-trade-investment, culture-education and particularly in medical and vaccine diplomacy.
The visits of the Vietnamese top legislator is expected to promote international cooperation in COVID-19 prevention and control, while affirming Vietnam's efforts in working with other countries and the international community to maintain global supply and production chains as well as to seek solutions for sustainable post-pandemic economic recovery./.
Temasek Foundation presents medical supplies to Vietnam
Singapore's Temasek Foundation on September 6 presented 16 respirators and a large quantity of medical supplies to Vietnam to help the country deal with the current resurgence of COVID-19.
A hand-over ceremony was held the same day at the Vietnamese Embassy in the country with the participation of Temasek Foundation CEO Benedict Cheong and Vietnamese Ambassador to Singapore Mai Phuoc Dung.
Addressing the ceremony, Ambassador Dung thanked the Temasek Foundation and the Singaporean Government for supporting Vietnamese people in the pandemic fight.
The provision of the aid has shown the sentiments of Singaporean people towards Vietnam and the strong strategic partnership between the two countries, which will be helpful for Vietnam in controlling the pandemic, he said.
The diplomat said that the embassy is working with relevant agencies at home to ensure that the medical equipment arrive in Vietnam as fast as possible.
He expressed hope that the foundation and the Singaporean Government will continue to assisting Vietnam in the fight against the pandemic in the future, especially in seeking vaccine supply sources.
For his part, Benedict Cheong noted that COVID-19 has posed adverse impacts on ASEAN countries. Given the close connections among regional countries, pandemic attacks in one country will also affect others and the cooperation in the whole region, he said, adding that Singapore is willing to support Vietnam and other ASEAN countries so that the region will overcome the pandemic soon.
The Singaporean side will also assign its Vietnamese-based technicians to help Vietnam in installing the equipment, he said.
Founded in 2007, Temasek Foundation is a non-profit organisation that has operated many projects in Vietnam in various fields such as human resources training, public health care and education.
Last year, the foundation also offered 10 respirators to Vietnam./.
Winners of video-making contest "Vietnam in my mind" honoured
The Association of Vietnamese Communities in the Republic of Korea (AVCK) announced winners of a video-making contest named "Vietnam trong toi" (Vietnam in my mind) in a virtual event livestreamed last weekend.
The competition was held by AVCK under the patronage of the Vietnamese Embassy in the RoK on the occasion of Vietnam's 76th National Day (September 2).
The contest aimed to provide a playground for Vietnamese people to show their creativeness and cheer them up during the time of COVID-19. A total of 18 entries were sent to the competition in the forms of short films, documentaries and others from July 26 to August 16.
Le Van Hung, First Secretary of the Vietnamese Embassy and one of the judges, said most of the entries reflect the love of Vietnamese expats for their motherland.
There were one first, second, and third prizes for both individual and team categories alongside three honourable mentions for three individuals.
Additionally, the organizer also presented awards of impression and viewers' choice.
The AVCK has also launched a fundraising campaign called "Trao gui yeu thuong" (Sending out love) appealing for donations of cash and necessities to aid the COVID-19 fight back home. As of 8pm on September 2, it had raised nearly 80 million VND (3,515 USD)./.
ASEAN's 54th anniversary celebrated in Argentina
A ceremony has been held in Buenos Aires, Argentina to celebrate the 54th founding anniversary of the Association of Southeast Asian Nations (ASEAN).
The event was organised on September 2 by the embassies of the ASEAN member states in Argentina in collaboration with the Argentine Foreign Ministry.
Argentine Deputy Minister of Foreign Affairs Pablo Tettamanti and representatives of ministries, sectors, socio-political organisations, local friends and representatives of the diplomatic corps attended the event.
Addressing the event, Philippine Ambassador Linglingay Lacanlale, who is Chairwoman of the ASEAN Committee in Buenos Aires, highlighted the bloc's solidarity to seek creative measures for benefits and happiness of people of the member countries.
According to the diplomat, despite challenges caused by the COVID-19 pandemic, ASEAN continues fulfilling its economic plans, notably the Regional Comprehensive Economic Partnership (RCEP) Agreement signed in November last year.
Regarding the ASEAN-Argentina relations, Ambassador Lacanlale said that Argentina's participation in the Treaty of Amity and Cooperation in Southeast Asia (TAC) in 2018 was an important step to bring the two sides closer, opening up opportunities to promote specific programmes and activities in economic, political, cultural and social fields. Through bilateral political consultations between Argentina and ASEAN countries, the two sides also pledged to boost cooperation in potential fields such as renewable energy, agricultural technology and space.
She expressed her hope that Argentina and the South American Common Market (MERCOSUR) consider participating in RCEP to get greater advantages in the process of expanding economic and trade cooperation with ASEAN.
For his part, Argentine Deputy Foreign Minister Pablo Tettamanti spoke highly that ASEAN countries have built a strategic mechanism for dialogue and creation of regional and inter-regional projects, and affirmed a commitment to promoting cooperation and continuing efforts to become an important partner of ASEAN in Latin America.
Deputy FM Tettamanti also affirmed the Argentine Government's commitment to continuing to strengthen relations with ASEAN in traditional fields such as trade and agricultural technical cooperation as well as in science and high-tech, atomic energy, space industry, renewable energy and artificial intelligence./.
Dong Thap Province keen to develop agricultural products with geographical indications
The Cửu Long (Mekong) Delta province of Đồng Tháp plans to develop at least one agricultural product with geographical indication by 2025.
It has prioritised rice, mango, flowers and ornamental plants, citrus fruits, longan, sweet potato, lotus, taro, tra fish, red tilapia, gourami, dried snakehead fish, eel, and egg-laying ducks for this.
It will have at least five farming areas zoned for key agricultural produce like mango, citrus fruits, vegetables, gourami fish, and sweet potato.
In 2021-25 it will establish at least two more showrooms for its key agricultural products and maintain the existing two in Hà Nội and Phú Quốc Island.
It will set up a portal to trace the origins of its key agricultural products.  
To promote those products both in domestic and foreign markets, it will strengthen quality inspections and support linkages between various stakeholders in producing and consuming agricultural products.
Its rice output last year was worth VNĐ15.7 trillion (US$686.8 million).
Farmers' income from rice increased by VNĐ12.9-28.6 million ($560-1,250) per hectare per crop from 2015 as they adopted advanced farming techniques which help reduce costs.
The province has focused on developing rice – related products to add value and promote their sales through modern distribution channels.
The largest mango producer in the delta, the province reported output worth VNĐ2 trillion ($87 million) last year, a 28.2 per cent increase from five years earlier.
Its mango co-operatives and farmers have adopted advanced techniques for growing, harvesting and post-harvest preservation to improve yields and quality.
To develop agriculture rapidly and sustainably, it has solicited private investment in it and sought to restructure it in combination with implementation of the national target programme on building new-style rural areas and reducing poverty.
It has licensed 75 companies involved in processing crops, seafood and livestock.  
It has focused on developing community-based tourism in farming areas such as Sa Đéc flower village, pink mandarin orchards in Lai Vung District and lotus fields in Tháp Mười District.    
Huỳnh Minh Tuấn, deputy chairman of the province People's Committee, said the aim was to develop "biological agriculture, modern rural areas and smart farmers" by 2025.
The province sought to increase agricultural production, adopt advanced techniques, foster international integration, and adapt to climate change, he said. 
Farmers in the province are harvesting the summer-autumn rice crop, and those contracted with a company can earn VNĐ3-4 million ($130-180) per hectare higher than others since they get paid VNĐ100-200 per kilogramme higher than market prices.
Co-operatives and co-operative groups represent their members and sign contracts with companies.
Ngô Phước Dũng, director of the Mỹ Đông 2 Co-operative in Tháp Mười District, said contracts were signed with two companies at the beginning of the crop.
The co-operative's members produce rice seeds on a total area of 58.5ha. 
Nguyễn Phước Thiện, director of the province Department of Agriculture and Rural Development, said to sell agricultural produce amid the pandemic, his department had taken measures to harvest, transport and organise trade promotion and create linkages between various stakeholders.
Farmers associations and other organisations had also helped sell it, he said.
Phan Thị Kim Nhung, deputy chairwoman of the province Farmers Association, said the association used to only act as a link between farmers and companies, but amid the social distancing now it also helped farmers sell their products to households and others. 
Chương My District farmers embrace hi-tech methods
Farmers in Chúc Sơn Township of Hà Nội's Chương Mỹ District have been getting rich thanks to hi-tech farming.
Chúc Sơn Clean Vegetable Cooperative was established by a group of farmers with enthusiasm for and experience in growing clean vegetables in Giáp Ngọ Village.
The cooperative, which was formed in May 2016, gathered households with an interest in developing an area specialising in safe vegetable farming and meeting VietGAP standards.
The cooperative started with a few members and a total cultivation area of 5 hectares.
After 5 years of operation, 36 farming households joined, following three models of agricultural production: hi-tech agriculture, net house farming and open-air farming.
The cooperative has a total 17.8 hectares of cultivation land, of which the net house area is more than 2 hectares, a total of 12.8 hectares has received VietGAP certification, and 5 hectares has received GlobalGAP certification.
Along with growing safe vegetables and fruit, the cooperative has also focused on market information, technology transfer and product consumption linkage.
According to Hoàng Văn Khảm, the cooperative director, Chúc Sơn Clean Vegetable and Fruit Cooperative was the first one in Chương Mỹ District to apply Japanese farming technology.
After two years being instructed by Japanese experts, the farmers successfully planted dozens of kinds of vegetables such as mizuna, turnip, Japanese spinach, cabbage, collard greens and bok choy in the winter season of 2017, said Khảm.
"The process of growing vegetables was strictly applied according to the Japanese production process," said Khảm.
"Fertilisers used in vegetable production are mainly manure that has undergone the composting process to ensure complete decay, and some inorganic fertilisers of clear origin."
Aside from producing in Chương Mỹ District, the cooperative also opened a branch in Mộc Châu District in the northern mountainous province of Sơn La. The cooperative signed contracts with the farmers in Mộc Châu to grow clean vegetables to supply off-season vegetables from May to October.
Hi-tech application
Chúc Sơn Cooperative is also the first agricultural production facility in the district to use remote sensing technology and weather monitoring systems in safe vegetable production sponsored by the Institute of Technology Development and Education and the World Bank.
Khảm said: "The components of a remote sensing technology for agricultural production include wind speed measurement equipment, temperature and humidity sensors and cameras mounted on a high pole, covering the field of Chúc Sơn Cooperative."  
"Raw data is recorded in the receiving station here and then sent to satellites for processing in the Netherlands along with the signals at many receivers in other countries, and then sent back to the station and reported on the mobile phones of the cooperative's leaders."
A complete system includes current weather information, storing weather data for a full day, month or whole year, weather forecasting, warnings on diseases in vegetables, and soil moisture level readings.
Surveillance cameras monitor farmers to comply with VietGAP procedures and electronic field diary software helps to trace the origin of products with QR codes.
Based on the data, the staff adjust the irrigation, planting and technical process.
"This is different from the traditional farming style that used to rely on farmers' experience only," said Khảm.
The task of staff is to develop production plans and purchase the products for its members. Members are responsible for following the production plans.
Thanks to a methodical production plan, even when vegetables in the market were so cheap due to "dumping", the cooperative still bought for farmers at committed prices.
Thanks to the hi-tech method, the cooperative's average yield is about 60 tonnes per month, mainly for supply to large supermarkets, restaurants, hotels and hospitals in Hà Nội.
In the context of the COVID-19 pandemic, online sales have been effective in avoiding disruption of the product consumption market, and adapting to social distancing in Hà Nội.
The cooperative has been evaluated as typical of the One Commune One Product (OCOP) model in Hà Nội's agricultural sector.
Currently, the cooperative has six products that have been granted 3-star OCOP product certification: green onions, water spinach, collard greens, spinach, tomatoes and coriander.
This year, the cooperative has set a goal to improve productivity, ensuring the supply of 5 tonnes of vegetables per day to the market, and making the Chúc Sơn clean vegetable brand a high quality product bringing health to the community.
"Growing vegetables could definitely make rich," said Khảm.
Source: VNA/VNS/VOV/VIR/SGT/SGGP/Nhan Dan/Hanoitimes  

Vietnam ranks eighth in IPv6 adoption worldwide