Creative teacher inspires students to learn history
A teacher in the northern province of Thai Binh has developed her own teaching methods, adding visits to relic sites to help students gain knowledge and feel inspired to learn more about history.
Pham Hong Le from the Ky Dong Primary and Secondary School in Hung Ha district, Thai Binh province, has been a history teacher for nearly 20 years. After many years of research, in 2014 she decided to include local heritage sites and historic relics into her lectures. Initially, she spent her own money organising trips for students.
With this creative teaching method, Le's students can absorb knowledge in a natural and effective way that brings history to life.
Le has also set up a fan page called "Em yeu lich su Viet Nam" (or I love Vietnamese history), as a forum for teachers, students and parents to share information and opinions.
Ms Le has received many prizes for her innovative teaching methods over the years.
Prime Minister meets voters in Hai Phong
Prime Minister Nguyen Xuan Phuc met with voters in An Lao District, the northern port city of Hai Phong, on November 21 to inform them about outcomes of the recent 10th session of the 14th National Assembly, and clear up their concern over certain issues.
The leader said during the legislature's sitting, the Government presented more than 80 documents to the NA, adding that he himself and other Cabinet members engaged in the hearing session.
Responding to proposals on forestation and climate change combat raised by some voters, PM Phuc said at the 10th NA session, he proposed growing one billion trees, covering both urban and forest land.
However, forestation should go in tandem with tightening inspections over illegal timber and sand exploitation, he stressed.
Regarding new-style rural area building, the PM lauded Hai Phong's performance in this field as it has mobilised great resources for the programme, thus basically completing the set criteria.
In response to opinions on the 2013 Land Law, he told the voters that the upcoming 13th National Party Congress will mull over the issues arising when enforcing the law, which will provide the foundation for the Government to propose the 15th NA revise the law in order to fully tap land resources for national development.
The leader also answered questions on health care issues, saying the Government has instructed relevant agencies to step up the research and production of COVID-19 vaccine.
Local voters shared the view that despite natural disasters and COVID-19, Vietnam has managed to make significant achievements across spheres, which, they said, are attributable to the Party leadership, the solidarity of Vietnamese people, and the drastic involvement of the PM and the Government.
On this occasion, PM Phuc attended the ground-breaking ceremony of a project upgrading a section of Road 359 in Thuy Nguyen district.
Man gets death penalty for murdering 3-year-old step-daughter
The Hà Nội People's Court on Thursday sentenced a 31-year-old man to death for murdering his three-year-old step-daughter while the victim's mother was sentenced to life in prison for the same crime.
The victim was the daughter of Nguyễn Thị Lan Anh, 29, resident in Phương Liên Ward, Đống Đa District, and her first husband.
After divorcing her first husband, Lan Anh lived with her mother in Hà Nội's suburban district of Đông Anh and gave birth to her daughter in September 2017.
When the child was three months old, she married Nguyễn Minh Tuấn and they rented a house in Phương Liên. Lan Anh's mother raised her daughter.
In early March this year, Lan Anh took her daughter to her house in Phương Liên. It was reported that from March 9, as the child did not obey the couple, they out her inside a plastic washbasin.
On March 29 morning, the child was punished for asking for a rice cake and forced to kneel in the washbasin.
At the trial, the couple admitted that Tuấn used narcotics and then beat the child throughout that night.
At around 8am the next morning, the child was taken to the hospital after having difficulty breathing and a fever. The child died before arriving at Hà Nội Medical University Hospital where doctors said that she had suffered from cranial subsidence, brain damage and a jaw fracture.
Neighbours living near the flat said they had heard consistent crying since the toddler arrived.
Lan Anh's mother claimed the toddler was abused by Lan Anh and her husband for 24 days and posted pictures showing the injuries to the toddler on social media.
Vietnam, Argentina bolster cooperation
Vietnam's new Ambassador to Argentina Duong Quoc Thanh on November 20 had meetings with Vice President of Solidario Party (PSOL) Julia Perie, and President of the Argentina- Vietnam Cultural Institute (ICAV) Poldi Sosa to discuss measures to strengthen bilateral collaboration.
The Vietnamese diplomat thanked Julia Perie and Poldi Sosa for their initiatives to promote cooperation between the two nations through activities of the Argentina-Vietnam friendship parliamentarian group at the Argentine Chamber of Deputies, as well as ICAV members.
Thanks to Poldi Sosa and ICAV's work, more Argentine people have deeper understanding of Vietnam's history, culture and people. He also noted that Julia Perie has organized many conferences and meetings about Vietnam, asking her to persuade other parliamentarians to support Vietnam.
Julia Perie and Poldi Sosa, for their parts, expressed their admiration at the Vietnamese people's will and fortitude in its struggle for national independence in the past and national construction and development cause nowadays.
They lauded Vietnam's socio-economic achievements, and said they were impressed by the country's success in COVID-19 prevention and control.
Poldi Solsa hoped the Vietnamese Embassy and the ICAV will boost collaboration to popularise Vietnamese history and culture in Argentina.
Meanwhile, Julia Perie said besides implementing agreements between the two nations' high-ranking leaders in several sectors, both sides should sharpen focus on academics and cultural exchange.
The two sides should also promote cooperation in tourism, particularly working on the collaborative contents between Vietnam's Quang Ninh and Misiones province of Argentina, which both manage UNESCO - recognised natural heritages, she said, underlining that both sides hold huge potential for expanding their cooperation.
ASEAN+3 energy ministers pledge to push sustainable post-pandemic recovery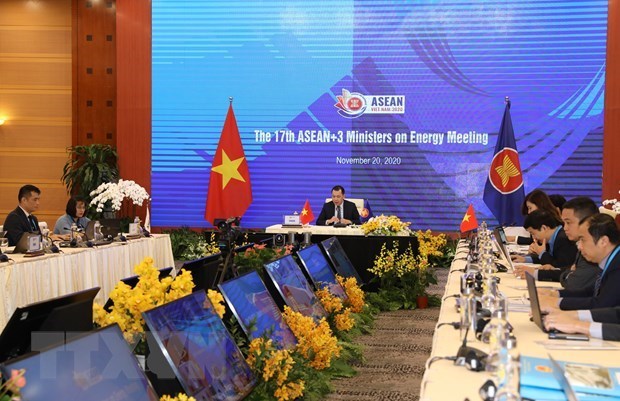 At the 17th ASEAN+3 (China, Japan, and the Republic of Korea) Ministers on Energy Meeting (AMEM+3)
Energy ministers of ASEAN countries and partners have affirmed their commitment to pursue sustainable post-pandemic economic recovery measures by strengthening partnerships and renovation to ensure energy security, transformation, and recovery.
At the 17th ASEAN+3 (China, Japan, and the Republic of Korea) Ministers on Energy Meeting (AMEM+3), held online on November 20, participants lauded the ASEAN Plan of Action for Energy Cooperation (APAEC) for the 2021-2025 period.
They reiterated their support for the implementation of the scheme through the exchange of information and knowledge and programmes to enhance capacity as well as joint research, publications, and demonstration projects.
ASEAN member countries are now working towards the possibility of recovering through balancing economic costs and risks while considering the optimal balance between national security and economic recovery.
Regarding energy security, participants reaffirmed the significance of stable clean energy supplies at affordable prices to serve economic and daily activities.
They acknowledged that the energy transformation process in ASEAN is not only focusing on sources ranging from fossil fuels to renewable energy but also on the selection of green, sustainable energy and technology serving post-pandemic recovery.
The ASEAN 3 countries are working hard to promote Clean Coal Technology (CCT), to support the transformation to a low-carbon economy.
Ministers and heads of delegations proposed the strengthening of trade promotions with the new role of CCT and carbon capture, utilisation, and storage.
They also encouraged the three partner countries to continue their support for the ASEAN Forum on Coal (AFOC) and in implementing APAEC in the second phase in the 2021-2025 period.
They lauded the joint policy summary on the new role of coal power plants in the era of energy transition prepared by the ASEAN Centre for Energy (ACE) and the Japan Coal Energy Center (JCOAL).
They spoke highly of China and Japan's role in CCT through the advancement of technology and policy support.
They will continue to work on a number of initiatives, including an integrated research centre by the Japan Atomic Energy Agency (JAEA).
Due to the impact of COVID-19 on the development and feasibility of oil refinery plants and liquefied natural gas (LNG) infrastructure in the ASEAN 3 region, participants hailed the efforts of ASEAN 3 countries in strengthening cooperation between governments, financial organisations, and the private sector, to provide better access to financial resources for comprehensive recovery.
At the same time, they also encouraged ASEAN 3 countries to pay more attention to new technology to eliminate carbon and digitalise oil and gas value chains.
They agreed to convene the next meeting in October 2021 in Brunei and to adopt the joint statement from this meeting./.
South African President hopes for ties with Vietnam to grow
President of South Africa Cyril Ramaphosa expressed a wish to fortify ties with Vietnam while receiving the credentials of newly-appointed Vietnamese Ambassador Hoang Van Loi on November 19.
Loi, in turn, said it was an honour to serve in South Africa, a land of potential that plays an increasingly important role in the region and the world.
He pledged to do his utmost to help enhance solidarity and friendship between the two peoples, the partnership for cooperation and development established in 2004 between the two countries, and ties between Africa and ASEAN.
He took the occasion to convey the regard of Party General Secretary and State President Nguyen Phu Trong to the South African leader.
Talking to the press after the ceremony, the ambassador said the two sides support each other at international forums, particularly with both being non-permanent members of the UN Security Council in 2020.
The two have so far established key cooperation mechanisms, such as an inter-governmental partner forum, a commercial joint committee, and a defence dialogue programme.
South Africa is currently Vietnam's largest importer in Africa. Despite COVID-19, trade between the two countries hit 1.22 billion USD in the first 10 months of 2020, an increase of 22 percent year-on-year. The figure is expected to hit 1.4 billion USD for the year as a whole./.
ASEAN transitioning towards sustainable energy
Renewable energy plays an increasingly important role in the diversification of energy supplies, which helps fulfil targets in climate change adaptation and reduces the negative impacts of excessive energy use, Deputy Minister of Industry and Trade Dang Hoang An said on November 20.
Addressing the 4th dialogue between the ASEAN Ministers on Energy Meeting (AMEM) and the International Renewable Energy Agency (IRENA), hosted by Vietnam online, the official further said the price of power produced from renewable resources has become more competitive with that from fossil fuels thanks to advanced science and technology.
Since the signing of an MoU at the ASEAN Ministers on Energy Meeting in Singapore in 2018, joint activities between ASEAN and IRENA have been implemented regularly despite COVID-19.
During the 4th AMEM-IRENA Dialogue, An voiced a hope that the parties will share their experience and discuss the implementation of the MoU, along with cooperation with IRENA in the time to come, to realise the sustainable energy development targets of each ASEAN member and the region at large.
Installed wind and solar photovoltaics capacity in Vietnam neared 6,000 MW in only the four years to 2017, making up some 10 percent of the total capacity.
The country has set a target of renewable energy, including hydropower, representing 47 percent of the total capacity by 2025.
Meanwhile, ASEAN is exerting every effort to reach its aspirational target of 23 percent renewables in the region's primary energy mix by 2025 and 35 percent in combined power capacity, as stated in the ASEAN Plan of Action for Energy Cooperation (APAEC) for the 2016-2025 period.
Work underway on new Vietnam-Cambodia Friendship Monument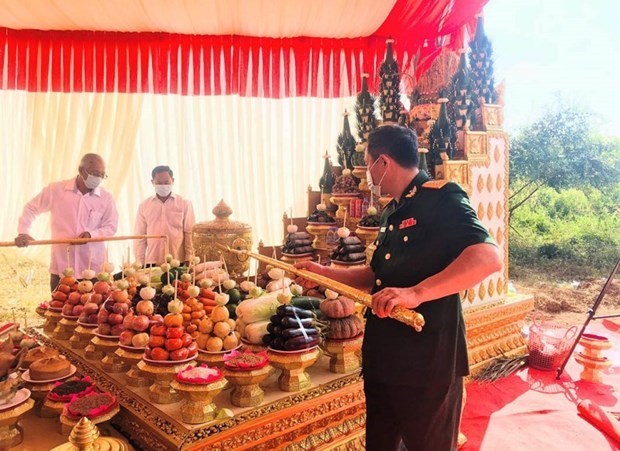 Construction of a Vietnam-Cambodia Friendship Monument begins in the border province of Tbong Khmum, Cambodia, on November 20.
Construction of a Vietnam-Cambodia Friendship Monument began in the border province of Tbong Khmum, Cambodia, on November 20.
The breaking-ground ceremony was attended by Nhem Valy, Permanent Vice Chairman and General Secretary of the National Council of the Solidarity Front for the Development of the Cambodian Motherland, Cheam Chan Sophorn, Governor of Tbong Khmum province, and Colonel Nguyen Thanh Chinh, the Vietnamese defence attache in Cambodia, among others.
Covering about 4 ha, the monument is among 22 friendship monuments being upgraded or built around Cambodia, to affirm the historical significance of Vietnamese volunteer soldiers' assistance to the neighbouring country in its fight against the genocidal Pol Pot regime./.
Hanoi urgently solves garbage treatment issues to complete waste-to-energy plant
Hanoi currently discharges around 6,000 tons of solid domestic waste daily, 89% of which are buried.
The Hanoi People's Committee has issued a report on garbage treatment solutions in the city to soon complete construction of a waste-to-energy plant on its outskirts, Kinh te & Do thi reported.
Accordingly, environmental sanitation has been improved, bad smell has been reduced, disinfection to kill flies and mosquitoes has been expanded in residential areas.
Besides, the municipal Department of Health has carried out health checks for 8,000 people in the surroundings of the Soc Son Waste Treatment Complex, the report said.
The waste water treatment plants have been operating around the clock to treat about 26,000 cubic meters of waste water, the report added.
Vice Chairman of the Hanoi People's Committee Nguyen Quoc Hung asked the municipal Department of Construction to regularly supervise and urge relevant units in the Soc Son Waste Treatment Complex to ensure safety and efficiency. The complex, built in 1999, is the largest of its kind in Hanoi, spanning over 157 ha. It handles around 5,000 of the 6,500 tons of garbage the city generates each day.
Mr. Hung also requested the People's Committee of Soc Son district to complete site clearance by November 30 and thoroughly handle the remaining issues so that Thien Y Environment Energy Joint Stock Company will soon complete the construction of the waste-to-energy plant project, the largest one in Vietnam, in the district.
Thien Y Environment Energy Joint Stock Company, the project's contractor, is speeding up the works to put the project into operation in February 2021.
Once in service, the plant will have a processing capacity of 4,000 tons of waste per day to help treat litter collected from urban districts. It is expected to reduce waste pollution that affects the lives of locals to below 5% instead from about 80% at present.
However, while the project is expected to come into operation, the most important measure is to minimize the impacts of the waste collection and transportation process and its treatment in a landfill.
An official of the Soc Son district administration said that authorities need to strictly sanction garbage trucks which leak garbage on the road during transportation. Besides, regulations must bed strictly enforced in the process of receiving and treating garbage to limit the impacts on local residents' lives.
"If the above-mentioned shortcomings are not solved in time, people will get irritated," the official said.
Hanoi currently discharges around 6,000 tons of solid domestic waste daily, 89% of which are buried.
Vietnamese, Cuban Parties enhance friendship
Vo Van Thuong, Politburo member, Secretary of the Communist Party of Vietnam (CPV) Central Committee and head of the CPV Central Committee's Commission for Information and Education, on November 19 held online talks with Victor Gaute Lopez, Secretary of the Communist Party of Cuba Central Committee and head of the Party Central Committee's Ideology Commission.
Thuong said over the past six decades, Vietnam and Cuba have stood side by side with each other during the past struggles for national independence and freedom, and the present cause of national construction and defence.
The relationship has become a symbol of the era, he stressed, citing leader Fidel Castro as saying the relationship is unprecedented and the invaluable asset of the two Parties and peoples.
The official affirmed the Vietnamese Party, State and people's consistent stance on supporting the revolutionary cause of their Cuban counterparts, and expressed his belief that under the leadership of the Communist Party of Cuba, the Cuban people will continue to successfully updating the socialist-oriented socio-economic model.
Echoing Thuong's views, Victor Gaute Lopez said the fraternal relations between Vietnamese and Cuban Parties, States and peoples will be forever the exemplary relationship in the temporary world.
He congratulated Vietnam on its achievements in the fight against COVID-19, and expressed sympathies over losses caused by natural disasters to the country over the past time.
Victor Gaute Lopez said he believes that under the sound leadership of the CPV, Vietnamese people will overcome all difficulties and challenges to build a strong, democratic, equal and civilised nation.
The two sides informed each other about the situation of their Parties and countries, and discussed measures to strengthen the bilateral ties in the time ahead.
Phase II of ASEAN Plan of Action for Energy Cooperation adopted
The second phase of the ASEAN Plan of Action for Energy Cooperation (APAEC) for the 2021-2025 period was adopted during the 38th ASEAN Ministers on Energy Meeting (AEM 38) on November 20.
The theme of the Phase II is "Enhancing energy connectivity and, market integration in ASEAN to achieve energy security, accessibility, affordability and sustainability for all" with a new sub-theme of "Accelerating energy transition and strengthening energy resilience through greater innovation and cooperation."
The APAEC Phase II was developed by the APAEC Drafting Committee (ADC) which is chaired by Singapore and co-chaired by Vietnam with strong support from the ASEAN member states, specialised energy bodies, sub-sector networks, the ASEAN Secretariat and the ASEAN Centre for Energy.
The development of APAEC Phase II considered the global energy trends such as the energy transition, global economic growth, impacts of COVID-19, the United Nation's Sustainable Development Goals No. 7 (SDG7) and the 4th Industrial Revolution.
The APAEC Phase II will continue to advance ASEAN energy cooperation through seven programme areas - ASEAN power grid, trans-ASEAN gas pipeline, coal and clean coal technology, energy efficiency and conservation, renewable energy, regional energy policy and planning and civilian nuclear energy.
Greater efforts will be taken to promote various technologies such as hydrogen, battery and energy storage, carbon capture utilisation and storage, solar PV, bioenergy, waste to energy, smart energy system and electrified vehicles.
The ASEAN member states will continue to promote multilateral electricity trading, development of a common gas market, clean coal technology and digitalisation in the energy sector.
They committed to make greater efforts to complete the bloc's target of securing 23 percent of its primary from renewable sources by 2025.
The delegates also looked at the sixth ASEAN Energy Outlook (AEO6), the ASEAN Power Grid (APG) and the Trans-ASEAN Gas Pipeline (TAGP)./.
EAS countries seek result-oriented energy policy for economic recovery
Delegates at the 14th East Asia Summit (EAS) – Energy Ministers' Meeting on November 20 reiterated the significance of ensuring stable supply and clean energy with affordable prices to support economic and daily activities.
Given the impact of COVID-19, they agreed on the need to pursue a result-oriented energy policy in order to recover the economy and reduce greenhouse gas emissions.
The participating countries hoped that apart from Phase II of the ASEAN Plan of Action for Energy Cooperation for 2021-2025, EAS energy cooperation will be enhanced at different levels.
The delegates worked on the building of a roadmap to promote energy efficiency for the EAS countries as well as the implementation of the energy efficiency and conservation plan for 2020-2021.
They considered the sustainable use of biomaterials in the transport sector during the 2021-2024 period.
The countries reaffirmed strong commitments to intensifying the use of liquefied natural gas (LNG) and developing the infrastructure system in service of the LNG sector, and stressed the role of clean coal technology and natural gas in the regional shift to a low-carbon economy.
The delegates shared the view on the importance of carbon capture, utilisation and storage (CCUS) to economic growth.
They expected that the next EAS-Energy Ministers' Meeting will be held in Brunei in 2021.
At the end of the meeting, they adopted a joint statement./.
Australian Ambassador lauds Vietnam's chairing 37th ASEAN Summit and Related Summits
Vietnam's chairing the virtual 37th ASEAN Summit and Related Summits over the last week was an exceptional achievement given the hugely disruptive impact of COVID-19 on the ASEAN calendar this year, Australian Ambassador to ASEAN Will Nankervis has said.
In an interview granted to the Vietnam News Agency (VNA), Nankervis said the ASEAN-Australia and East Asia Summits are the pinnacles of a substantive year of cooperation for ASEAN and Australia.
This year marked a number of important anniversaries, including 15 years since the establishment of the EAS in 2005 - this in itself is a significant milestone for the ASEAN-led architecture.
Prime Minister Morrison participated in the ASEAN-Australia Summit and the East Asia Summit, both held by videoconference, on November 14.
"At the ASEAN-Australia Summit, the Prime Minister warmly welcomed ASEAN's agreement to upgrade the tempo of our leaders' meetings to annual summits, marking a new chapter in our strategic partnership," the ambassador said.
The PM outlined a landmark series of Australian investments to support vaccine access, health security and recovery in Southeast Asia, which builds on Australia's existing development assistance programmes with the region, worth around 1 billion AUD (731.57 million USD) in 2020-21.
The package is in line with the ASEAN Outlook on the Indo-Pacific, which emphasises cooperation on maritime, connectivity, sustainable development and economic issues.
"We've been very pleased to see Vietnam maintain the momentum behind the ASEAN Outlook on the Indo-Pacific, which was agreed by member states last year," Nankervis said.
The Outlook presents an ASEAN-centred view on issues in the Indo-Pacific and the importance of cooperation on maritime, connectivity, the Sustainable Development Goals and economic development issues, he added.
"We welcomed Vietnam's Chair's statement from the ASEAN Summit in late June, which featured strong language on the East Sea; it underscored the importance of international law, particularly the United Nations Convention on the Law of the Sea," the ambassador stressed.
Vietnam has actively engaged all dialogue partners to ensure ASEAN remains at the centre of regional dynamics, he went on.
Under Vietnam's Chairmanship, and as the Prime Minister observed, Australia is working more closely than ever with ASEAN, according to the ambassador.
The Regional Comprehensive Economic Partnership (RCEP) Agreement which was signed on November 15 matters for its sheer size, collective economic weight and strategic significance in placing ASEAN at the centre of regional economic arrangements, he said.
RCEP countries account for almost a third of the world's population and GDP, 58 percent of Australia's trade and 67 percent of the country's exports, according to Nankervis.
No other trade agreement brings together parties with the collective economic weight of the ASEAN member states and the major economies in the region.
RCEP sends a clear message that the region is committed to open trade and investment, he said, adding that the deal is testament to ASEAN leadership and a positive development for the entire Indo-Pacific region./.
Vietnamese, Japanese firms promote technology transfer
About 100 Vietnamese and Japanese enterprises joined an event in the northern port city of Hai Phong on November 20 to connect the supply and demand of technological equipment.
Speaking at the event, Director of the municipal Department of Science and Technology Duong Ngoc Tuan said in order to improve competitiveness and production capacity of domestic enterprises, the Government issued a number of policies and mechanisms related to the transfer of foreign technologies.
Tuan hailed Japan as one of the two countries with the largest foreign direct investment in Hai Phong. The event is expected to help firms grasp demand and exchange information to lay a foundation for future cooperation, he said.
Chairman of Japan's Suwamo Association Kazuo Osaka said participating Japanese enterprises operate in the fields of technology, health care, environment and agriculture. He expressed hope that the event will step up connectivity between firms from the two countries.
Earlier, similar events were also held by the Suwamo Association and the municipal Department of Science and Technology./.
Vietnam Airlines sterilises aircraft carrying foreign visitors
A representative of national flag carrier Vietnam Airlines said on November 20 that the airline has been fully complying with COVID-19 prevention and control regulations, including sterilising aircraft.
Since midnight on March 25, the carrier has also been spraying disinfectant in all aircraft on domestic routes after landing in Hanoi, Da Nang, and Ho Chi Minh City.
It has also spent more on antiseptic equipment, especially at Hanoi's Noi Bai and HCM City's Tan Son Nhat International Airport, thus ensuring the absolute safety of passengers and crew members.
According to a representative, the Health Ministry's Department of Preventive Medicine recently requested the sterilisation of aircraft carrying foreigners to Vietnam./.
Japan provides Cambodia with over 200 million USD loan for COVID-19 relief
Japan International Cooperation Agency (JICA) on November 10 signed a loan agreement with the Cambodian government to provide a Japanese Official Development Assistance (ODA) loan of about 240 million USD for the COVID-19 Crisis Response Emergency Support Loan, JICA said in a statement on November 18.
"The objective of the programme loan is to subsidise the country's recovery from the social and economic downturn caused by COVID-19 through budget support for the implementation of the COVID-19 Master Plan and related policies," it said.
The statement said this loan will contribute to the achievement of Sustainable Development Goal 1 to end poverty in all its forms, Goal 3 to ensure healthy lives and promote well-being for all of all ages and Goal 8 to promote sustained, inclusive and sustainable economic growth, full and productive employment and decent work for all.
It said the project "COVID-19 Crisis Response Emergency Support Loan" aims to provide financial support to the government to implement countermeasures against COVID-19, such as maintaining and activating economic and social activities, protecting socially vulnerable people and improving the health system in the Kingdom.
"These measures in turn contribute to stabilising the economy and society of Cambodia and encouraging efforts for sustainable development," said the statement.
It said this project matches the development subjects and policies of the government and the cooperation policies of the Japanese government and JICA, said the statement.
The statement said Cambodia has a close economic relationship with Japan, which accounted for 8.3 percent of Cambodia's exports and 3.2 percent of imports in 2018.
"There is concern that the spread COVID-19 may seriously affect 388 Japanese companies operating in Cambodia," it said.
A Ministry of Economy and Finance spokesman Meas Soksensan told Khmer Times on November 19 that to combat COVID-19, the government is still welcoming all sources of resources and will use the money with transparency to rightly target economic recovery./.
Young farmer makes fortune from grapes
Starting a business has become a trend among Vietnam's young, primarily involving technology and innovation. But what about agriculture start-ups? Let's visit one young man in Bac Giang province to find out more.

Despite being grown in large quantities in Binh Yen hamlet, Binh Son commune, Luc Nam district, in Bac Giang province, lychee, oranges, and pomelo are not for everyone, including local farmer Nguyen Van Tuan. Noting their low economic value, he switched to grapes in March of last year.
After seeing that the vines at the Bac Giang University were weighed down with beautiful juicy black grapes, he studied the variety carefully and decided to invest some 150,000 USD in building his own vineyard. He initially encountered a host of difficulties due to his limited experience, but he followed the university's instructions and learned what he could from other grape growers. His vines then began yielding plenty of fruit.
Not only does the variety yield a lot of fruit, it also tastes sweet and looks beautiful, making it very much sought after by consumers. After hearing of Tuan's success, many local farmers paid him a visit to learn more.
The vineyard brings Tuan some 70,000 USD per harvest. With two to three harvests a year, his life has improved substantially. He is now planning to expand and is teaching local people how to get a vineyard started.
With determination and ceaseless effort, Tuan and his grape vines have brought a breath of fresh air and the promise of a better life to the village.
Bến Tre, Trà Vinh connect to combine eco-tourism and cultural discoveries
Travel products in the Mekong Delta provinces of Bến Tre and Trà Vinh will be combined to offer more interesting experiences for tourists and create a regional connection in tourism promotion.
A workshop took place yesterday in Hà Nội in the framework of the Việt Nam International Travel Mart 2020 to strengthen co-operation between enterprises in the two provinces and introduce new tours and products.
Vice Chairman of Bến Tre Provincial People's Committee Nguyễn Văn Đức said the event was held to introduce images, products, tourism services, and traditional cultural features of the two localities, as well as to promote tourism development, based on the premise of exploiting and using indigenous resources, thereby enhancing the connection of tours, routes, and co-operation in promoting investment in tourism services.
"At the same time, it's a chance to strengthen tourism development links between Bến Tre - Trà Vinh and tourism businesses across the country, especially Hà Nội travel companies," he said.
"In the context of the absence of international tourists due to the pandemic, we have to change the development strategy, not focusing on quantity but quality. I mean, while the number of tourists decreases, if their expenses for tourism increase, we still meet the target of tourism growth."
He also emphasised improving the efficiency and professionalism in tourism activities of the two provinces, the Mekong River Delta and the whole country.
Nguyễn Ngọc Bích, Director of Rustic Mekong Company (Hà Nội), said it's a highlight for Bến Tre to build tourism products related to stories about coconuts and coconut products. He was surprised knowing that Bến Tre is home to 17 different types of coconuts and there are many interesting cultural stories about them.
With experiences in the field of community-based tourism development in Tràm Chim National Park (Đồng Tháp) and Ngã Năm floating market (Sóc Trăng), Bích still wants to build more community-based tourism products in Bến Tre because the tourism potential of this locality is huge.
"Abundant natural resources, favourable geographical location with rivers and gardens can help the province promote community ecotourism, attracting high-class tourists, bringing another highlight to the Mekong River region. It's necessary to build a route connecting yachts from Bến Tre to other provinces in the region to attract tourists with high expenses," he said.
Addressing the event, vice chairman of the Việt Nam National Administration of Tourism (VNAT) Ngô Hoài Chung stressed that governments of the two provinces need to pay attention to develop more tourism products for entertainment, shopping, resort tourism, healthcare and MICE tourism to increase the proportion of visitors spending on services.
He believes that, with the available advantages, the determination of the leaders of the two provinces and the unanimous participation of tourism businesses, Bến Tre and Trà Vinh will be safe and attractive destinations for tourists in the current context.
"The VNAT is committed to always accompanying and coordinating closely with localities to connect and promote domestic tourism, ready to welcome international guests back to Việt Nam as soon as possible," Chung affirmed.
Bến Tre and Trà Vinh are located in the eastern coastal sub-region of the Mekong River Delta, between the two branches of Tiền and Hậu rivers, 80km to the west of HCM City. Bến Tre Province has the strength of river tourism and garden tours. Meanwhile, Trà Vinh Province's strength is community-based tourism with historical and cultural discoveries.
The combination of tourism from Bến Tre and Trà Vinh has enriched the tourism sectors of the Mekong Delta provinces with products that are unique to each locality, creating an attraction for tourists.
Ethnic people in Điện Biên celebrate the National Great Unity Festival
More than 40 households from the  Mường Phăng Commune in the northern province of Điện Biên gathered and celebrated the National Great Unity Festival 2020 earlier this week.
The festival commemorates the 90th anniversary of the traditional day of the Việt Nam National United Front (November 18, 1930 – November 18, 2020).
Lọng Luông 2 Village, whose population is totally Mông ethnic people, is one of 20 poorest mountainous villages in the commune.
According to Giàng A Vàng, the village chief, the festival has been organised annually, creating a communal place for locals to gather and exchange experiences in working, farming. It also aims to enhance and construct the village's conventions.
At the same time, it is an opportunity for people to participate in communal cultural activities, reinforcing the solidarity in the local community and honouring the cultural values of the Mông ethnic people, he added.
The art performances had been meticulously prepared by the Mông girls.
"The performances had been rehearsed by female members two weeks earlier, taking advantage of our free time after work in the evening," said Hạng Thị Sinh, a member of local art troupe.
The themes of the selected songs and dances are praising the Party, the State and President Hồ Chí Minh, as well as expressing the cohesion of 19 ethnic communities within the province.
The National Great Unity Festival 2020 has also been celebrated in many provinces nationwide this week with many activities.
Children in Vĩnh Long receive 3,000 books from Việt Nam-US Society
More than 3,000 books were donated to children in the Mekong Delta province of Vĩnh Long on Thursday with the aim of developing the reading culture in the region.
The donation is part of the Happy Library programme, held thanks to the co-operation between the Việt Nam - US Society (VUS) and international non-profit organisation The Library Project.
The programme will empower local libraries in the Mekong Delta region to inspire children to read and give them a chance to get good books, hence improving knowledge for young people in Việt Nam.
On Vietnamese Teachers' Day, students from Trần Đại Nghĩa School, Vĩnh Long Province also joined an English class with foreign teachers of the VUS with the hope that the experience will inspire and motivate local students to study English.
The two organisations have built nine libraries with 8,000 books in An Giang and Vĩnh Long provinces. First launched in 2017, the programme has provided 16,000 books to children in remote areas. 
Female leaders should be promoted for better organisational performance: experts
Leaders need to recognise the obstacles facing women and take proper action to overcome gender barriers, which will improve organisational performance, executive leaders have said.
Women make up more than 50 per cent of the global workforce, but less than 25 per cent of women have senior leadership roles, according to ManpowerGroup, a global workforce solutions company.
The latest research "The Future for Workers, by Workers" by ManpowerGroup reveals that women are impacted on a longer term by the economic and social crisis than men.
They are more likely to be furloughed, more concerned about going back to the workplace and over-represented in sectors most impacted by COVID-19.
"Leaders should understand women's needs to avoid assumptions and prevent unconscious biases while deploying flexible working and policies that help women stay safe and unleash their fullest potential," said Carine Rolland, People & Culture Director in Asia Pacific & Middle East at ManpowerGroup.
The first step to overcoming these biases is to acknowledge that we have them, Rolland said at a virtual event titled "Unleashing New Waves of Women Leaders" held earlier this week in HCM City.
Challenging our own assumptions means being aware of our biases and course-correcting for them, she said.
Among the solutions for more women in leadership, leaders should hire more, promote more, and lose less. It is critical for male leaders to champion this issue, she added.
Uyên Hồ, director of global public affairs at Intel Products Vietnam & Malaysia, said that organisations and companies should know why they need to promote female leaders, what challenges await, and how to help women realise their fullest potential as they deserve equal opportunities with men.
Gender diversity in a sustainable way results in the greater success of women in executive leadership positions, Uyên said.
Enterprises and organisations should apply policies on equal pay and benefits for males and females as well as implement programmes to promote female recruitment and leaders, she said.
Nagasaki begins manpower drive in central Việt Nam
Nagasaki Prefecture in Japan will begin recruiting first year students from central Việt Nam to work and study in healthcare services from 2021.
The Vietnamese students will also receive language lessons, accommodation and long-term employment in Japan in the future.
Director of the Healthcare and Social Welfare Bureau of Nagasaki, Nakata Katsumi, made the announcement during an online ceremony to mark the signing of a Memorandum of Understanding on human resources training and recruitment between Nagasaki and the Đà Nẵng-based Đông Á College on November 20.
It is the seventh city in Japan to sign a recruitment agreement with a college in Đà Nẵng.
"We are very happy and will welcome the first students from central Việt Nam to Nagasaki for working and studying. Nagasaki will offer the most favourable conditions and priorities for Vietnamese students with skills training, education and working opportunities," Nakata Katsumi said after the ceremony.
"Nagasaki and Việt Nam has a prolonged historic relationship, and Đà Nẵng is a part of Việt Nam that Nagasaki has built very close ties with," he said, adding that Đông Á College and Nagasaki University had previously inked a comprehensive co-operation agreement.
Chairman of Đông Á College Council Lương Minh Sâm said more than 200 students from the college had already been working in Japan, and at least 500 more students would be sent to Japan next year.
He said the second batch of qualified students in nursery services had been recruited for 18-month contracts at the Kameda medical centre in Chiba Prefecture.
Japanese companies employed nearly 300 students from the college at a recruitment day in September, and those students will be working in different services and industries in Japan for one year.
Partners from Japan and the city-based college previously established the Japanese Culture and Language Exchange Centre in Đà Nẵng to provide education opportunities for 2,000 students in central Việt Nam.
Yokohama, Maebashi, Chiba, Fukuoka and Shizuoka and 72 businesses from Japan have also agreed to recruit human resources from central Việt Nam.  
The college sent representatives to Tokyo to boost education co-operation between central Việt Nam and Japan last month.
Đông Á College is the only private education centre in central Việt Nam supplying human resources for the Japanese labour market. 
Kiên Giang sees positive results from restructuring agriculture, new-style rural areas
Agricultural production in the Cửu Long (Mekong) Delta province of Kiên Giang has developed significantly after a restructuring effort and implementation of new–style rural areas.
The province, the country's largest rice producer, has turned more than 30,000ha of ineffective rice fields into fields that rotate rice and vegetables or rice and shrimp, the provincial Department of Agriculture and Rural Development has said.
Nearly 50,000ha of large-scale rice fields and other specialised rice growing areas grow high quality rice varieties and fragrant rice varieties under Vietnamese good agricultural practices (VietGAP) standards.     
Advanced farming techniques are also used in many farming models. 
The smart rice farming model uses smart rice seeding, transplanting machines, and other smart devices that irrigate rice fields. The model uses fewer rice seeds and less pesticides and fertiliser compared to traditional rice farming methods, while the yield and quality are not less than that of traditional rice farming methods.
The Cây Chôm Agriculture Service Co-operative in Hòn Đất District's Lình Huỳnh Commune has implemented the smart rice farming model since early last year.
Nguyễn Thị Hồng Thu, a co-operative member who grows DS rice variety on a 3ha field under the model, said that advanced technologies had reduced production costs and increased profits.
The development of agriculture co-operatives has also led to an increase in agricultural products as well as quality, thus increasing value. 
The province is expected to grow a total of 800,000ha of rice with a total output of 4.3 million tonnes this year. It aims to achieve an agricultural production value of VNĐ130 – 170 million (US$5,600 – 7,300) per hectare a year in the 2021- 25 period.
Đỗ Minh Nhựt, deputy director of the department, said the province is restructuring production by creating suitable farming areas for each agricultural product. 
It is building linkages among stakeholders to ensure outlets and will apply good agricultural practices, he said.
In addition, the province is developing clean and organic agricultural products and high-tech agricultural products. It will also zone farming areas suiting for aquaculture in localities.
The province breeds nearly 300,000 tonnes of seafood, including 85,000 tonnes of shrimp, and catches about 450,000 tonnes of seafood from the sea each year.
Nhựt said: "The province will reduce the catching of seafood to preserve natural seafood resources and increase aquaculture production, mostly the breeding of shrimp, fish and bivalvia mollusc species near shore."
New-style rural areas
The effective implementation of restructuring agriculture has enhanced the process of building new - style rural areas, according to the department.  
The average income of people in rural areas has reached VNĐ50 million ($2,150) a year.  
Hoàng Văn Tuấn, deputy director of the department, said the building of new – style rural areas has developed widely and the material and spiritual lives of people in rural areas have improved.
As many as 78 of its 117 rural communes have met all 19 criteria set under the new rural style programme, a 25 per cent increase over the province's target of building new- style rural areas set for the 2015 -20 period, he said.
The criteria for the programme are related to planning, infrastructure, transport, irrigation, electricity, income, education, healthcare, environment, social security, culture and others.  
Tân Hiệp became the province's first district to meet all 19 criteria in 2015. Gò Quao and Giồng Riềng districts are petitioning to be acknowledged this year.
In 2015 - 20, the province invested more than VNĐ26 trillion ($1.1 billion) for agriculture and rural development.
Irrigation systems in the province have met the demand for irrigation, flood and saltwater intrusion control. All communes have access to national power grids and 80 per cent of roads in hamlets are paved with cement or asphalt. Up to 99 per cent of households in the province use standard quality water.  
Poor household support
Kiên Giang has provided support for poor households, including ethnic households, to enable them to do agricultural production and other jobs.
The province has spent nearly VNĐ23 billion ($1million) for the programme of "developing production and diversifying livelihoods for reducing poverty" since 2014.
The programme has carried out 113 poverty reduction projects, established 24 agriculture extension clubs, and provided seedlings and fertilisers to poor households.   
It has also built 18 clean water supply projects to serve 13,300 households in poor areas, and 15 of them have been put into use.
Nhựt, deputy director of the department, said the province is estimated to spend about VNĐ40 billion ($1.7 million) for the programme of developing production and diversifying livelihoods for reducing poverty in the 2020 -24 period.
The programme will implement 315 poverty reduction projects to support 3,400 households in the period.
The province also plans to raise public awareness of poverty reduction programmes and expand extension activities for agriculture, forestry and aquaculture production to help ethnic households escape poverty. 
99 teachers honoured for outstanding achievements
Deputy PM Truong Hoa Binh honoured 99 outstanding young teachers and lecturers from 43 provinces and cities on the 38th Vietnamese Teachers' Day.
The Outstanding Teacher Award is an award by Ho Chi Minh Youth Union. This is the second year the award was held. Teachers and lecturers under 35 years old who have outstanding achievements in their line of work or major contributions to the society are honoured.
Binh offered congratulations for the teachers and lecturers on the occasion of Vietnamese Teachers' Day on November 20, from teachers with high achievements to those who volunteered to remote areas to bring education to poor children.
"Even at young ages, the teachers and lecturers have shown their hard work and kept on contributing to the country," he said. "I hope that you will continue to pursue education, improve yourselves and elevate our education sector. Each teacher should be a role model for their students and other people."
Dr Dao Viet Hang, a lecturer at Hanoi Medical University, had four articles published by international publications, 32 domestically-published articles and attended 25 international conferences. She also wrote a curriculum and two medical books.
Tran Thanh Bac is a lecturer at Dien Bien College with 90% of his students from ethnic minority groups. He wrote a book about the languages and cultures in Dien Bien Province and a book about advanced Vietnamese language learning. He was also given a certificate of merit by Ho Chi Minh Youth Union and Dien Bien Youth Union in 2018-2019 school year and 2019-2020 school year.
Among the honoured outstanding teachers and lecturers are Nguyen Thi Hang, a teacher at Son Thanh Tay Primary and Secondary School in Phu Yen Province. After graduating, she volunteered to work in the most remote mountainous commune in Phu Yen to help disadvantaged children. She also won the first prize during the provincial teaching contest 2019-2020 period.
Many of the teachers and lecturers have new ideas and methods to improve their teaching process.
The ceremony not only aims to honour the outstanding teachers but also to pay tribute to everyone in the education sector and those who want to be an educator.
Vietnam Cultural Heritage Day marked nationwide
The first-ever Da Nang Cultural Heritage Festival opened at the Da Nang Museum on November 21 as part of the nationwide celebrations for the 15th anniversary of Vietnam Cultural Heritage Day (November 23, 2005-2020).
The three-day event features a wide range of activities, including a competition themed "Flows of Da Nang's cultural heritages", a rhetoric contest "Pride of Da Nang's cultural heritages", a photo exhibition entitled "Ancient scooters - once legendary" and a "Scooter on roads" exchange event.
In addition, visitors to the festival have the chance to gain a deeper insight into Da Nang's heritages through attractive activities such as watching artisans perform wood carvings and Co Tu ethnic minority group's sculptural arts, admiring how handicraft products are created, re-enacting a ceremony to erect a Neu (a tall bamboo pole with red garment strips used to ward off evil spirits during the lunar New Year), and a performance of the 'tung tung da da' dance to show gratitude to heaven.
* On the same day, managers, cultural researchers, artisans and fashion designers gathered at a seminar in Hanoi to discuss the preservation and development of the traditional Ao Dai (long dress) heritage in the present society.
They touched on several Ao Dai-related issues, including the potential to use traditional Ao Dai in the society, revamping Ao Dai, education on Ao Dai, and building Ao Dai preservation spaces in Hanoi and localities.
* A series of activities are scheduled from November 23 to December 4 in Hoi An City, Quang Nam Province, to mark the 21 anniversary of Hoi An Ancient Town gaining UNESCO recognition as a World Cultural Heritage along with three years of the art of Bai Choi in central Vietnam being recognised as an Intangible Cultural Heritage of Humanity by UNESCO.
The activities include an online photo exhibition on old costumes in Hoi An, traditional musical and food events, and seminars on preserving and promoting heritage tourism in the context of COVID-19 and the role of women in promoting the attractiveness of heritage tourism.
Deputy PM urges for effective realisation of dual goal in fighting against COVID-19
Deputy Prime Minister Vu Duc Dam has urged for continuous implementation of the dual goal on both preventing and combating COVID-19 while boosting economic development.
On November 20, Dam and his entourage inspected the prevention and control of COVID-19 in Quang Ninh Province, during which he praised the northern province for its efforts in the prevention and fight against the epidemic.
He noted that Quang Ninh has a long border and regularly welcomes Vietnamese citizens from abroad landing at Van Don Airport, while many local hotels are still acting as isolated venues for foreigners entering Vietnam, so the prevention and control of COVID-19 must always be the top priority.
Dam suggested that while realising the dual goal, Quang Ninh should also provide effective support for people in need amid the difficulties caused by COVID-19, while focusing on promoting Quang Ninh as a safe, attractive and friendly destination for tourism, as well as quickly completing updates of the safety map regarding COVID-19. 
At the sites he inspected, Dam also requested the concerned units and facilities to regularly update information on the pandemic and well perform the medical examination and treatment and the prevention and control of COVID-19 epidemic to absolutely not let the disease spread to the community.
Programme brings out the distinct flavour of Central Highlands
A programme opened at the Gia Lai provincial museum on November 19 to highlight the distinct flavours of the Central Highlands.
More than 20 booths at the four-day programme are introducing visitors to many signature dishes from ethnic groups in the Central Highlands region, including rice cooked in a bamboo tube, grilled chicken, dried beef, and traditional cakes.
There are also booths displaying brocade products, traditional musical instruments, and agricultural products such as coffee, macadamia, and lingzhi mushrooms.
Visitors to the event in the evening are entertained with beautiful songs, dance, and gong performances by local artists.
The event is being hosted by the provincial Department of Culture, Sports, and Tourism to celebrate the 15th anniversary of the gong culture space in the Central Highlands receiving its UNESCO title as an intangible heritage of humanity (2005-2020).
It is also among of a series of activities promoting the tourism potential of Gia Lai province and the Central Highlands in general, including a tourism fair, a street carnival, and flower festivals.
Wildflowers - Chu Dang Ya Volcano Week opens in Gia Lai
The Wildflowers - Chu Dang Ya Volcano Week officially kicked off on November 20, in Ia Gri village, Chu Dang Ya commune, Chu Pah district, Gia Lai province, with many artistic activities bearing the unique cultural colours of the community of ethnic groups in the Central Highlands.
It is an outstanding event honouring the unique natural and cultural heritage of the northern Central Highlands.
It is also a tourist destination recognised by UK travel magazines and the Vietnam Records Organization as one of the top 10 most attractive tourist destinations of Gia Lai province.
Coming to the Wildflowers - Chu Dang Ya Volcano Week, in addition to being in harmony with the immense yellow colours of flowers, the typical symbol of the dry season in the Central Highlands, visitors can also experience cultural activities such as arts programmes, sports, and cuisine workshops characterized by the unique cultures of the ethnic minority groups in the Central Highlands.
For tourists who love to explore, the event is also an opportunity to research and further understand the cultural space of gongs, various types of knitting, carving and weaving of the community of ethnic groups in the Central Highlands.
Within the framework of the event, 20 typical agricultural stalls will be present from the Central Highlands region featuring products such as coffee, pepper, wild banana, wine, honey, and dried bamboo shoots. Two specialty crops in particular from the volcanic land of Chu Dang Ya ,edible canna and sweet potato, are also being displayed and introduced to tourists at the event.
Wildflowers Chu Dang Ya Volcano Week runs until November 26.
Source: VNA/VNN/VNS/SGGP/VOV/NDO/Dtinews/SGT/VIR