Vietnam has successfully carried out over 750 stem cell transplants for treatment of blood diseases in the last decade, Nhan dan reported.
Vietnam faces challenges applying stem cell therapy
Scientists apply stem cells to preserve rare animal genes
Vietnamese scientists make stem cell drug for treating lumbar degenerative disc
Stem cell banks face shortage as demand rises rapidly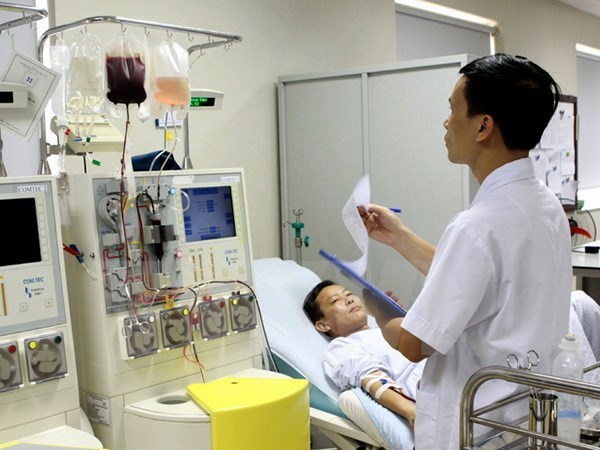 A patient received stem cell transplantation at the Hanoi-based Stem Cell Centre
The statistics were published at the 5th National Scientific Conference on Stem Cells, which opened in Hanoi on April 23 with the participation of around 300 health experts.
Since the 1950s, the study and application of stem cells in medicine has been considered a breakthrough, creating new development opportunities for the medical sector. The advanced technology has been widely used to help cure several diseases that were impossible to treat before, including stem cell transplantation to treat blood diseases or support in the treatment of cancer and other musculoskeletal, nervous, respiratory and cardiovascular diseases.
Dr. Bach Quoc Khanh, head of the National Institute of Haematology and Blood Transfusion (NIHBT) and head of the organising board, said that the seminar provides opportunities for medical experts to review the achieved results and share experiences in the field, while clarifying the challenges in research and application of stem cells.
In addition to scientific researches and reports by domestic scientists presented at the event, there is also experience sharing by foreign experts from the stem cell transplant centre at the US's John Hopkins University – one of the leading centres for stem cells in the world, as well as updating new advances in stem cell transplantations.
In Vietnam, the research and application of hematopoietic and mesenchymal stem cells, as well as products derived from stem cells, have brought about positive progress, which have been highly praised by the international community. Stem cell transplantation in Vietnam has reached international standards and increasingly improved, with diverse techniques, methods and sources of stem cells.
With such development, there are nine centres for hematopoietic stem cell transplantations established across Vietnam, helping increase the number of transplantations.
At the NIHBT, stem cell transplantation has been implemented since 2006, with over 356 successful cases up to now, helping many patients return to their normal lives. - VNA