The recently held conference Genetica Talk has clearly demonstrated the current international trend of using genetic information to personalize medical treatments, which is quite new in Vietnam.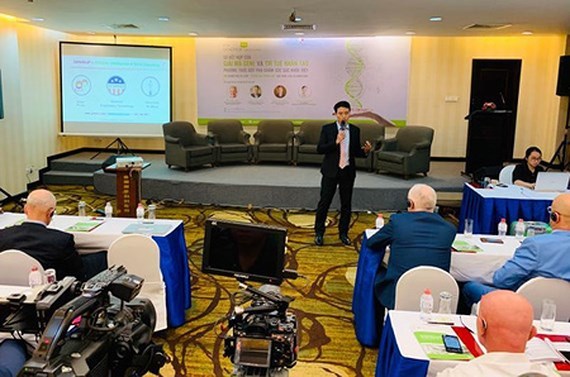 Dr. Cao Anh Tuan delivered his speech in the Genetica Talk conference
In the conference, themed 'Combination between Genome Decoding and Artificial Intelligence – Breakthrough Method for Vietnamese Healthcare', Dr. Roy Perlis from the Center for Genetic Research under Harvard Medical School (a member of Harvard University) and Dr. Gill Bejerano presented their own studies on the implementation of genetic information in healthcare and the application of Artificial Intelligence (AI) in genome decoding, as well as their impressive effects on the medical field.
According to Dr. Cao Anh Tuan, CEO cum founder of Genetica, it is our job to become not only more active in healthcare but also more precise to each patient.
Genome decoding is both a service and a resource for further research on human health, physical state, nutrition.
It can even aid education in that the better understanding of genes leads to a more logical program to optimize the job of raising and educating children.
As stated by Mr. David Strohm (Greylock Investment Fund), there are only a few Vietnamese citizens, or Southeast Asian people in general, who are able to access advanced genetic decoding technologies due to the long time and expensive cost.
In addition, centers for this task cannot ensure the absolute protection of this sensitive information. This has caused a serious lack of database and genetic models in the world, especially in Southeast Asian regions.
Hence, precision medicine cannot be widely applied in these areas, and corresponding resaerch results or new types of medicine will not be introduced to those in need, which is a great pity.
The good news is thanks to the development of technology, the cost for this decoding process has been gradually down.
Instead of paying as much as $100 million like a long time ago, people these days only need to spend around $600 to $1,000.
In Vietnam, Genetica, the pioneer in this field, is trying its best to apply AI to create a breakthrough in genome decoding in order to improve the task of health care for each individual.
The conference attracted more than 100 participants from hospitals, schools, healthcare centers, sports centers, and loyal customers of Genetica in Vietnam
In another related conference held in Hanoi by the Ministry of Science and Technology, Deputy Minister of Science and Technology Bui The Duy said that the strong development of digital technologies has caused major changes in various fields, including genome decoding. Vietnam, therefore, needs to establish a medical database large enough for AI to use to form more precise diagnosis. SGGP
Thanh Tam