Vietnam is ranked 52nd out of 162 countries and territories in terms of sustainable development, according to a new report by German's Bertelsmann Stiftung and the Sustainable Development Solutions Network of the UN.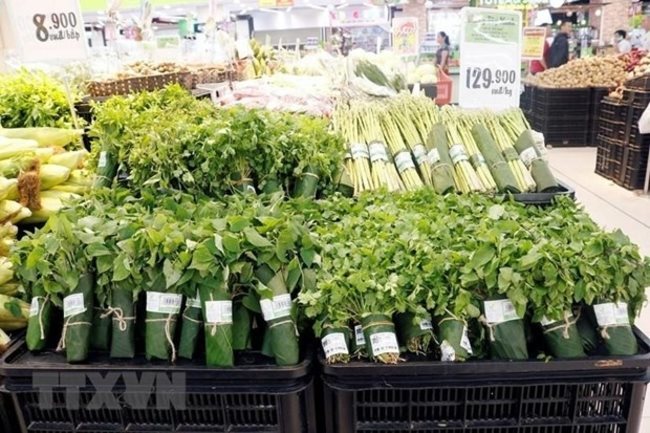 Banana leaves are used to wrap vegetables. Some supermarkets have reduced the use of plastic bags as part of efforts to protect the environment
The index and ranking were designed based on the 17 Sustainable Development Goals (SDGs) that were unanimously adopted in 2015 by the 193 member states of the United Nations. These goals aim to reconcile economic prosperity with reduced inequality and to address issues related to biodiversity loss and the climate crisis.
The Sustainable Development Report 2019 finds that no country is on track for achieving all 17 SDGs and highlights major performance gaps in responsible consumption and production, climate action and sustaining life below water and life on land.
Vietnam has yet to achieve any SDGs. The country obtains its best results for the goals of eliminating poverty, providing high-quality education, producing affordable and clean energy, responsible consumption and production and partnerships.
The report points out six major challenges Vietnam is facing: achieving zero hunger; ensuring good health and well-being; supporting industry, innovation and infrastructure; sustaining life below water; sustaining life on land; and ensuring peace, justice and strong institutions.
Also, gender equality, clean water and sanitation, adequate work and economic growth, reduced inequality, sustainable cities and communities and climate action are posing significant challenges to the country.
Overall, the report identifies additional challenges related to poverty eradication – with more than half of the world's countries not on track to achieve this goal – as well as income and wealth inequality and gaps in health and education outcomes in both developed and developing countries.
The report further cautions that land use and food production are not meeting people's needs, and agriculture is destroying biodiversity and forests, squandering water and releasing 25% of global greenhouse gas emissions.
The report states that 78% of countries for which data is available scored a red rating on sustainable nitrogen management, which is the worst performing indicator across all those analyzed in the report.
Further, the report claims that two billion people are deficient in micronutrients, 800 million people are undernourished, obesity is rising and 33% of food is wasted.
To address these challenges, the report calls for transformations to ensure sustainable land use and food systems that balance biodiversity conservation and restoration; efficient, resilient agriculture and forestry; and healthy diets. SGT
Thanh Thom

More than 70 percent of the Vietnamese population is working in the agricultural sector, yet they contribute only around 20 percent of the GDP.

Viet Nam may have experienced a tourism boom but one expert has warned the country needs a clear plan for the future.