Vietnam recorded four new COVID-19 in the past 12 hours to 6am April 30, including three domestically transmitted infections and one imported, according to the Health Ministry.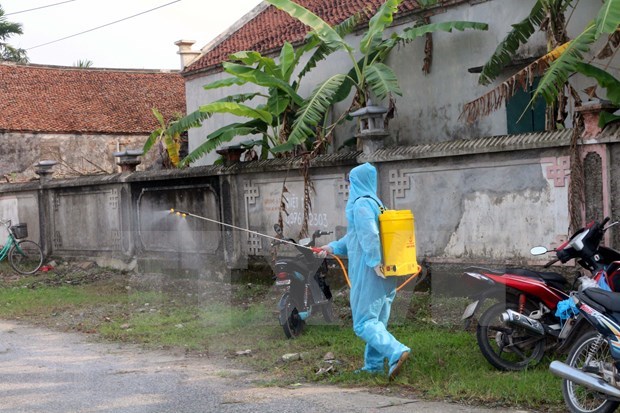 Spraying chemicals to disinfect Quan Nhan village, Nhan Dao commune, Ly Nhan district where Patient 2899 resides.
Among the new locally transmitted cases, one was recorded in Dong Anh district, Hanoi and two in the northern province of Hung Yen. All of them are linked to Patient 2899 in the northern province of Ha Nam. They are now under treatment at the National Hospital for Tropical Diseases No. 2 in Dong Anh district.
The total number of COVID-19 cases in the country rose to 2,914, including 1,580 domestically transmitted infections. As many as 2,516 patients have recovered while the death toll remains at 35.
Among patients still under treatment, 13 have tested negative for SARS-CoV-2 once, 15 twice and 20 thrice.
Meanwhile, 37,249 people are being quarantined nationwide.
The ministry also reported that 78,414 more people were vaccinated against COVID-19 on April 29, raising the total number of vaccinated people nationwide to 506,435.
On April 29 night, the Chairman of the Hanoi People's Committee issued an urgent dispatch urging all residents to wear facemasks when going out. Competent agencies are required to strengthen inspections and take drastic measures against illegal entries and those violating pandemic prevention and control regulations.
The city also ordered karaoke palours, bars, discos and game centers to halt operating from 0:00am on April 30.
Vietnam to increase COVID-19 alert level as new outbreaks loom
Vietnam should raise its COVID-19 alert level due to the prospect of further outbreaks among the local community, according to recommendations made by experts.

Dr. Nguyen Hong Ha, vice president of the Vietnam Association for Infectious Diseases, says the country is on the verge of a new COVID-19 outbreak in the community similar to current outbreaks which are ravaging neighbouring countries, including Cambodia, Thailand, Laos, and the Philippines.
The risk of local transmission occurring is considered to be very high as an increasing number of Vietnamese people residing in neighbouring countries, especially Cambodia, are seeking to cross the border and enter the nation for safety reasons, according to Ha.
Whilst the country has been able to effectively control the virus without any new cases detected within the community over the past few weeks, many Vietnamese citizens consider it to be a good choice to return to the homeland in order to escape the threat of COVID-19 in other places.
Given this context, Ha believes the fight against COVID-19 should be raised to a new level, including boosting the epidemiological and testing capacity nationwide, especially in border localities, in order to nip any possible new outbreaks in the bud.
Concurring with this point of view, Dr. Tran Dac Phu, a senior advisor to the Ministry of Health, notes that prevention is always better than cure.
"It is rather safe if infection cases are detected early and placed into quarantine, or it is dangerous if a new outbreak occurs," says the senior health expert.
According to Dr. Phu, Vietnam has acquired plenty of experience in bringing previous outbreaks under control, while its success story has been acknowledged internationally. Despite previous success, he warns that there is no room for complacency as the pandemic is evolving in an increasingly complex manner regionally and globally.
All localities and the healthcare sector must be put on standby in order to deal with the worst-case scenario, he suggests.
He also reminds localities to tighten control of quarantine facilities in order to avoid cross transmission.
The most effective measure, according to Phu, is to strictly follow the Ministry of Health's COVID-19 recommendations, including the 5K message in Vietnamese: namely khau trang (facemask), khu khuan (disinfection), khoang cach (distance), khong tu tap (no gathering), and khai bao y te (health declaration).
VNA/VOV