Lieutenant Colonel Dang Van Doan, deputy director of the Criminal Science Institute, Ministry of Public Security, talks to the Voice of Vietnam about new drugs found in Vietnam and the dangers they posed.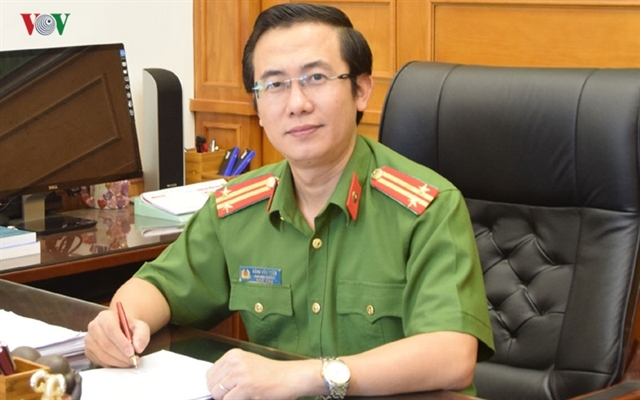 Đặng Văn Đoàn. —Photo vov.vn


The Criminal Science Institute under the Ministry of Public Security recently discovered a number of new illicit drugs making an appearance in Việt Nam that are not on the list of banned substances in the country. What are these newly discovered drugs and their effects?
From the end of 2018, the Criminal Science Institute has discovered nine new drugs in Việt Nam.
Of which, there are seven drugs not included in the list of drugs outlawed in Việt Nam as included in Decree No. 73/2018/ND-CP dated on May 15, 2018 by the Government. Six of them belong to a group of synthetic cannabinoids, such as Spice and K2.
Spice and K2 are mind-altering chemicals designed to mimic THC, the active ingredient in marijuana.
The chemicals in synthetic weed are significantly more potent than THC and can cause dangerous and unpredictable side effects.
Synthetic cannabinoids are artificial mind-altering chemicals that have powerful effects on the brain, causing delusions and aggression.
Recently, we have discovered some very sophisticated tricks by drug traffickers. They spray the chemicals on dried, shredded plant materials so the drugs can be smoked or sold as liquids to be vaporised and inhaled in e-cigarettes and other devices. These products are also known as herbal or liquid incense.
Can you tell us the name of a few substances and the harmful effects of these drugs on users?
Narcotics in general and some substances discovered recently in Việt Nam are very complicated and also hard to name.
Some of them are EMB-Fubinaca; 5F-MDMB-Pica; Fub-144; MMB-022; AMB-Fubinaca. These result in physical and mood-altering effects to users. They stimulate the nerves and cause visual hallucinations similar to THC.
The use of these narcotics is very dangerous as the user might no longer be aware or in control of their own behaviour and actions, leading to acts of violences or acts that endanger themselves and those around them, their family and society as in some cases due to visual hallucinations as the media has reported.
Their effects can be unpredictable.
What are the difficulties in tackling these new drugs?
After the list of new drugs and substances were issued by the Government, the amount of narcotics currently managed doubled to 515 substances. Therefore, the source of drug reference standards is one of the biggest difficulties in the current inspection work. Only the Criminal Science Institute can meet the requirements in inspecting new kinds of drugs.
In addition, there are a lot of substances not yet available in database and not updated as new drugs are constantly made. This presents a challenge, not only in Việt Nam but also for other countries.
A report from the United Nations Office on Drugs and Crime (UNODC) says that every one to 10 days, a new drug is detected.
So, it can be seen that the trend of new drugs in the world and in Viet Nam is very complicated, causing many difficulties for the inspection and the fight against this type of crime.
What does the institute do to deal with such difficulties?
We have good equipment as well as good staff to help inspect drugs.
We also receive active co-operation from other agencies such as Institute of Chemistry, Việt Nam Academy of Science and Technology; Department of Chemistry, Hà Nội University of Science and Technology, and international co-operation in drug prevention in the region and the world, especially UNODC.
With these advantages the Criminal Science Institute, Ministry of Public Security of Việt Nam is capable and qualified to assess and identify the exact drugs in the list, as well as substances and new drugs that are predicted to enter Việt Nam.
What solution is needed to prevent the spread of these narcotics as well as improve the effectiveness of drug assessment in Việt Nam?
The first thing is to strictly control chemicals as well as related drugs that drug traffickers use to commit a criminal offence. This calls for a well-oiled co-ordination between ministries, agencies and sectors. In addition, it is necessary to focus on combating drug smuggling issues across all of our borders.
For inspection, it is necessary to add more drug reference standards to serve inspection. This is a key basis for resolving drug cases.
Advanced devices for checking should be used more. Local police also need to be trained how to detect and inspect new drugs.
Raising awareness about the harmful effects of drugs, especially among young people, should be enhanced.
We also need to strengthen international co-operation in drug inspection because drug crimes are also one of the main causes of other types of crimes.
Co-operation and information sharing with other countries will help build a shared database to trace drug origins. — VNS