Vietnam's deeper integration into the global economy requires the country to enhance its capacity to comply with international labour commitments, including the elimination of forced labour and child labour, experts have said.
Policy dialogue discusses int'l standards on child labour
Vietnam aims to end child labour by 2025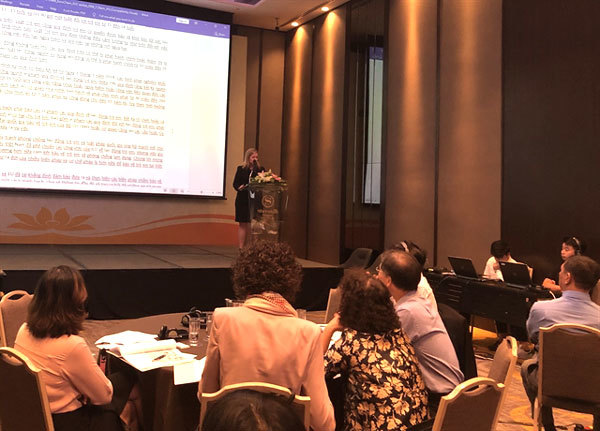 Participants at a policy dialogue on international labour commitments on child labour held on August 6 by the Ministry of Labour, Invalids and Social Affairs in coordination with the International Labour Organisation (ILO). Photo Thu Hang
In light of Vietnam's participation in free trade agreements, it is crucial to improve supply chain transparency so that information about companies, suppliers and sourcing locations is readily available, Valentina Barcucci, labour economist at the International Labour Organisation (ILO) Viet Nam, said.
This will also benefit international enterprises whose supply chains should be free from child labour, Barcucci said at a workshop held on Tuesday in HCM City.
"The risk of child labour exists within the supply chains of multinational enterprises. Child labour occurs in a number of sectors from agriculture to manufacturing, services to construction," she said. "The risk of child labour is particularly high in the informal sector, which is usually not reached by labour inspection mechanisms."
Vu Thi Kim Hoa, deputy director of the Child Affairs Department under the Ministry of Labour, Invalids and Social Affairs, said that Vietnam's committment to achieving Sustainable Development Goals (SDGs) include the eradication of forced labour, modern slavery and human trafficking, and the prohibition and elimination of the worst forms of child labour as well as the end of child labour in all its forms by 2025.
Vietnam has joined different free trade agreements in which labour conditions stipulated in the agreement comply with commitments under ILO conventions.
Hoa said that Vietnam had policies to ensure realisation of the rights of children, including child labour prevention.
The Revised Criminal Code 2015 stipulates that anyone who employs a person under 16 to do difficult or dangerous work, or work that involves contact with harmful substances on a list compiled by State authorities, will be liable for a fine or face a prison sentence.
"However, child labour is still an issue in Vietnam, mainly in the informal sector," Hoa said. "Poverty is considered the main reason for children to participate in economic activities, resulting in the risk of child labour."
The control and handling of violations related to child labour are still inadequate, while the capacity of detection and intervention of authorities, especially local Government and labour inspectorates, is limited, according to Hoa.
Investment resources and allocation of funds to implement programmes on prevention of child labour are limited both at the central and local levels in the country.
In addition, the system of child protection services is incomplete and inconsistent, hindering the implementation of prevention programmes.
Sarah Galeski, co-chairwoman of Eurocham's Human Resources & Training Sector Committee, said the recently signed EU-Viet Nam Free Trade Agreement (EVFTA) would ensure that Vietnam would continue to combat child labour.
Under the EVFTA, each of the parties to the treaty affirmed its commitment to the 1998 ILO Fundamental Rights at Work, which consists of eight core ILO conventions, two of which address child labour.
Vietnam has ratified these conventions and their principles are well reflected in Vietnamese law, Galeski said
"While Viet Nam has already ratified the ILO conventions concerning child labour, its accession to the EVFTA will strengthen its commitment to protect children and prevent abuse. Under the EVFTA, Vietnam and the EU have re-affirmed their commitment to ensure that measures aimed at protecting labour conditions are introduced and implemented in a transparent manner," she said.
According to a national survey on child labour in 2012, more than 1.75 million children were identified as child labourers, accounting for 9.6 per cent of all children 5-17 years old in the country.
The policy dialogue workshop on "International labour commitments related to child labour -- the path to supply chain transparency in the context of international integration" was held by the Ministry of Labour, Invalids and Social Affairs in coordination with ILO.
It aimed to give a deeper understanding of international commitments related to the elimination of child labour and its prevention within supply chains, with an emphasis on building supply-chain transparency in the context of international integration.
VNS