Child sexual abuse in Vietnam has witnessed an alarming increase with culprits in most cases being acquaintances or even parents.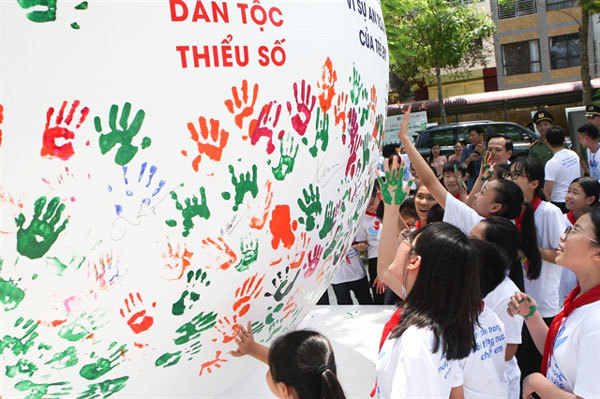 Children make handprints on a giant ball at the launch of Vietnam's Action Month for Children in May 2019. Despite legal and social efforts, child abuse in Vietnam remains prevalent. — VNA/VNS Photo Thanh Tung

The finding was presented at the second meeting of the National Assembly's supreme supervision team over child violence prevention on Friday.
Nguyen Thanh Hai, head of the Central Ombudsmen Committee, said inspections conducted in 17 provinces revealed the number of children who suffered sexual abuse in 2019 had surged compared to 2011-15.
Nearly 1,200 children in the northern localities of Hanoi, Hai Phong, Hoa Binh, Bac Giang, Thai Binh and Quang Ninh are reportedly victims of abuse, of which up to 70 per cent were sexually abused. Perpetrators were diverse, ranging from family members and teachers to local civil servants and even policemen.
"All six localities reported cases of fathers sexually abusing their own daughters," said Hai.
"Abusers were mostly those responsible for taking care of, educating or treating children. There have been many heart-breaking cases in which fathers or grandfathers have raped their daughters or granddaughters, and some parents have sold their children for money," said Le Thi Nga, Chairwoman of the Judiciary Committee.
High-risk children were those who did not go to school, had divorced parents and came from disadvantaged backgrounds, according to the inspection team led by Nga in the central city of Da Nang and the five mountainous provinces of Nghe An, Lao Cai, Phu Tho, Lang Son and Dak Lak.
"Dak Lak Province in Central Highlands has more than 6,600 school-aged children who do not go to school, while the numbers in Phu Tho and Nghe An are 5,500 and 3,000, respectively. The number of children from split families has also seen an upward trend, making them more vulnerable to violence," said Nga, adding that victims suffered long-term impacts, both physically and mentally.
"Many cases are only uncovered after a long period of abuse, sometimes up to two to three years before they are exposed. A schoolboy being molested by a headmaster in Phu Tho Province is an example," she said.
The shocking findings, however, are only "the tip of the iceberg", inspectors stressed. Disadvantaged economic conditions, cultural and social norms keep victims and their families silent, choosing to continue suffering or settle the issue by themselves rather than seeking legal interventions.
Inspection teams said they would work with the Government and civil society organisations to evaluate violence against children, especially sexual abuse, to come up with solutions and report to the NA. — VNS

A social worker from HCM City's Social Support Centre has been accused of sexually abusing children.  

We hear many harrowing tales of child sexual abuse. When a case of child abuse is discovered, most condemn the perpetrator and think of how they should be punished.