Vietnam has recorded gender equality achievements in political and economic sectors since the Law on Gender Equality took effect.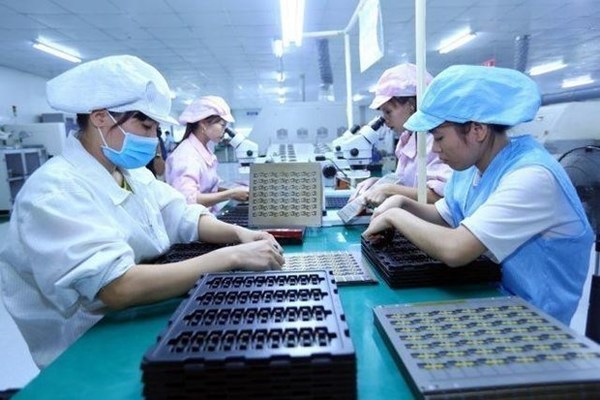 Female workers assemble electronic components at Bao Sen Ltd Co in Bac Giang province
The percentage of female parliamentarians in Vietnam has reached 27.1 percent,higher than the global average (23.4 percent) and Asian average of 18.6 percent.
In the economic sector, the percentage of enterprises with female leadersincreased from 4 percent in 2009 to 27.8 percent in 2017, the highest rate inSoutheast Asia.
In the scientific sector, Vietnamese women have also gained achievements.Dr Nguyen Thi Hiep, a female Vietnamese scientist in the biomedical research sector at theHCM City International University, was ranked among 100 outstanding Asianscientists in 2019.
Vietnam grants the Kovalevskaya Award named after a Russian mathematicianto outstanding female scientists every year.
The Law on Gender Equality was approved by the Vietnamese National Assembly in2006 and took effect in 2007. This marked a progressive step towards ensuringgender equality in Vietnam.
Minister of Labour, Invalids and Social Affairs Dao Ngoc Dung said over ten years since the law was enforced,the State management agencies had combined gender equality with legal documents to promote women's participation in politicsand empower them.
"Empowering women, especially the right to engage in politics, must be ensured. It is compulsory to have women taking a role in local Party committees andPeople's councils," he said.
According to the Ministry of Labour, Invalids and Social Affairs, thepercentage of women in the Politburo andCentral Party Committee has increased over three consecutive tenures.
In the past decade, for the first time, Vietnam has achairwoman of National Assembly and three female Politburo members.
"Over the past ten years, an important change has been made. That is the changein awareness of men towards women and girls. The changes are present in everyfamily," Dung said.
The achievement has been made not by any single individual but contributions ofagencies specialising in gender equality work, according to Dung.
Although more and more Vietnamese participate in political and economicsectors, the percentage of women in these sectors has not met the potential.Different retirement ages between men and women (60 for men and 55 for women)have hindered women from engagement, Nguyen Thi Ha, Deputy Minister of Labour, Invalids and Social Affairs said.
Violence towards women and girls are still pressing issuesin society. The preconception towards the roles of men and women has created pressure on both men and women. The preference for boys over girlsresulted in gender imbalance and abortions, Ha said.
Women in rural areas and from ethnic minority groups had limited access toreproductive healthcare services. The quality of jobs for women remained lowand unsustainable with lower wages than men.
Deputy Minister Ha said the ministry aimedto complete policies on gender equality and offer public services on genderequality nationwide.
Vietnam ranked 77th out of 149 countries in terms of progress towards genderparity in the Global Gender Gap Report 2018 of the World Economic Forum.
The report measured countries in four categories – economic participation andopportunity; educational attainment; health survival; and politicalempowerment.
Of these four, Vietnam ranked highest in economic participation andopportunity, with a score of 0.74, 33rd globally.
According to the World Economic Forum, Vietnam experienced a decrease in genderparity for women in ministerial positions and fully closed the gender gap amongits technical and professional workers. Likewise, equal opportunities wererecorded for enrolment in tertiary education sectors./. VNA

The revised Labour Code is expected to be submitted to the National Assembly for approval this month. However, major changes to the law are still under discussion in an attempt to ensure gender equality and enhance the development of female workers.

A new study of free-living soil nematodes co-authored by Vietnamese scientist Nguyen Thi Anh Duong was published in Nature – the world's leading multidisciplinary science journal.  

Two female 12th graders, Nguyen Cao Hoai Thanh and Le Bui Huong Nhu, have created biodegradable bags made of natural materials.