Vietnam's trade union organisations are doing well in protecting legitimate rights and interests of workers, President of the World Federation of Trade Union (WFTU) Mzwandile Michael Makwayiba said.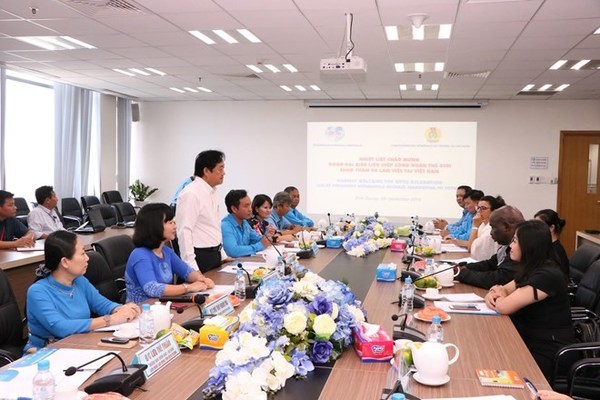 At the working session
He added that this is also the reason why the WFTU has chosen Vietnam to host the WFTU Congress in 2021
The WFTU leader made the remarks at a working session with the Federation of Labour of the southern province of Binh Duong on September 5.
Chairwoman of the Binh Duong Federation of Labour Truong Thi Bich Hanh said the province has 3,550 trade unions at the grassroots level with 760,000 members.
She briefed the guest on the federation's key tasks in developing trade union membership and enhancing dialogues between workers and employers to build healthy labour relations in businesses as well as training trade union officials to protect the legitimate rights and interests of workers.
Standing Vice Secretary of the provincial Party Committee Nguyen Hoang Thao said Binh Duong is home to 29 industrial parks and 12 industrial clusters, attracting nearly 39,000 domestic businesses and 3,700 foreign ones.
Close to 1.2 million people are working in the province, making up about 50 percent of the total population, 57 percent of whom are women, he said, adding that every year, the locality needs to recruit some 50,000 workers.-VNA