Deputy Prime Minister Trinh Dinh Dung on Monday asked the Ministry of Agriculture and Rural Development to complete a draft plan on measures to prevent the spread of African swine fever (ASF).
African Swine Fever continues raging Central Vietnam
African swine fever spreads to 13 localities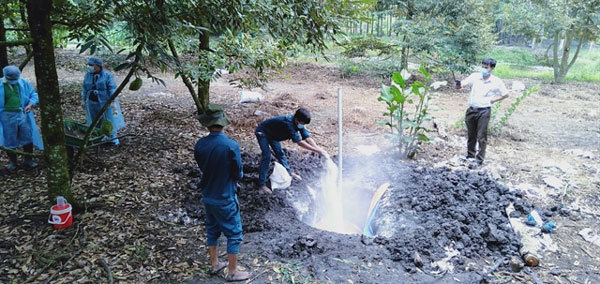 Health workers dispose of suspected ill pigs as Dong Phu District in the southern province of Binh Phuoc, neighbouring HCM City to the north, declared on Saturday that African swine fever had reached the locality. — VNA/VNS Photo Dau Tat Thanh
Speaking to an online conference on ASF prevention and control, Deputy PM Dung emphasised that the measures must match the unique situation of each locality. They must be effective and protect the environment.
The ministry should also issue guidelines on how to slaughter pigs in affected areas under supervision of animal health organisations.
Dung said ASF was a dangerous disease, and the Government and local authorities had immediately taken preventative measures when it first appeared.
However, there was still a high risk it would continue to spread, he said.
Dung asked localities to continue implementing preventative measures.
Ministries involved in steering committees working to prevent the disease's spread must start inspection teams to supervise the work in provinces and cities based on the Law on Animal Health.
"Recently several localities did not have enough space to dispose of sick pigs, and several others, such as the northern province of Bac Giang, threw the dead pigs away," said Dung. "Localities must pay attention and give strict punishments to violators."
Minister of Agriculture and Rural Development Nguyen Xuan Cuong said that ASF remained a worry, and could enter large-scale breeding operations, which would have serious consequences.
"How to limit the spread and minimise losses is the biggest problem at present," he said.
Cuong said the ministry would propose a support policy for enterprises that suffer losses due to the disease.
Deputy Minister of Industry and Trade Dang Hoang An said the market watch had recently conducted checks on more than 200 enterprises and culled more than 1,500 pigs.
An asked other sectors, such as the medical and animal health fields, to give guidance to residents about processing and consuming pork.
The northern province of Hung Yen recently held a conference on safe pork promotion. An said it was a good example of how to demonstrate pork is safe to eat even in the context of ASF.
As of last Sunday, ASF was reported in nearly 3,000 communes in 204 districts of 29 provinces and cities. More than 1.2 million pigs were culled. As many as 29 communes were hit by the disease again more than 30 days after the last infected pig was culled.
Localities have been working to protect breeding pigs and get ready to restore production in affected provinces and cities. So far, 740 breeding centres have been issued certificates showing they were safe from the disease.
VNS