Resolving war legacy is important to the Vietnam-US relationship although the war ended 44 years ago.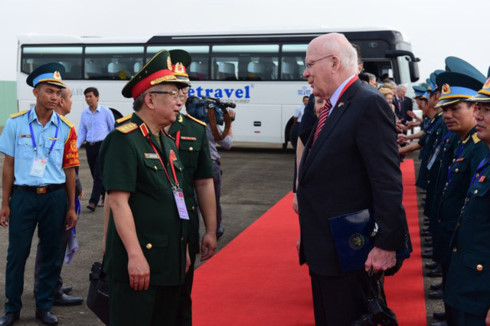 Deputy Defense Minister Nguyen Chi Vinh (L) welcomes US Senator Patrick Leahy at Bien Hoa airport on April 20, 2019. (Photo: tuoitre.vn)
Both have worked together in removing unexploded ordnance, remediating dioxin-contaminated soil, and searching for American servicemen missing in action. 
Since Vietnam and the US normalized their relations in 1995 and upgraded their ties to a Comprehensive Partnership in 2013, they have made strenuous efforts to clean soil contaminated with dioxin, a main component of the defoliant chemicals sprayed by the US Army during the war in Vietnam.
Overcoming challenges
Post-war joint projects have progressed. But dioxin-contaminated airports used by the US Army during the war in Vietnam have not yet been cleaned up because it requires joint efforts by both sides and the massive support from American friends of Vietnam.
Democrat Senator Patrick Leahy said, "I am still there. I've encouraged many Senators in both parties to get involved in this. Whether I'm there or not, it will continue."
In August 2012, the Vietnamese Ministry of National Defense and the US Department of Defense began a dioxin remediation project at Da Nang Airport. The 4-year project treated more than 90,000 cubic meters of soil, marking a milestone in Vietnam-US relations.
Looking to the future
Another project is being carried out to detoxify Bien Hoa Airport, the biggest dioxin hot spot in Vietnam – half a million cubic meters of polluted soil and 5 times as polluted as Da Nang Airport.
It will take at least 10 years to clean up Bien Hoa Airport and the cost is estimated to be 390 million USD. Senator Leahy and 8 other American Senators were present at the project launch ceremony in Bien Hoa on April 20.
Deputy Defense Minister Senior Lieutenant General Nguyen Chi Vinh applauded the US cooperation. He said, "I respect the role of Senator Leahy and his colleagues and aides, whose voices are very important in US politics. An issue raised by the 8 senators will catch the attention of the American public and Congress. I believe Vietnam-US cooperation in dealing with the war aftermath will thrive."
The trust between Vietnam and the US has been tested through efforts to overcome the war aftermath. But they have been able to turn this into cooperation opportunities.
In a spirit of collaboration and mutual understanding, the two governments have worked to heal the wounds of the war and focus on their shared future.
VOV5