Forty-eight out of 63 provinces and cities have joined the national cancer prevention network since the target programme on health and population began three years ago, the Ministry of Health announced at a conference on Thursday.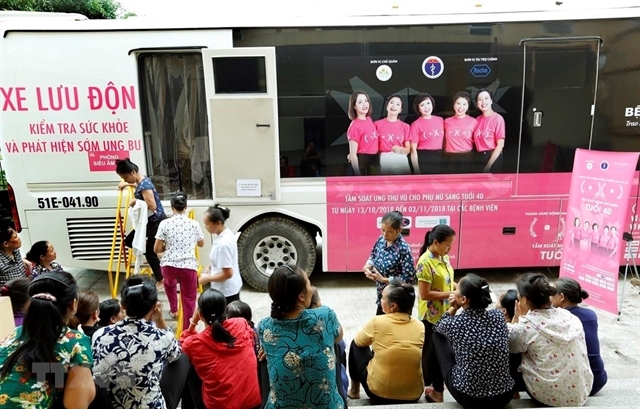 Women undergo breast cancer screening on a mobile momography vehicle.
From 2016 to 2018, the programme helped to control emerging diseases, reduce casualties caused by dangerous epidemics, eliminate neonatal tetanus, and maintain the immunisation coverage of 95 per cent for children under one year old as well as for pregnant women and women of childbearing age.
Prevalence of stunting and underweight dropped from 29.3 per cent and 15.3 per cent in 2010 to 25.9 per cent and 13 per cent in 2018, respectively.
The percentage of HIV/AIDS infection was controlled at under 0.3 per cent, with a reduction in the number of new cases.
However, the country's aging population and poor lifestyle choices are among the risks leading to illness, disability and premature death.
In addition, management of non-communicable disease in the community remains weak, said health minister Nguyễn Thị Kim Tiến.
In 2018, Việt Nam had some 165,000 new cases of cancer compared to 126,000 cases in 2010.
Up to 90 per cent of the population have awareness of cancer but not all know about the early warning signs of various cancers.
Moreover, food safety, especially in industrial zones and schools, is still not fully under control, while sex imbalance at birth remains high.
Meanwhile, resources to implement certain programmes remain limited.
The ministry has asked the Prime Minister to allocate State funds to buy TB drugs for patients who do not have a health insurance card from 2019 to 2020.
The National Assembly was also asked to amend the Law on Prevention and Control of Tobacco Harms and issue a law on prevention and control of alcohol harm, as well as permit an increase in excise taxes on these products, with the aim of improving people's health and raising spending for the programme. — VNS