Vietnamese police are working with their Chinese peers to investigate a drug producing ring in the Central Highlands province of Kon Tum.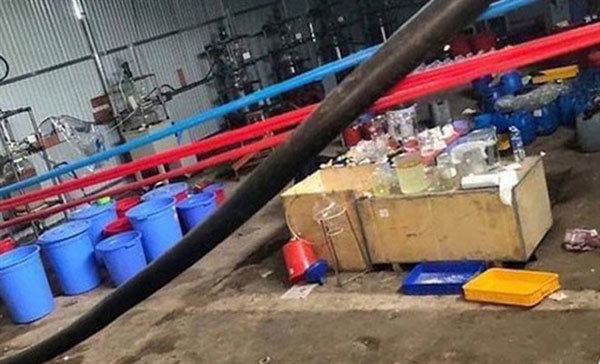 The workshop to produce drugs in Kon Tum Province. — Photo hanoimoi.com.vn
The Police Department for the Investigation of Drug-Related Crimes under the Ministry of Public Security announced the co-operation on Sunday afternoon.
It is the biggest inter-country drug-producing ring found in Vietnam.
Eight people were temporarily held by the police, including seven Chinese people and a Chinese-Vietnamese national.
Head of the ring was Cai Zi Li, 56, of Chinese nationality. He had previous convictions related to drugs in China including life imprisonment. After receiving amnesty, he went to Vietnam and repeated the crimes.
Earlier at about 6am on August 6 this year, the police caught seven Chinese people in the act of making drugs in a workshop of the Dong An Vien Import Export Co Ltd in Dak Ha Town, Dak Ha District in Kon Tum Province.
Evidence seized included 140 litres of thick solution tested to contain methamphetamine, about 13 tonnes of chemical substances of different kinds contained in buckets, cans and bottles, and about 20 tonnes of machinery to produce drugs.
Right after the ring was discovered in Vietnam, Chinese police also arrested 22 people related to the case.

A large-scale meth lab has been busted in a joint operation between Vietnamese and Chinese law enforcement officers.

Police in the northern mountain province of Lai Chau have busted 151 drug related cases in the first six months of this year.
VNS