The Government has called on the legislative National Assembly (NA) to raise the monthly base salary for the coming year to VND1.6 million (US$69) to keep up with the country's advancements in overall development.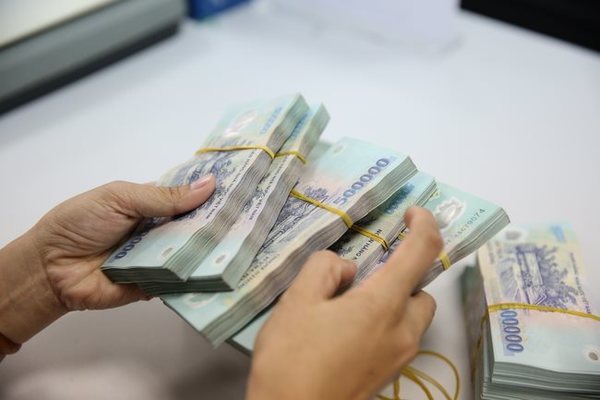 A teller holds stacks of Vietnamese banknotes. The Government wants to raise the monthly base salary for the coming year –
As part of the ongoing sitting of the legislative body on Monday, Minister of Finance Dinh Tien Dung, on behalf of the Government, delivered a report on the State budget performance for this year as well as the State budget estimate and the allocation of the central budget for the following year, reported Nguoi Lao Dong newspaper.
The report mentioned the base salary increase proposal. If it is given the green light from the NA, the minimum monthly wage will rise by VND110,100 (US$4.7) from the current VND1.49 million.
Nguyen Duc Hai, chairman of the NA's Committee for Financial and Budgetary Affairs, stated that most members of his agency had thrown their support behind the proposal.
However, some members also expressed concern that the hike could lead to the increased use of the State budget for regular expenses rather than development investment, he added.
For the sound execution of the base salary hike, the committee urged agencies at all levels to strengthen thrift and combat wastefulness with more practical and effective activities.
The move is meant to increase resources for spending on basic construction and raise the effectiveness of development investment. SGT
 

According to the World Bank, Vietnam has had the sharpest minimum wage increase in the region, a 14 percent rise in the 2014-2016 period.  

The Ministry of Labor, Invalids, and Social Affairs (MoLISA) has recently issued a draft decree on regional minimum wage increase in 2020. Accordingly, wage hike will range from VND 150,000 to VND 240,000.