Nguyen Tri Hieu, 48, from HCM City has donated blood 71 times. However, he has set a goal of donating blood up to 100 times or until his health no longer allows him to.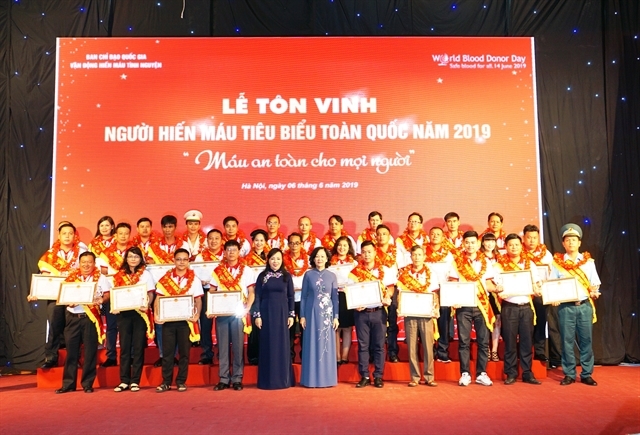 Vietnamese blood donors were honoured at a ceremony in Hà Nội on Thursday on the occasion of World Blood Donor Day (June 14).
"My mother died due to lack of blood for a transfusion when I was 20 years old. My family got together in an effort to donate blood to help her. We even bought blood from other donors, but it was not enough," he recalled.
"I wasn't just my mother at that time, many patients were in desperate need of blood tranfusions but the resources simply weren't there and they had to leave this world before their time," said Hiếu.
A few years after his mother passed away, Hiếu decided to register to donate blood. Since the first time in 1997, Hiếu has donated blood for 71 times, offering up the life-giving resource once every three months.
"There have been many times when I've donated blood to people in need of urgent transfusions. Once, when I was working, my friend at the blood bank called me to help a child at the Heart Institute. My boss immediately told me to go to the hospital."
"I remembered all the times I've donated blood like that because if did not hurry, the patient's life would be at risk," he said.
Hiếu is also a registered organ donor. "I feel like I can give something, I don't need to keep it," he said. "I feel like I can give away anything, I should not keep it, how can I do it when someone might need it."
Hiếu was one of 100 donors who were honoured at a ceremony on Thursday for their contributions to the country's voluntary blood donation movement in 2019.
At the ceremony, Politburo member and head of the Party Central Committee's Mass Mobilisation Commission Trương Thị Mai called on Vietnamese people to offer more support for the movement.
"On the occasion of World Blood Donor Day (June 14), I would like to call on Vietnamese people, no matter who or where you are, to support the blood donation movement in Viet Nam," said Mai.
Mai said healthy people should be donating blood regularly in efforts to build reserves for a healthy nation.
Mai also praised the contribution of blood donors across the country and the Steering Committee for Voluntary Blood Donation Mobilisation, but said blood banks were still not able to meet the demand for emergency treatment.
Mai asked the committee to continue its work and encourage more people to donate while ensuring safe and available blood sources for emergency treatment.
Việt Nam Red Cross Society President Nguyễn Thị Xuân Thu said that voluntary blood donors donated 1.4 million units (350ml each), saving the lives of millions of patients in 2018. However, reserves still only met 70 per cent of the demand nationwide. — VNS

More than 20,000 Thalassemia patients nationwide have to visit hospitals frequently for blood transfusions.  

One hundred outstanding Vietnamese blood donors will be honoured in a series of events in Hanoi and Phu Tho Province from Tuesday to Thursday to celebrate World Blood Donor Day (June 14).

Twenty years ago, Tran Hoang Long of HCM City discovered that his blood type was B negative, shared by less than 5 per cent of the world's population.