Vietnamese citizens who return from South Korea's coronavirus-stricken areas will be isolated and monitored for 14 days starting at 9 p.m. on Wednesday.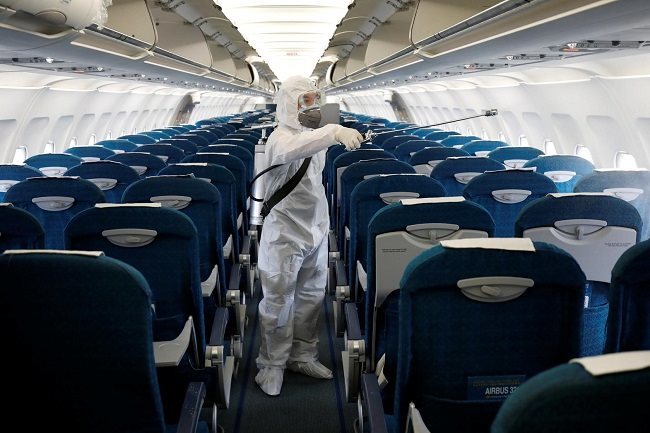 A health worker disinfects a Vietnam Airlines airplane to prevent the spread of the coronavirus at the Noi Bai International Airport in Hanoi on February 21, 2020 – PHOTO: REUTERS
The Ministry of Transport noted in a statement on February 26 that the Civil Aviation Authority of Vietnam (CAAV) has been ordered to provide guidance for airlines carrying Vietnamese nationals from the Northeast Asian nation's virus-affected areas to land their flights at three designated airports only.
These airports are Van Don in the northeastern province of Quang Ninh, Phu Cat in the south-central coastal province of Binh Dinh and Can Tho in the Mekong Delta city of Can Tho.
The airlines must comply with procedures and regulations on the prevention of the spread of the coronavirus, which causes a disease called Covid-19.
CAAV must instruct the airlines to notify their passengers traveling from South Korea to Vietnam that they must strictly declare their health conditions.
The notifications should be added to their ticket booking websites, made available at check-in counters or sent through SMS messages to Vietnamese nationals who are living, studying and working in South Korea.
These individuals are advised to stay in South Korea, except in emergency situations, and to adopt measures against virus infection there.
The ministry urged airlines to reduce their flights between South Korea and Vietnam in an attempt to curb the spread of the virus.
In fact, national flag carrier Vietnam Airlines, budget airline VietJet Air and Bamboo Airways have all scaled back flights to South Korea.
Also, the ministry asked its units to take steps in the aviation and tourism sectors and in managing goods transport at the border.
Authorities will still monitor those entering the country by road, rail, sea and air and handle issues involving the import, export and transport of goods through the border.
At a meeting on Wednesday, Deputy Prime Minister Vu Duc Dam ordered continued quarantines and close monitoring of those entering Vietnam from regions hit by the virus.
Vietnamese citizens returning home from Daegu City, the epicenter of the outbreak in South Korea, and neighboring North Gyeongsang, will be quarantined for 14 days.
Vietnamese passport holders from other parts of Korea, except holders of diplomat passports who have not traveled to the affected areas over the past 14 days, will be subject to additional interviews.
Those who falsify declarations about their travel history will be severely penalized, in line with the Law on Prevention and Control of Infectious Diseases.
Vietnam has temporarily barred foreigners coming from or transiting through virus-hit areas in the past two weeks. People from those areas who need to visit Vietnam for other reasons must be quarantined for 14 days upon arrival.
The move came after the number of cases of the new coronavirus reported in South Korea rose above 1,100.
Reuters news agency reported that South Korea saw another 334 coronavirus cases on Thursday, taking its total to 1,595, the most recorded in any country other than China. So far, 12 people have died in South Korea.
Meanwhile, mainland China reported 433 new cases of coronavirus infection on February 26, up from 406 on the previous day. The total number of confirmed cases has now reached 78,497.
The number of new deaths stood at 29 on Thursday, the lowest daily tally since January 28. The virus, which can lead to pneumonia, has now killed a total of 2,744 people in China, mostly in the central province of Hubei, where it originated late last year.
South Korea accounted for a quarter of Vietnam's 18 million tourists last year, the largest group after Chinese visitors, whose travel had already been curtailed because of the virus.
The coronavirus epidemic could wipe out US$5.9 billion to US$7.7 billion in Vietnam's tourism revenue in the next three months as international travelers stay away from the region. SGT

HCM City's District 7 which is home to 11,061 South Koreans has become quiet since South Korea faces a coronavirus outbreak. 

The Embassy of Vietnam in Seoul has requested the Korea Centers for Disease Control and Prevention to provide information related to a COVID-19 patient who had arrived in Vietnam from South Korea