Samsung Viet Nam Mobile R&D Centre (SVMC) on Friday held the Samsung Collegiate Programming Cup 2019 (SCPC 2019) and announced the 10 best contestants to represent Vietnam in the final round, 
which will take place in South Korea on July 30.
VN to lack 400,000 IT workers by 2020
High quality human resources are needed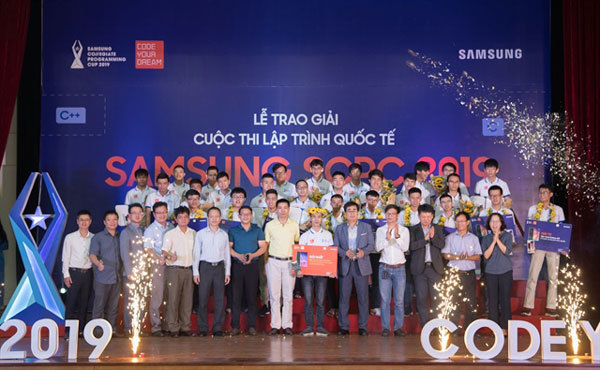 Vietnamese best contestants honoured at the Samsung Collegiate Programming Cup 2019. — VNS Photo
The final will feature 150 contestants out of 6,200 entrants from South Korea, India and Vietnam, competing for four hours in advanced mathematics and data structure challenges.
The SCPC 2019 witnessed an increase in the number of competing contestants both internationally and in Vietnam.
Kim In Soo, vice president of Samsung Electronics Vietnam, general director of SVMC said: "We are profoundly proud that Vietnam registers the highest-scoring students for two years in a row.
This is the proof that Vietnamese students' level is equal to that of South Korean's and Indian's. They are the future generation of Vietnam, who will continue to showcase Vietnam's wisdom prowess in the international competition by their talents, characteristics and efforts."
At the award ceremony, Samsung Vietnam honoured the 28 best Vietnamese contestants and the 10 best contestants that will be sponsored to participate in the final round on July 30. They will also be prioritised when applying for jobs in Samsung Electronics.
Over the years, Samsung Vietnam has organised various IT competitions for students, especially in programming and algorithm skills. Besides finding quality human resources, these competitions also show Samsung's commitment to helping Vietnam develop high-quality IT human resources.
VNS