The whole class suddenly fell in silence, trying to figure out the words their teacher Son had just said "I've got flight booked, I'm leaving in two days."
Vietnam calls for training, building UN peacekeeping forces
Vietnam's peacekeeping mission in South Sudan grabs int'l headlines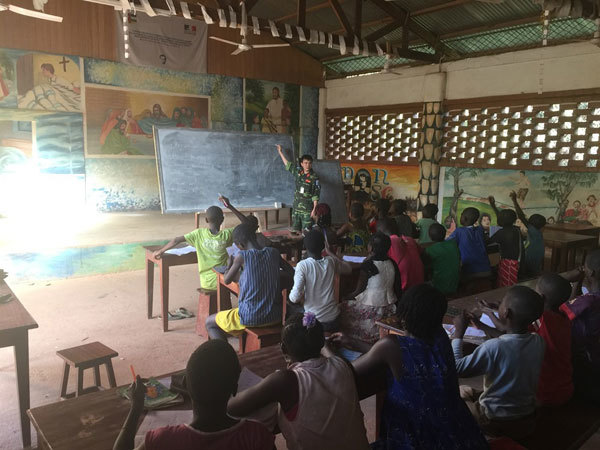 In a formal schooling context, Lieutenant Colonel Le Ngoc Son taught up to 50 students in a lesson.

The Vietnamese teacher looked at his students. Some were crying softly, some covering their faces with the hands hiding the tears, others bent over trying to control their emotions.
"That was the hardest moment in my life. In my mind the voices of the children were so vivid: 'Teacher, how can you leave us behind like this'," Lieutenant Colonel Le Ngoc Son recalled, suddenly becoming speechless, his eyes welling up.
The Vietnamese soldier has not forgotten the day he left the Central African Republic a year ago after he had accomplished his tour of duty at the United Nations Multidimensional Integrated Stabilisation Mission in the Central African Republic (MINUSCA).
The year-long tour of duty at MINUSCA also witnessed Son spending his limited spare time learning about, and communicating with the locals, especially educating children – the future owners of the war-ravaged country.
Journey of kindness
A member of the Ministry of Defence's Department of Peacekeeping Operations, Son was deployed to the UN peacekeeping force in the conflict-hit country in April, 2017.
Located 2km from the mission's headquarters, like other Vietnamese staff, Son used to walk to work.
"Security was unstable, so my foreign colleagues often waited for a car, albeit early or late. But I needed the time so I couldn't wait," Son said.
The walk back home also gave him chance to learn about and communicate with local people.
On one day like any other, he went to help someone chop firewood for sale. There he met a woman and her child who bought a heavy load of firewood that he offered to help bring home.
On the way, Son told the woman, who could speak a little English, that he was from Vietnam and looking for some arable land to grow greens on as there was a critical shortage of vegetables there.
The women said he could use a plot of land in her garden.
That same afternoon, Son weeded and hoed the land. While he was doing the gardening, the woman's grown-up children came out to have a look.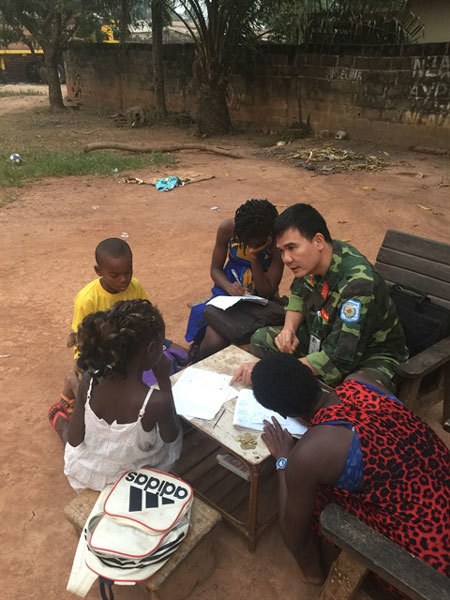 Four students of different ages join the outdoor class: a small wooden table with four stools arranged in the twilight.

Learning that the Central African Republic children didn't have a proper schooling due to severe poverty and unstable security, Son stopped what he was doing to test their knowledge.
He quickly found out that the eldest – a 15-year-old girl – had the knowledge of a seven or eight-year-old back in Vietnam.
"Let me teach you maths," Son said, seeing the joy in the girl's eyes.
"Adults are capable of solving their own problem and have self-responsibility, but not children. If we teach them good things they can stay away from bad ones."
After receiving approval from her mother and the girl, the following day the Vietnamese UN peacekeeper went straight from his office to their house to start the first lesson.
Days later, another three children joined the class: a small wooden table with four stools arranged outdoors in the twilight.
Over an hour and a half hour, the Vietnamese teacher tried to share basic knowledge with the four students, who were of different ages. They seemed oblivious to the birds singing, dogs barking and wandering goats as they listened to what he said.
Classes in the heart
But things weren't as simple as they sound. The children could only understand French so Son managed to use facial expressions, body language and whatever else he could beside English to help the children study.
Worrying that his efforts would not be effective, he told MINUSCA's military leaders about his class and asked for help from translators. He also proposed teaching the children in a formal schooling context where he could teach up to 50 students in a lesson.
"I was able to teach 40 or 50 students in a class at the same time. Their education backgrounds varied, but it wasn't a problem at all," Son said, adding that back in Vietnam he had taught maths, physics and chemistry.
His proposal received applause from the head of MINUSCA, who said Son's deeds exemplified the image of the UN's peacekeeping mission.
The leader asked other staff to lend a helping hand. But two weeks later, they said the class was impossible due to certain regulations and practices.
But Son did not give up. He contacted children's organisations that led him to Don Bosco Centre which is home to many street kids and 17km from his headquarters.
The centre's leaders were delighted with Son's proposal and let him take four classes at the weekends.
Sơn didn't stop there. On separate duty to educate as many local children as possible during his stay, he met a nun who managed an interdisciplinary school, about 3km from his place. There, he taught a pre-school class before work in the morning.
In total, Son had six classes accommodating 150 children.
"I felt so sorry for the local children. Security issues prevented them from having regular schooling. Even under good security conditions, schools were short of teachers simply because they were not paid."
Besides maths, Son showcased experiments like how to make a boiled egg get into a narrow bottle or put sticks through a plastic bag full of water without making it leak. The experiments were a huge surprise for the children as they didn't understand how it could happen.
"As you see, we can make the impossible possible. The most important message here is that you have to try your best to study, and to learn about what is happening around you to explore the outside world," Son told his pupils.
"If you encounter difficulties, never give up. You have to find ways, normal or even crazy. Once you overcome your difficulties, you will feel confident and mature."
Through his lessons, Son also encouraged the kids to keep their surroundings hygienic and taught them about fire safety and other life skills to protect them from harm.
Daily heavy workload at the mission never stopped Son.
The problem was that without French translators, the classes were slow and unproductive, so he took his own advice and met with managers of the University of Bangui, the only one in the Central African Republic. The school managers immediately "gave" him five translators.
"Sometimes, I instructed a class with students from four different levels. I talked continuously that my jaws got tired whilst two translators also worked non-stop," Son said.
During the final months, Son worked at high intensity that he lost 6kg. Afraid that he didn't have much time left to educate the children, he only spent time walking from home to the morning class, then to office, and then to another afternoon class plus weekend classes.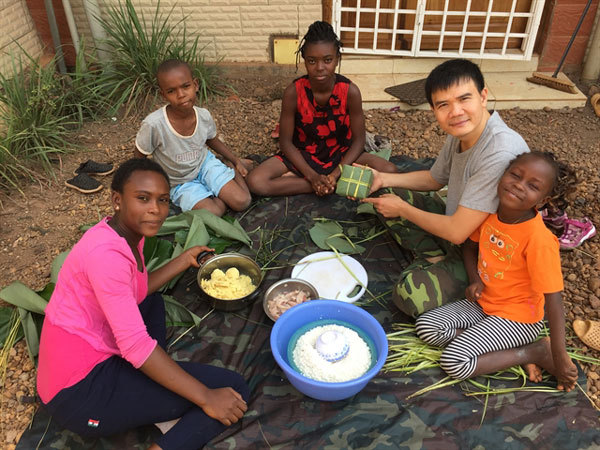 Teacher Son tells locals stories about Vietnamese Lunar New Year, during which the traditional chung cake (shown in the photo) is a 'must-have' at each family's holiday celebrations. —Photos courtesy of Le Ngoc Son

For that reason, he felt a bit displeased when one of his students kept turning up late every day.
"My lessons last for only three-and-a-half hours, but you are two-and-a-half hours late. Can you come to the class earlier?," he asked, only to discover the boy walked for miles under the scorching sun just to make it for the final hour.
Returning to Vietnam to get back to his normal work and life, Son feels heartbroken seeing Vietnamese children, to some extent, enjoying a much more comfortable life than their friends back in the Central African Republic.
He knows he alone cannot change the reality but feels happy he has inspired so many kids. More importantly, the images of young boy covered in sweat after making the long journey to class; a small girl offering him traditional sweets made of flour; a bottle of drink sitting on a chair ready to cool him down when he'd finished the gardening; and 40 students rushing to the school gate and forming heart shapes with their fingers and shouting "Mara, Mara" (meaning "equality" in the local dialect) to greet their Vietnamese teacher will stay with him forever and continue to inspire him to to keep doing the good things in life.
Nguyen Khanh Chi
VNS