A Vietnamese woman has been expelled from Sydney Airport for failing to declare the pork and food she was carrying.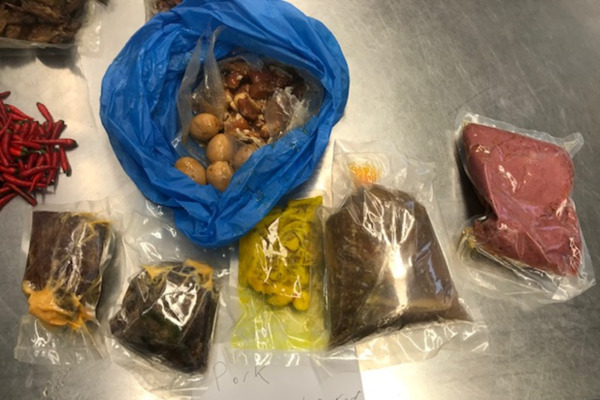 The passenger's pork and other food found at the airport (Source: Australian Border Force)
Local authorities in Australia are on high alert for Africanswine fever (AFS).
The incident took place on October 12 after biosecurityofficers found 4.6 kilograms of pork and 470 grams of eggs, along with kilos ofquail, pate, fruit, garlic and squid in her luggage.
A spokesperson from the Australian Federal AgriculturalDepartment confirmed that recent test results revealed ASF in around 50 percentof pork products stopped at international airports, up from 15 percent fromnine months ago. Between November 5, 2018 and August 31, 2019, over 27 tonnesof pork products were intercepted entering Australia by air.
Australian Agriculture Minister Bridget McKenzie said changeswere made to immigration legislation earlier this year so that internationalvisitors who bring in undeclared high-risk items, like pork from AFS-affectedcountries, can be refused entry and have their visas cancelled for a period oftime.
AFS is an incurable disease which kills pigs, often on alarge scale, but is not harmful to humans./.VNA