Conglomerate Vingroup officially opened its VinUni University (VinUni) as the first Vietnamese private and not-for-profit university at the Vinhomes Ocean Park urban area in Gia Lam District, Hanoi on Wednesday. 
Delegates cut the ribbon to officially open VinUni University (VinUni) at the Vinhomes Ocean Park urban area in Gia Lam District, Hanoi on Wednesday. — VNS Photos Thanh Hai
Speaking at the ceremony, Deputy Prime Minister Vu Duc Dam said that investment in science and education is a vision for every nation.
"In recent years, all economic sectors are encouraged to invest in education and science. Private universities make up 25 per cent of the country's total facilities. In particular, a number of successful businesses in the field of manufacturing and others have spent resources to invest in education, university training and scientific research, including Vingroup," said Dam.
"I hope that Vietnam will have more and more businesses, organisations and individuals investing in education and science. It is not only good for you, or your own business, but also a social responsibility, the future of the country," Dam said.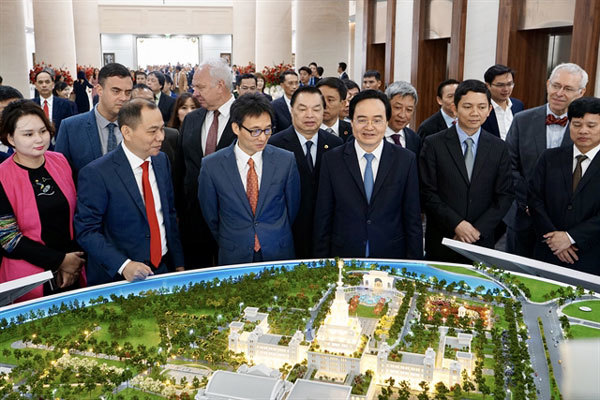 Deputy Prime Minister Vu Duc Dam (third from left) and Vingroup President Pham Nhat Vuong (second from left) and Minister of Education and Training Phung Xuan Nha (third from right) visit VinUni University.

"With VinUni, we believe that Vietnamese talents will have the highest quality of education and research environment right inside the country. We are very proud of our university which inspires learning, teaching, research and comprehensive development. We are ready to welcome the first students," said Vingroup Vice President Nguyen Viet Quang.
After 14 months of construction, VinUni was completed on a total area of 23ha. Infrastructure was built following the leading Quacquarelli Symonds' QS five-star university standards. The university includes nine buildings, including the main building, dormitories, sports complex, library, labs and simulation buildings, meeting the demands of teaching and study for 3,500 students.
On December 17, 2019, the Prime Minister officially approved the establishment of VinUni with total investment of VND6.5 trillion (US$279 million) from conglomerate Vingroup, of which VND3.5 trillion was earmarked for infrastructure investment and VND3 trillion for talent, scholarships and operation over the first 10 years.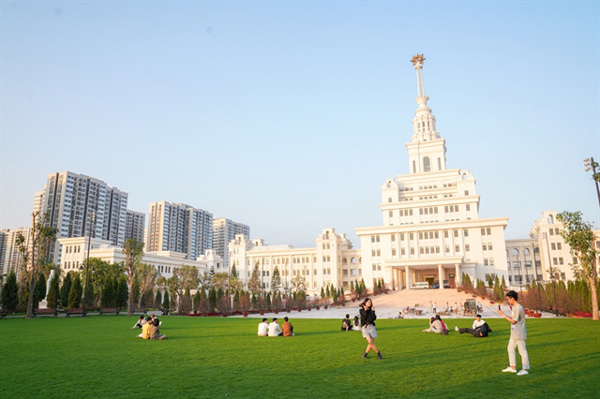 A view of VinUni University campus. — Photo Vingroup

In the first phase, VinUni will focus on three institutes: Business Administration, Health Sciences and Engineering and Computer Science. The three majors aim to meet the current and future needs of Vietnam as well as global trends in eight specific fields: hotel management, business administration, real estate management, electrical engineering, mechanical engineering, computer engineering, medicine and nursing.
To realise the goal of becoming one of top 50 leading young universities in the world, VinUni also co-operated closely with two world leading universities, including Cornell and Pennsylvania in developing management, training, recruitment and quality assessment programmes.
In the 2020-21 academic year, VinUni plans to receive 300 students in the institutes. VinUni will also support 35 per cent of tuition fees for all students, equivalent to between US$12,000 to US$15,000 during the first five academic years. — VNS

The Prime Minister has officially approved the establishment of VinUni University with a first year intake of 300 students.

Countries, in order to develop, need elite universities, schools which produce outstanding talent for the society.