The Vinh Phuc Provincial Department of Education and Training has proposed to close schools until February 23 as 38 local students have been monitored for Coronavirus infection.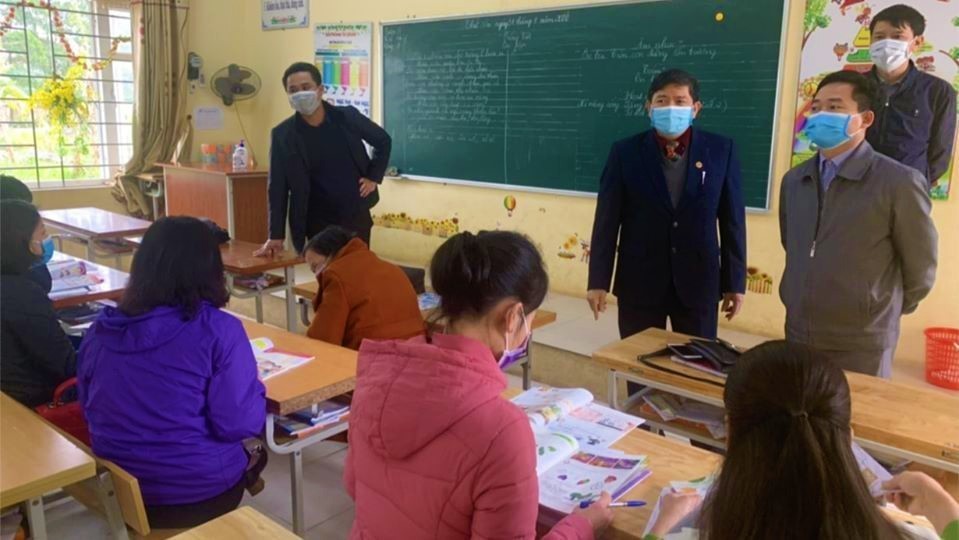 Inspection at a primary school in Vinh Phuc
Bui Viet Ha from the Department of Education and Training said due to the complicated situation in Vinh Phuc, they had proposed to keep schools closed from February 17 to 23. "Students will then stay three weeks at home which should be enough for any infected cases to emerge," he said.
Ha said they would officially submit the proposal this weekend.
All teachers and students at 72 schools and three education centres who showed symptoms such as breathing difficulties, coughing and high fever have been monitored at home and medical stations. Up to 38 students have shown symptoms in Vinh Phuc.
Confirmed cases are discovered in Son Loi, Thien Ke, Gia Khanh, Minh Quang and Hop Hoa communes. All schools in the areas have quickly worked with the health department and make plans to deal with the situation.
After a 10th grader at Vo Thi Sau Highschool was tested positive on February 2, the student and those who had made close contact over the previous days have been quarantined. The 10th grader is the sister of a worker returned from Wuhan who also tested positive on January 30. At least six other students had had close contact with the 10th grader.
Teachers were asked to help calm the students and teach preventive measures to let the students protect themselves.
According to Ha, the Department of Education and Training are making plans about teaching and learning schedules to make up for the long leave of absence.
"Primary schools can open extra classes in early afternoons or on Saturdays. Secondary and high schools students can have classes scheduled for both mornings and afternoon," Ha said. "If the Ministry of Education and Training extend the school year by one or two weeks then the scheduling work will be easier." VietNamNet/Dtinews
Steve Walsh, linked to 11 cases in the UK, France and Majorca, says his thoughts are with other patients.

The People's Committee of the central province of Thua Thien – Hue on February 11 said there is no infection with NCoV in the province during 14 days after the arrival of Diamond Princess cruise ship at Chan May port on January 27.