Family members of 39 victims in the Essex lorry tragedy will receive visa waivers if they want to travel to the UK, the British Home Office announced on Tuesday.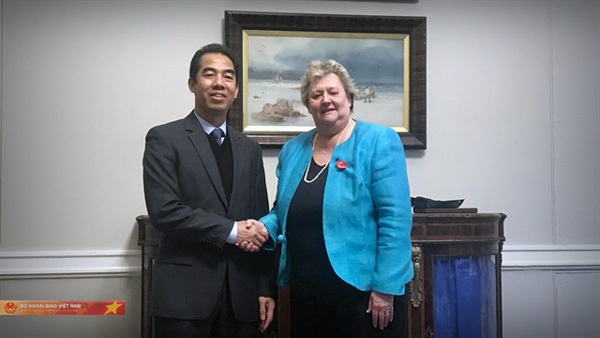 Deputy foreign minister To Anh Dung (left) and the UK Parliamentary Under Secretary of State, Minister for Asia and the Pacific, Heather Wheeler in a meeting in London on Tuesday. — Photo courtesy of the Vietnam Ministry of Foreign Affairs
"In light of the tragic circumstances, arrangements are in place to support those family members of victims… These include a visa fee waiver and assistance on the ground in Vietnam for those who need help with their visa applications, which will be expedited when received," according to the Home Office.
The announcement was made following a meeting between Vietnamese deputy foreign minister To Anh Dung and the UK Parliamentary Under Secretary of State, Minister for Asia and the Pacific, Heather Wheeler.
Dung led a mission of diplomats to the UK at the weekend after news broke on Friday that all victims in the Essex lorry incident were believed to be Vietnamese.
Deputy public security minister Nguyen Duy Ngoc revealed on Tuesday that there were possibilities that at least 35 Vietnamese were among the dead in the Essex tragedy.
Ngoc said in a regular cabinet meeting the Ministry of Public Security was working closely with the UK's Home Office and the Foreign and Commonwealth Office to confirm the victims' identities.
"We already have missions of public security and foreign affairs officials in the UK. According to the information we have received from families in Nghe An, Ha Tinh and Quang Binh, there are 35 cases with signs of being among the 39 victims," he said.
As of Tuesday night, Essex police was yet to confirm the identities and nationalities of the victims.
"The identities of the victims remain unconfirmed; however, we have worked closely with Vietnamese police over the last two days and anticipate presenting cases to the Identification Commission," said the Essex police in a public announcement on Tuesday.
A Vietnamese mission of public security officials is currently in the UK. They brought DNA samples and identity documents from Vietnam to assist the identification progress.
"We are working with national and international partners to get answers for the friends and families of those who died and bring all those responsible to justice," said Essex police.
"Our priority continues to be the thorough and meticulous investigation into the criminality that resulted in the deaths of the victims, to preserve the dignity of those who have died and to support their friends and family."
Police discovered the bodies of 39 men and women in a lorry in Grays, Essex, the UK on October 23. The deaths of the alleged illegal migrants shocked the world and especially Việt Nam after dozens of families reported their children missing while en route to the UK.
VNS