Along with face masks, demand for vitamin C supplements has soared due to fears of the coronavirus, but doctors have warned overdoing it may cause severe health problems.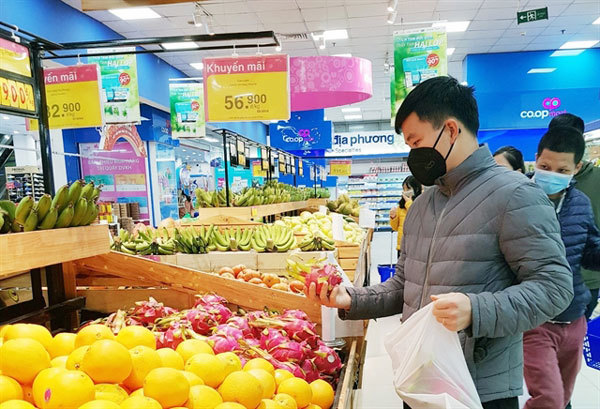 A man select dragonfruits at a supermarket in HCM City. A balanced diet with a lot of fruits and vegetables are vital to boost the immune system. — VNA/VNS Photo
Afraid of the respiratory illness caused by the novel coronavirus (2019-nCoV), Nguyen Bao Tram in Hanoi's Cau Giay District has stocked up on face masks, antiseptic solution and soap for the whole family.
To protect her loved ones from the inside, she has also bought vitamin C tablets and other supplements that are said to effectively boost their immune systems.
"I'm afraid that my two children might be affected by the virus so, during the school closure, I have asked them to use vitamin C supplements," Tram told Kinh tế & Đô Thị (Economic and Urban Affairs) newspaper.
Truong Hong Son, head of the Vietnam Institute of Applied Medical, said that indeed vitamin C, as well as other assorted vitamins and minerals, are vital for the human health.
"It helps to improve the immune system; therefore, people are recommended to take the right amount of vitamin C daily, especially when ill," said Son.
"However, vitamin C cannot prevent or kill coronavirus like what many people might think. There has been no research proving that vitamin C supplements can prevent 2019-nCoV," he added.
A normal effervescent tablet contains 500mg of vitamin C, seven times higher than a person's daily recommended daily intake, Son said.
Vitamin C overdose over a long period of time can lead to a number of slightly harmful health effects including kidney stones or diarrhoea. Conversely, vitamin C deficiency, commonly found in people whose diets lack vegetables or suffer persistent infections, may cause bleeding gums and susceptibility to infection, according to Son.
Lai Thanh Ha, head of the Department of Medical Examination at Hanoi's Thanh Nhan Hospital, said using vitamin C to try and prevent the coronavirus was inadvisable.
She added that vegetables and fruits in daily meals are good sources of vitamin C and a recommended intake is 0.2 to 0.5g per day.
"Vitamin C is proven to boost the immune system, however, whether a person is infected depends on the strain of virus and their physical condition. Vitamin C alone cannot prevent diseases," said Ha.
To avoid being infected with coronavirus, experts recommend people avoid being exposed to pathogens, regularly wear facemasks, thoroughly clean their hands and avoid crowds. If someone has any symptoms, they should go to a medical facility for examination and treatment.
"As 2019-nCoV is a new strain of coronavirus, scientists are currently carrying out research on vaccines and medicine. People should not take any supplement without consulting doctors to prevent unexpected complications," said Ha.
A balanced diet with fresh ingredients is essential to fight infection, she said.
Dairy products like milk, yoghurt and cheese as well as fermented food such as pickles, kimchi or miso paste help the development of probiotics.
Food containing other types of vitamin, minerals and natural anti-oxidants like garlic, pomelo or broccoli can also improve health. — VNS

The Vietnam Administration of Forestry has instructed province and city agriculture departments around the country to carefully monitor wildlife imports amid the public health emergency caused by the new strain of coronavirus.

Operators of public transport hubs in HCMC have been asked to spray disinfectants on a daily basis for two weeks to prevent the spread of the coronavirus, Tuoi Tre newspaper reported.