Vietnam's population has reached 96.2 million people as of April 1, ranking 15th in the world and third in the Association of Southeast Asian Nations (ASEAN).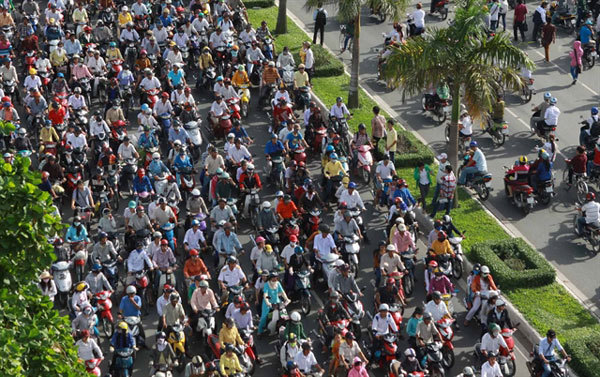 Drivers crowd on the National Road 1A that crosses through the southern city of Can Tho in rush hour. — VNA/VNS Photo Duy Khuong
The preliminary results of the 2019 National Population and Housing Census were released in an online meeting yesterday by the General Statistics Office in Hanoi.
The census is taken every 10 years to provide an accurate picture of changes in population and housing throughout the country. This year, it was conducted between April 1 and 25.
The results showed the male population is about 47.8 million, accounting for 49.8 per cent of the country, while the female population is about 48.3 million or 50.2 per cent.
Vietnam's current ranking in Southeast Asia by population size has not changed though it did drop two spots in the world ranking since the last census in 2009.
The country's population increased by 10.4 million people in the last decade. The average annual population growth rate during the period was 1.14 per cent, down slightly from 1.18 per cent in the decade between 1999 and 2009.
Speaking at the meeting, Deputy Prime Minister Vuong Dinh Hue said: "This is the first time we applied information technology (IT) to conduct the census."
Census workers used their smartphones to record results, Hue said.
This faster process meant it only took about two months to produce the preliminary results. Without the benefit of IT, it took more than a year to release preliminary results for the 2009 census.
According to the census, Vietnam is one of the most densely populated countries in the region and the world. Population density is currently 290 people per a sq.km, an increase of 31 people compared to 2009.
Hanoi and HCM City have the highest population density in the country. The capital city has 2,398 people per sq.km and the southern hub has 4,363.
Urban areas have a population of about 33 million people and more than 63.1 million live in rural areas.
Homeless families
Nguyen Bich Lam, director of the General Statistics Office said under the census, the country now has about 4,800 homeless families. For every 10,000 families, 1.8 do not have homes.
The indicator has gradually improved over the last two decades, from 6.7 per 10,000 in 1999 and 4.7 in 2009, he said.
The decline shows Party and State policies have been effective, Lam added.
Deputy Prime Minister Hue said the 2019 results would prove useful in crafting policies to develop the nation's economy until the next census in 2029.
VNS