Nguyen The Hung, head of the Full-Time Training Department, Directorate of Vocational Education and Training, talks about ways to attract students to vocational training facilities.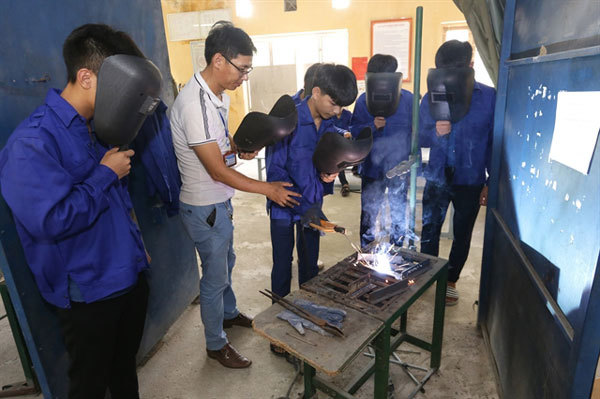 A welding class at Ly Tu Trong Vocational School in Ha Tinh Province. — VNA/VNS Photo Anh Tuan
How many students will be admitted to vocational training facilities at all levels nationwide this year?
In 2020, we think the number of students will be the same as last year at about 2.26 million students for beginner, intermediate and college levels.
The admission quota will increase for beginner and short-term courses because private businesses are in need of unskilled labourers rather than trained professionals.
However, in the future, when socio-economic growth reaches a higher level, businesses will need more skilled workers.
Attracting students to take vocational training courses is still proving difficult for the Ministry of Labour, Invalids and Social Affairs and the Directorate of Vocational Education and Training. Why is this?
At a national forum to improve Vietnam's labour skills (Skilling up Vietnam) chaired by Prime Minister Nguyen Xuan Phuc last November, the Ministry of Labour, Invalids and Social Affairs proposed various solutions.
Our principle is that if we need quality training, we must have the quantity first.
Our first solution is to raise the number of students through media campaigns to increase public awareness of vocational training. By doing so, people will get to know more about the labour market and training, including vocational training, so they can choices and we can lower the number of unemployed graduates.
We will also help students who graduate from secondary school to continue their studies at colleges following Decision No 522 approved by the Prime Minister. The project has been piloted by the labour ministry and has shown positive outcomes.
Besides traditional methods of admission, we will apply online admissions and admissions through an app. The lists of schools and the majors they offer have been updated on the app, which will also be regularly updated.
The Directorate of Vocational Education and Training will launch an admission registration and management website to help schools and localities follow the nationwide admissions process.
Other solutions include ensuring quality teachers and curricula, and investing in infrastructure and teaching equipment to attract students.
How will vocational training facilities be reorganised to ensure training quality?
Schools that have not been successful and fail to attract students for many years will be merged.
For example, in one locality, vocational training facilities which offer similar majors will be merged into one or two institutes. Each locality will have only one State-owned vocational training facility.
The Ministry of Labour, Invalids and Social Affairs will instruct local authorities on how to implement the plan.
How has the Directorate of Vocational Education and Training supported vocational training schools?
One of the core tasks of the ministry is to work closely with the business sector.
We recently signed a co-operation agreement with Daikin Vietnam on training a core contingent of heat technology and air conditioning lecturers for vocational schools.
Schools will train about 3,500 air conditioning technicians for the whole country.
The technicians will be granted certificates by the directorate and Daikin.
Following this co-operation model with Daikin, we look forward to working with tourism, automobile technology, electronics and electricity industries, among others. Models like this enable us to manage the quality of labourers, and gives businesses confidence in their new employees.
Vocational training facilities also need to update their curricula to match practical demand, especially with science-technology development, so that students are able to satisfy the requirements of businesses.— VNS

Vietnam's vocational training sector is seeking to fix its long-term problems and develop into a strength.

Le Quan, Vice Minister of Labour, War Invalids and Social Affairs talks to Vietnamnet online newspaper on his ministry's efforts to raise job training quality.