Vietnam's vocational training sector is seeking to fix its long-term problems and develop into a strength.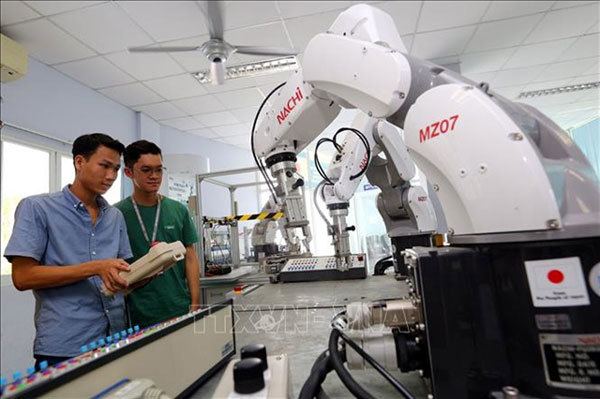 Two students learn to operate a robot in Saigon Hi-Tech Park Training Center in HCM City.—VNA/VNS Photo
The first problem is only 8 per cent of graduates from secondary school want to attend a vocational school.
In addition, the structure of vocational training is currently unreasonable. Three quarters of vocational school students take short-term and primary course, while only 25 per cent take long-term and intermediate training.
The data was revealed by the Vocational Education and Training Directorate, under the Ministry of Labour, Invalids and Social Affairs.
At least 30 per cent of graduates from secondary school would need to learn in vocational schools by 2020 to meet labour market demand, said Nguyen Dac Hung, head of Vocational Education and Training Department under the Party Central Committee's Commission for Publicity and Education.
Additionally, there is a high demand for highly-skilled labourers, (mostly graduated from immediate and long-term training courses) to serve the national economy's development, according to Hung.
The third problem is the number of enterprises co-operating with vocational schools to train labourers only accounts for 9.1 per cent.
Causes
Vu Xuan Hung, head of the Formal Education Department under the vocational education and training directorate, said teachers failing to help students choose a career was one cause for the problems.
Another major cause was parents' belief that the more prestigious degree their children got, the better living they would have, so parents want their children to attend a college or university instead of a vocational school, he said.
The popularity of short-term training courses to quickly get a job was also blamed for the large number of students in short-term training.
Nguyen Hong Minh, head of the directorate, said there were several reasons for the lack of co-operation between vocational schools and enterprises to train labourers.
The implementation of a legal framework on the responsibilities of enterprises in working with vocational schools was still weak, he said.
Besides, vocational schools often failed to establish relationships with enterprises, he said.
Some enterprises only wanted to hire manual labourers without vocational training, he added.
Solutions
Professor Phan Van Kha, former head of Vietnam National Institute of Educational Sciences, said secondary schools should improve their guidance to help students realise their abilities and hobbies, understand the developments of the labour market and give them information on vocational schools.
Based on that, students could identify what career they really want to do, he said.
Kha also advised vocational schools to improve their educational and training quality so students could get a job after graduation to help attract more students.
To fix the problems, the directorate has also piloted Japan's 'KOSEN' model in some vocational schools. The model allows students to learn both culture and occupational skills.
The model has been applied by Japan since the 1960s to train high-quality human resources to meet the needs of businesses and ensure all graduates have jobs.
Another outstanding feature of KOSEN is that the training is not only theoretical, but also practical and creative through real activities and research. Using the KOSEN model effectively would help satiate demand for human resources with practical skills and creative ability.
The Phuc Yen College of Industry is one vocational school that has piloted the model.
Nguyen Tien Tung, principal of the college, said the model had encouraged students to develop their creativity.
Minh said the directorate would ask the labour ministry to force employers to seriously implement the legal framework on responsibilities in co-operating with vocational schools.
He added that the ministry also planned to order agencies to collect data on job vacancies, demand for labourers and update vocational schools on the labour market.
The ministry would instruct vocational schools to set up relationships with enterprises and train labourers for enterprises' needs in the future, he said.
Preparing for integration
To train highly-skilled labourers as well as prepare for integration and the fourth industrial revolution, the Politburo on September 27 issued a resolution on developing vocational training.
Following the resolution, the labour ministry has piloted a programme to train 2,000 vocational school students under Australian and German training programmes. When the students finish their programmes, they will get a certificate recognised by both Vietnam and Australia or Germany. They also have a certificate of foreign language allowing them to work in ASEAN countries and elsewhere in Asia.
The ministry has also worked with foreign experts and organisations to compile vocational training programmes under the standards of France, Belgium and South Korea, the ministry said. – VNS

Le Quan, Vice Minister of Labour, War Invalids and Social Affairs talks to Vietnamnet online newspaper on his ministry's efforts to raise job training quality.

It is forecast that by 2030, between 4.5 and 6 million workers will need agricultural training.  

A total of 70 vocational schools are expected to be recognised as high-quality establishments during the 2025-2030 period, with at least five satisfying the standards set by the group of developed nations (G20).