The Military Command of the central province of Quang Binh has successfully defused a 220kg bomb that was found by a local resident in Bo Trach District.
Billions of dollars needed to clear all bombs, mines left from wars
260 explosive devices found at scrap warehouse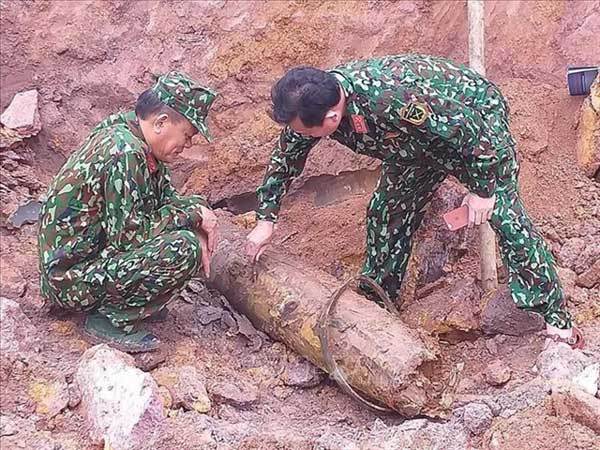 Soldiers in Quang Binh Province's Military Command remove a 220kg bomb for detonation. — VNA/VNS Photo
Duong Dinh Phuong, who was working his garden in Viet Trung Farming Town, and the driver of an excavator, found a bomb lying a depth of over 2m.
He stopped his work and informed local authorities.
The Military Command on Tuesday successfully defused the bomb and removed it.
The bomb, leftover from the war, was a general-purpose M82 series munition reportedly made in the United States, with a length of 1.54m.
Earlier in October, a 226kg bomb left over from the American War in Bo Trach District was also disposed of by the provincial Military Command.
The MK-82-500LBS bomb was found by local residents while they were searching for scrap in Viet Trung Farming Town. — VNS

Colonel Nguyen Hanh Phuc, deputy director-general of the Viet Nam National Mine Action Centre (VNMAC), speaks to Tuổi Trẻ (Youth) newspapers on Vietnam's efforts to deactivate bombs and mines left over from the wars.