Instead of buying incense with an artificial scent made of chemicals, high-income families pay millions of dong for 'clean' incense.
Every year in the 12th month of the lunar year, Nguyen Thi Hue, 40, who lives on Chua Lang street in Hanoi, orders a box of frankincense from a frankincense workshop in Duy Phu commune in Duy Xuyen district in Quang Nam province.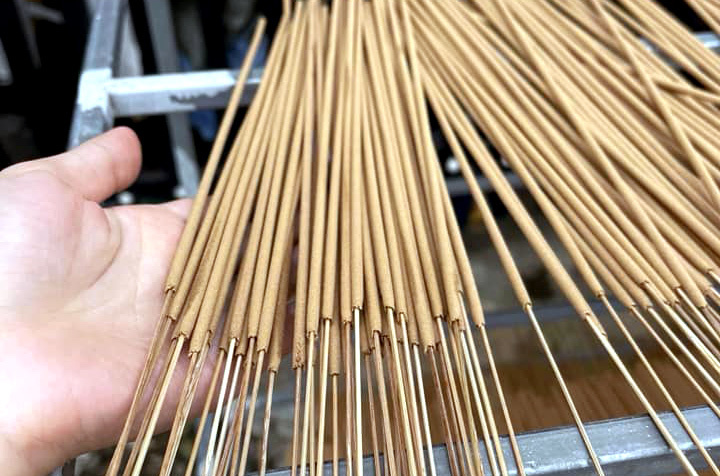 Burning incense is an ancient cultural and religious ritual in Vietnam.
"The natural aroma of frankincense incense helps create a tranquil and peaceful space, which helps absorb the energy flow that brings prosperity, and expresses the landlords' respect for the deceased. We are willing to spend a big amount of money every year to burn incense on death anniversaries and during the Tet holiday," she said.
Many years ago, Hue bought incense made of artificial scent. But she was not satisfied about the products.
Three years ago, when traveling in Quang Nam and Da Nang on a short-term tour, she had the opportunity to visit Duy Phu commune in Quang Nam province, and saw how locals made incense.
After witnessing the sophisticated process of making clean incense followed by the families there, she decided that she would only use incense made by craftsmen in Duy Phu, though the products are much more expensive than those made on an industrial scale.
At that time, a box of 100 sticks of incense was priced at VND90,000. She bought five boxes. This is 'clean' incense with a slight scent and little smoke. When the incense is burnt, it doesn't produce ashes and doesn't cause eyes to sting.
The frankincense is made of 100 percent natural non-toxic materials.
Hue not only buys frankincense to worship her ancestors, but also to give to her friends and partners as gifts. She believes that the gifts, with the pure scent, show her devotion to the recipients and are meaningful on the new year.
The incense can be burnt every day in houses, offices and shops, and helps attract positive energy, according to feng shui experts.
Since the products are made of natural materials and give a pleasant scent, they are expensive. The prices are between VND100,000 and VND600,000 per box. Hue and her three siblings spend VND10 million a year on incense.
Ngoc Ha in the My Dinh urban area in Hanoi said she likes burning incense made of natural materials, because it is safe for closed rooms with air conditioners and for pregnant women and kids.
Tran Van Hai, a petty merchant selling clean incense online, said the prices remain unchanged this year. A box of 100 sticks of incense sells for VND70,000-100,000. 
Lan Anh

The incense craft of the Nung ethnic minority people in Phia Thap Village, Quoc Dan Commune, Quang Uyen District, Cao Bang Province is contributing to the preservation of a traditional spiritual culture.

Every October, the Cham ethnic minority from around the country, particularly those in the south-central province of Binh Thuan, celebrate the Kate Festival -- one of their biggest and most unique cultural activities.
e