Education experts believe that cameras alone will not help prevent school violence. To do so, it is necessary to apply many measures at the same time.
Phan Thi Thanh Tu, headmaster of Sai Gon Primary School, Dean of the Primary Education Faculty of Sai Gon University, warned that without reasonable management, the images of students and teachers may be disseminated and used for wrong purposes.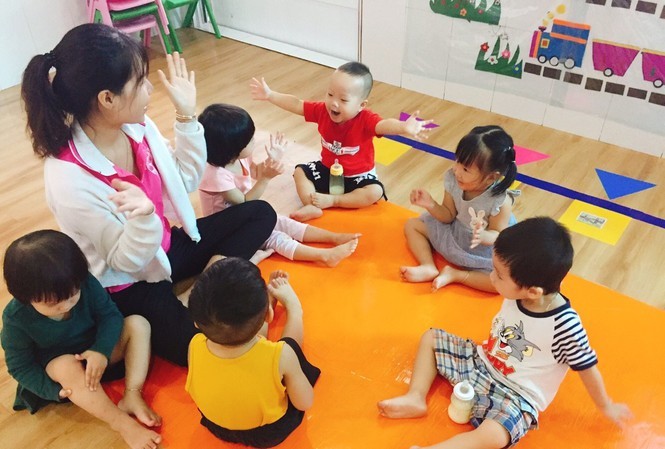 Tu believes that it is necessary to install cameras at preschools, but not at primary schools. Students at that level talk with parents about what they do at school, what they learn and if they receive punishment from teachers.

"if teachers have to fo lessons in front of cameras, they cannot be natural.
They cannot be creative and apply their education methods. Besides, they feel they are not trusted," Tu said.

According to the expert, teachers learn about school violence, Law on Children and regulations on personal rights at university so they can understand what they can and cannot do.

A primary school teacher in Hanoi said that she doesn't want the space in classroom to be looked at by outsiders, and that no one would dare to teach if they are supervised by cameras.

Education experts believe that cameras alone will not help prevent school violence. To do so, it is necessary to apply many measures at the same time.
She admitted that sometimes she gives strict punishment for students who make noise during lessons by asking them to stand at the corner of classrooms. 

To Thuy Diem Quyen, an education expert, advisor to Microsoft, also said that cameras only have the function of supervising activities in classrooms, while the most important things in education are pedagogical skills and teachers' hearts.

"If we install cameras just to prevent teachers from beating students, we won't be able to solve the problem to the root. We cannot install cameras and then spend time to watch cameras every day, because this will take time," Quyen said.

"The most effective measures to prevent school violence are to improve the teaching method and skill, as well as prepare school psychology for teachers," she said.

Nguyen Tung Lam, chair of the Hanoi Education Psychology Association, said parents will feel more secure if their children studied in classes with cameras, but teachers will feel uncomfortable when teaching in front of cameras.

"They would feel pressure," Lam said, adding that schools need to consult with teachers before installing cameras.

Tran Thanh Nam, a psychology expert from the Hanoi University of Education, said he personally doesn't advocate the installation of cameras in classrooms, because most teachers with a sense of self-respect will feel that they are not trusted. This will increase the pressure on teachers and lead to uncontrollable behaviors.

"Bad teachers still can abuse teachers even if there are cameras in classes. Cameras must not be seen as the solution to fight against violence," he concluded.
Thanh Lich

While parents insist on installing cameras in classes to prevent school abuse, teachers argue that this will violate children's rights and teachers' privacy.