A man from the central city of Da Nang recently took his wife and children out on a motorbike trip to Son Tra Peninsula for a weekend retreat.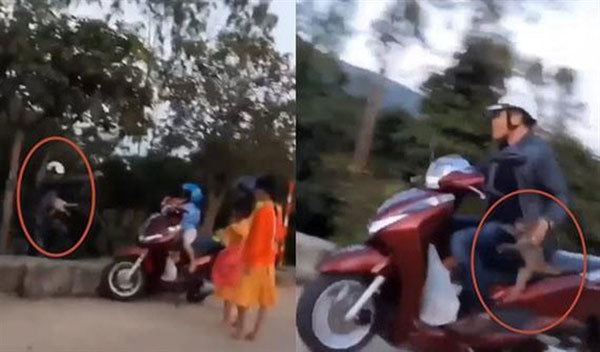 A man captures a baby monkey on Son Tra Peninsula. Photo from video
While driving through a forest, the man suddenly stopped his motorbike and jumped into the forest to grab a baby monkey.
The plan was to take the monkey home as a pet, but a troop of mature monkeys decided otherwise and started chasing the man.
In an attempt to escape, the man drove off with the monkey, leaving his wife and two daughters behind.
But after the adult monkeys caught up with him, he was forced to return the baby primate.
Monkeys on Son Tra Peninsula are well known for their tampers, and some have been known to attack tourists when they try to annoy the animals. — VNS

Around eight million primary pupils will be taught about wild animal protection at schools in 2019-2020 school year.

Over one year since the Asia For Animals Coalition's call for not using wild animals in circus performance, Vietnamese kids have now been getting acquainted with familiar pets on stage.