A young man in Thanh Hoa Province decided to return home after studying and working abroad to develop a traditional product, fish sauce.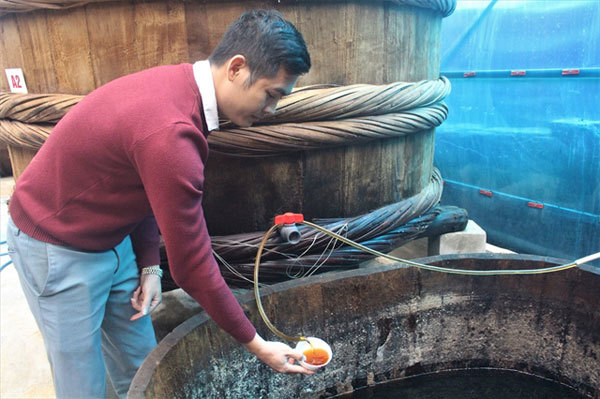 Nguyen Van Cac checking his fish sauce. VNA/VNS Photo Hoa Mai
After graduating from the economics faculty of Tokyo University, Nguyen Van Cac refused lucrative job offers in Japan to return home to Hoang Phu Commune of Hoang Hoa District.
As he was born and raised in the commune with a tradition of making nước nắm (fish sauce) for more than 100 years, Cac decided to bring his knowledge from Japan home to realise his dream of developing a brand name for Khúc Phụ fish sauce.
He wanted to make sure Khúc Phụ fish sauce was on every diner table in Vietnam.
"I was admitted to the economics faculty at Tokyo University in 2010," Cac said.
"Two years later, I was recruited as a manager at a big restaurant with a salary of US$3,000 per month," he said.
"My family tradition has four generations of fish sauce makers so during the years studying and working in Japan, the taste of my homeland's fish sauce was deeply ingrained in my thoughts," he said.
At that time, the traditional fish sauce makers had fallen in difficulties because they could not compete with industrially produced fish sauces.
Many households had to give up their jobs, but Cac said he always encouraged the family to stick with their father's traditional profession at any cost.
After five years of studying in Japan, Cac decided to return home to start his business.
Changing the traditional way of making fish sauce but retaining the soul of homemade sauce was his greatest challenge.
To understand what consumers want out of traditional fish sauce, Cac devoured documents, carried out market surveys and visited many traditional fish sauce workshops in Nha Trang and Phu Quoc which are famous for traditional fish sauce for hundreds of years.
After his research, Cac started to dive into the business.
"I knew that to make the product reach out in the market, I could not produce in small scale but had to set up a company that was a legal basis to bring my product into the competitive market," Cac said.
He established Khue Cac Ltd., Company which marked an important milestone in the transition from small production to large-scale production and a stable consumption market.
He invested dozens of billions of dong into a workshop with modern and hygiene production lines and warehouse.
He named the fish sauce Bà Hoan (Madam Hoan) after his great-grandmother.
"Hoang Phu Commune has about 300 households making fish sauce. To make my family's fish sauce different, my family and I decided to use the name of the first great-grandmother to name the fish sauce," Cac said.
At present, his workshop uses about 200 tonnes of fish and 100 tonnes of salt to produce 200,000 litres of fish sauce and 120 tonnes of shrimp paste every year.
With the average price of VND100,000 (US$4.3) per litre of fish sauce, he gained a yearly profit of VND3-5 billion (US$130,000 - 216,000).
To achieve today's success, the young man has faced ups and downs when trying to maintain the family's traditional profession.
In a time when consumers have many choices of fish sauce for daily meals, product quality must be the top priority and ensure cleanliness, purity and additive-free, he said.
Making every drop of Bà Hoan fish sauce is a strict process.
The first step of fish selection is vital to the taste.
The fish must be fresh as the fresher they are, the better the fish sauce will taste.
Bà Hoan fish sauce is made from anchovies and two other kinds of fish, while the salt used is clean and dry.
Natural fish decomposition takes between 12 and 36 months, depending on the type of fish.
When the fish is absolutely decomposed, the mixture must be stirred to make the fish sauce fully ripe, especially on sunny days. Then the fish paste is filtered to get the fish sauce. A good fish sauce must be clear and brown with a sweet fragrance of protein, Ca said.
Currently, Bà Hoan Fish Sauce is sold in 70 supermarkets nationwide.
Tet or Lunar New Year 2021 is approaching, so the demand for fish sauce has increased dramatically.
A month ago, orders from provinces nationwide came in a rush, meaning the workshop was at full capacity, Cac said.
"I plan to produce a million litres of fish sauce per year in next three years," Cac said.
At present, Cac is completing procedures to get One Commune, One Product (OCOP) certification for Bà Hoan Fish Sauce.
Hoang Phu Commune has 300 households making fish sauce, but only Cac has made a brand name for his product.  VNS

The Vietnam Association of Fish Sauce, established on October 27, will label products that meet certain standards with its own logo, to help consumers recognise traditional local fish sauce and provide access to safe and high-quality fish sauce.

Two traditional trades – fish sauce in Nam O Village in Da Nang and Thanh Ha pottery in Hoi An – have been recognised as National Intangible Heritage by the Ministry of Culture, Sports and Tourism.