Since establishing the Blood Bank Club in 2016 in Hoa Binh Province, Pham Thi Ngoc Anh's mobile phone number has become a reliable hotline for doctors.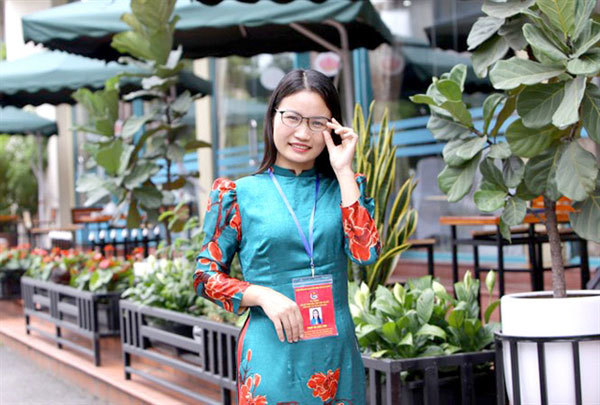 Pham Thi Ngoc Anh, founder of the Hoa Binh Blood Bank Club. — Photo tienphong.vn
Anh is head of the Solidarity Committee of the Hoa Binh Youth Union.
Anh helps out Hoa Binh General Hospital and patients in need of urgent blood transfusions.
In 2017, Dinh Thanh Tien from Hoa Binh City was diagnosed with cancer and needed an urgent blood transfusion. Having been informed of his situation, Anh and his group of volunteers set off for the hospital and donated five units of blood that saved Tien's life.
On another occasion, after hearing that a traffic accident victim was in urgent need of blood, Anh was there again. Thanks to her precious drops of blood and the volunteers from the Blood Bank Club, they saved the patient's life.
"In 2008, when I was working at the Hoa Binh Medical School, my colleague was injured in a traffic accident but the hospital did not have enough blood. That was when I learnt about how patients needed blood during surgery, so I consulted the school and set up a mobile blood team, testing and classifying each member's blood type to help patients in need," Anh said.
In 2016, working for Hoa Binh Province's Youth Union, Anh set up the Blood Bank Club.
"A drop of blood brings life. We feel warm because somewhere our blood is merging with life. Each member of the club is always happy to share," said Anh.
Anh has directly called for nearly 1,000 blood donations from volunteers at the Hoa Binh General Hospital. She has also organised three blood drives at the provincial hospital and six more in the province, collecting over 3,000 units of blood.
In recognition of her efforts, the Central Vietnam Red Cross awarded her a certificate of merit for her outstanding achievements in volunteer work from 2013 to 2018. In 2020, she was honoured with the title "Exemplary Youth Following President Ho's Teachings".
Just move forward
Dong Phu Khiem, deputy head of the Intensive Rehabilitation Ward at the National Hospital for Tropical Diseases, is always at the frontline of COVID-19 pandemic prevention and treatment. — Photo tienphong.vn
Doctor Dong Phu Khiem, 35, deputy head of the Intensive Rehabilitation Ward at the National Hospital for Tropical Diseases, has been treating COVID-19 patients since the start of the pandemic.
"When I was assigned to treat COVID-19 patients, everyone in my family was worried, especially because I have a three-year-old child. However, this is my profession. It is like a soldier on the battlefield who only moves forward. Those worries must give way to our will," Khiem said.
"My colleagues and everyone at the hospital have had a hard time, and some people must work almost all day. We only have a few short minutes for rest and phone our families. In order to control the pandemic, we have always stuck together," he said.
Khiem is also an active volunteer. He and a group of young doctors from the Young Doctors Association and major hospitals in Hanoi co-ordinate with embassies in many countries to offer online consultancy for expatriates regarding COVID-19 prevention and treatment. These online sessions have reached hundreds of thousands of expatriates abroad so that people understand preventive measures.
Anh and Khiem are two of the 56 people to be awarded the 7th national "Young Excellent Public Servant" title this year.
The awards are granted by the Central Committee of the Youth Union to honour young employees for their outstanding achievements and initiatives.  VNS

Tran Phuoc Hung, 39, from Da Nang City is a farmer and founder of a blood donation club with more than 1,400 members who have helped save thousands of critical patients in the city and the nearby province of Quang Nam.

Dr Nguyen Trung Cap and his colleagues at the National Hospital for Tropical Diseases in Hanoi shaved their heads during their long stay at the hospital fighting COVID-19.