Vu Duc Huynh, a 21-year old Vietnamese man, has been awarded a certificate of merit from the Fukuoka Fire and Rescue Department in Japan for his brave action of rescuing a drowning woman.
On June 9, on the way home from his office, Huynh heard a sound of objects falling off a bridge in Onojo City in Fukuoka. He saw a woman reaching hands up repeatedly in the middle of the stream and shouting for help.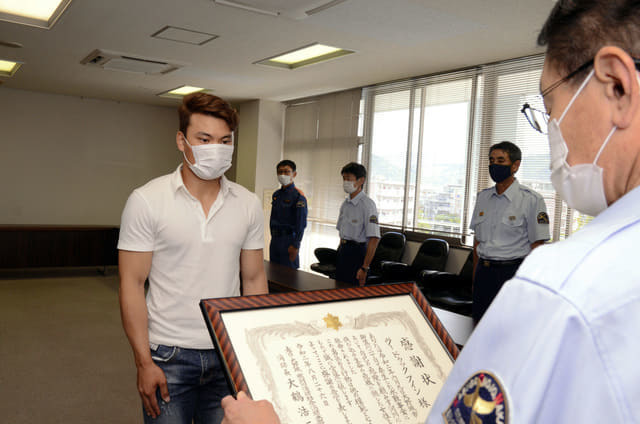 At that time, Japan was in the rainy season, with rising water levels and strong currents. Duc Huynh hastily threw his personal belongings to the roadside, rushed into the water, and brought the victim to the shore safely.
Huynh said with his experience in saving drowning people, he approached the victim from behind, trying to lift her head out of the water.
Then he took the woman's arm and pulled her to shore. The woman is now in good condition and has been discharged from the hospital.
The woman and her family's members met Huynh and gave him a gift. But he said he did not rescue the woman to get paid.
"What I thought at that moment was that I had to swim fast to approach her and rescue her to prevent the worst thing from happening," he recalled.
Huynh's parents, who live in Van Chan in Yen Bai province, shed tears of happiness when hearing about their son.
"I think everyone should equip himself with necessary life skills by playing sports or swimming, which are very useful in emergencies," Huynh said.
The young man said that his father tutored him in survival skills beginning when he was four years old.
One day, Huynh and his father were playing, and he missed his footing and fell into a pond. Though his father was there, he let the boy manage himself.
He tried to cling to the grass on the pond bank and pulled himself out of the water under the encouragement of his father. Within seconds, he got to shore safely.
Huynh works in Japan as a technical intern trainee. He is from a poor area in Van Chan district. His parents taught him cultivation and housework skills, and the value of labour.
"I have been asked how much I can get from rescuing the woman," Huynh said. "I feel sad because they compare the life of a person with money."
"I just feel happy to help," he said, adding that he also receives support from Japanese people. 
Le Huyen

In the Pu Mat National Park of the central province of Nghe An, there is a special task force that rescues wild animals trapped by hunters.

The Embassy of Vietnam in Japan is closely following the investigation into the murder of a Vietnamese technical intern and will carry out the necessary citizen protection measures to ensure his legitimate rights and interests.