Holding a bag of rice from a zero-dong supermarket brought home by his landlord, Luong Van Han could not hide his joy.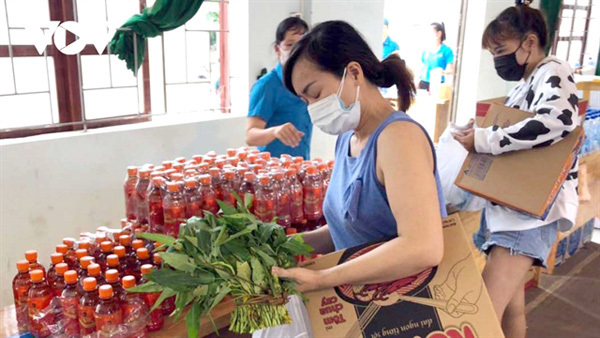 People can buy such items as rice, cooking oil, eggs, vegetables at a prize of zero dong at zero supermarkets in Bac Giang Province. — Photo Vov.vn
The 38-year-old lives in a locked-down area of ​​Noi Hoang Commune in Bac Giang Province's Yen Dung District.
Hailing from Viet Yen District, Han works for Luxshare-ICT Co.Ltd, located in Quang Chau Industrial Zone.
As the COVID-19 pandemic broke out in the industrial zone, he and many workers were unable to go out to buy daily essentials, so they asked the landlord to help with the shopping.
"Due to unpaid leave and limited savings, we have to be careful with our living expenses.
"Since having a zero-dong supermarket, I have received rice, instant noodles, eggs and vegetables three times, so my life has improved," he said, adding that 40 labourers in the neighbourhood benefited from the supermarket.
A similar situation has also reported at other industrial zones in the province.
Trieu Quang Dinh, a worker of Seojin Co. Ltd in Song Khe-Noi Hoang Industrial Zone, said over the past two weeks, he did nothing but use his phone to read news about the pandemic or chat with his family and friends.
Dinh is just one of more than 1,100 labourers of Song Khe-Noi Hoang Industrial Park facing difficulties due to COVID-19.
"As our company has suspended operations, we are struggling to make ends meet," he said.
Thanks to a group of workers in the industrial park they learnt that the Labour Confederation of Bac Giang Province opened the zero-dong supermarket in the pandemic-hit area.
"With the opening of zero-dong supermarket and support from the community, workers have more strength to combat the pandemic. We want to thank the confederation of labour and donors who have assisted us through this difficult time.
"We hope the pandemic will end soon so we can return to normal work," Dinh said.
Nguyen Van Nam, another worker, agreed:  "What workers are most afraid of is losing their jobs and having nothing to eat, especially in times of the pandemic.
"Fortunately, the trade union provides timely support. Each of us receives 5kg of rice, one box of instant noodles and other necessities such as salt, fish sauce, green vegetables, milk and canned food," he said. 
Leave no one behind
Than Van Dung, a landlord in Noi Hoang Commune, said the area was under lockdown so workers had to stay in their rented rooms.
He was excited to go to the zero-dong supermarket to receive assistance for the 27 workers who have rented rooms in his building.
"Most of them come from far away provinces and live in poverty so I feel pity for them," Dung said.
Pham Van Thinh, head of Bac Giang Province's Commission for Mass Mobilisation, said the province has decided to temporarily close a number of industrial zones to prevent the spread of COVID-19. It is estimated that about 67,000 workers have been put under lockdown in Viet Yen and Yen Dung districts.
To ease their hardship, the province has set up zero-dong supermarkets to supply people with essential goods such as rice, cooking oil, eggs, salt and sugar. 
People can choose five items at a price of zero dong. They are required to wear face masks and maintain a safe distance from each other while shopping.
The supermarket was introduced in Noi Hoang Commune and My Dien Village (Viet Yen District) on May 22.
Just two days after opening, the supermarkets provided 100 tonnes of rice and tonnes of instant noodles, vegetables and other things to workers in locked-down areas.
"Seeing the effectiveness of the programme, the province has expanded it to other localities so no one is left behind due to the pandemic," Thinh said.
Twenty-one zero-dong supermarkets have so far been established. The finance for the supermarkets comes from donations from organisations, individuals as well as provincial authorities.
Nguyen Van Bac, vice chairman of Bac Giang Province's Confederation of Labour, said the province has decided to provide assistance to workers with VND2 million (US$87) per infection cases and VND500,000 ($22) to F1 case and 5kg of rice to those in lockdown areas.
Bac Giang is the biggest hotspot in the fourth wave of COVID-19 in the country since April 27 with more than 1,700 community transmission cases recorded.
More than 196,300 workers are off from work due to the pandemic, Bac said.
He said in addition to the zero-dong supermarkets, the confederation also set up emergency relief teams to provide aid to workers in quarantined areas. 
VNS

Soon after the first infection cases in the province were discovered, Bac Giang province immediately decided to test all the workers in IZs, trace and isolate high-risk cases, and implement medical quarantine and social distancing in at-risk areas.