The People's Committee of Ha Giang launched the 100th festival of Khau Vai Love Market – a unique cultural practice of locals in Khau Vai commune in Meo Vac district – on April 29 evening.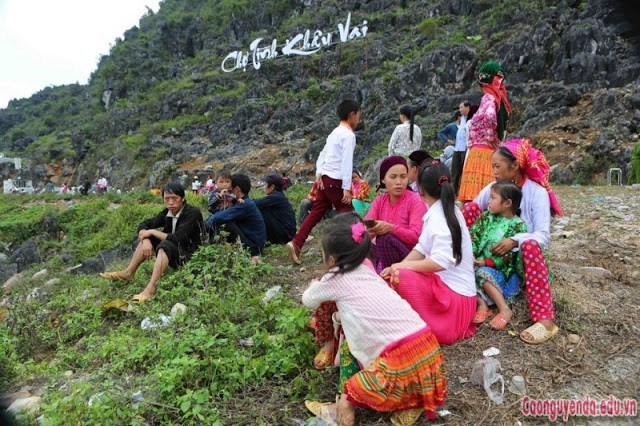 Khau Vai Love Market – one of the most unique markets in Vietnam (Source: caonguyenda.edu.vn)
Vice Chairman of the provincial People's Committee Tran Duc Quy said that the market has been held annually in Khau Vai on the 27th day of the third lunar month since 1919.
On the day, local ethnic women and men put on their best traditional costumes and go to the market where they are free to meet their former lovers in public.
Husbands and wives arrive at the market together and start looking for their past partners among the crowd. Spouses do not get angry or jealous because the meeting at the market is supposed to be a temporary moment and does not affect their daily lives or relationship.
According to folklore, a man and a woman were deeply in love but were forbidden to be together because they were from different ethnic groups. A conflict later took place between the two tribes, resulting in bloodshed for both. To stop the fierce fight, the couple decided to part ways with broken hearts. They, however, promised to meet once every year in the market in Khau Vai commune on the 27th of the third lunar month.
Going to the festival, which will end on May 1, visitors are offered a chance to enjoy art performances, participate in folk games, and watch rowing on Nho Que river and Ha Giang International Marathon Race.
On this occasion, a ceremony was organised to announce UNESCO's recognition of Dong Van Karst Plateau as a global geopark for the second time.
Dong Van plateau was recognised as a member of the Global Network of National Geoparks in 2010, becoming Vietnam's first geological park and the second in Southeast Asia.
Covering a total area of 2,356 km2, it is 80 percent limestone and contains the fossils of thousands of species of prehistoric creatures from 400-600 million years ago.
It is also home to over 250,000 people from 17 different ethnic groups, who boast unique cultures that have been fostered over the centuries.-VNA