Viet Nam may have experienced a tourism boom but one expert has warned the country needs a clear plan for the future.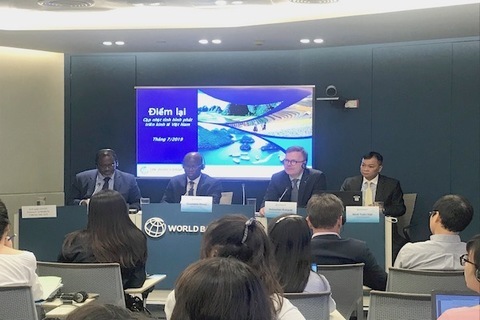 Brian Mtonya (first from left), Senior Economist at World Bank (WB) Viet Nam speaks during the launch of Taking Stock, WB's bi-annual economic report on Viet Nam, held on Monday in Ha Noi. — VNS Photo Linh Anh
While Viet Nam has seen a huge increase in visitors in recent years, a senior economist says unless the growth is not properly managed, it could have an adverse impact on the economy, the environment and peoples' lives.
Brian Mtonya, Senior Economist at World Bank (WB) Viet Nam was speaking during the launch of Taking Stock, WB's bi-annual economic report on Viet Nam, held on Monday in Ha Noi.
"The number of international tourism arrivals to Viet Nam has nearly quadrupled during this period, from 4.2 million in 2008 to 15.5 million in 2018," Mtonya said.
"Domestic tourism, which is significantly greater in volume, has also experienced a four-fold increase in the number of domestic traveller-trips, from 20.5 million in 2008 to 80 million in 2018, underpinned by Viet Nam's rapidly-growing middle class."
The rapid increase in international visitors to Viet Nam has brought a significant net inflow of foreign income into the country, he said.
He quoted the report saying revenues from international visitor spending have nearly doubled in absolute value from 2013 to 2017 and risen both as a share of Viet Nam's GDP and of total goods and services exports. Travel services represent Viet Nam's single largest export, accounting for 68 per cent of total services exports in 2017.
Beyond its aggregate benefits, tourism, due to its tendency to employ high shares of low-skilled, rural, and youth workers, has had high pass-through effects on poverty reduction and increased shared prosperity in Viet Nam. It also appears to have facilitated some redistribution of income from richer to poorer localities in Viet Nam.
However, the characteristics of Viet Nam's recent tourism development – rapid visitor growth, declining visitor yield, and rising overcrowding pressures – have revealed important challenges that will need to be addressed to ensure that future tourism growth is more sustainable, inclusive and geographically-balanced, the report said.
The lack of product and location diversification is placing strains on Viet Nam's most frequently visited destinations and elevating risks of overcrowding, especially in months when the seasonality of domestic and foreign travelers overlaps. Popular destinations include HCM City, Ha Noi, Da Nang, Khanh Hoa and Quang Ninh, the report said.
These patterns of tourism development threaten to negatively affect the quality of the visitor experience in many of destinations, contributing to low rates of repeat visits, it added.
The share of repeat international visitors to Viet Nam stood at around 32-40 per cent in 2017, which is low compared to key regional competitors such as Thailand, where around 60 to 70 per cent of international arrivals in 2016 were returning visitors, and Indonesia, which had 55 per cent repeat visitors in 2016.
The rapid increase and the expansion in accommodation supply has affected transport and services infrastructure. Over the past three years, the stock of rooms nationwide has grown nearly 7 percentage points faster, on average, than the preceding seven years (16.3 per cent compared to 9.6 per cent), and the year-on-year increase in 2017 (20.1 per cent) was the single largest in the last 15 years. Each new hotel room brings with it increased demands for electricity, water, waste management, and other basic services.
The report suggests certain measures to ensure the long-term sustainability of the sector. Key priorities include enhancing coordination of destination planning and product development, diversifying tourism products and visitor source markets, developing tourism workforce skills, strengthening local tourism value chain linkages, improving visitor flow management, boosting destination infrastructure capacity and quality, and protecting environmental and cultural assets.
Growth momentum
Viet Nam's growth momentum moderated since the beginning of this year, but outlook remains positive, according to Sebastian Eckardt, World Bank's Lead Economist for Viet Nam.
During the reported period, the service sector performed robustly, signaling sustained buoyancy in domestic demand and especially private consumption.
The public debt-to-GDP ratio declined from a peak of 63.7 percent in 2016 to an estimated 58.4 in 2018.
Recent slower growth reflected the repercussions of unfavorable external factors on key economic sectors, Sebastian said.
The outbreak of African swine fever and a decline in international prices dampened agricultural outputs while weaker external demand moderated growth of the export-oriented manufacturing sector, he said.
Despite these signs of a cyclical moderation in growth, Viet Nam's outlook remains positive. Real GDP growth for the whole year of 2019 is forecasted to decelerate to 6.6 per cent, driven by a weaker external demand and continued tightening of credit and fiscal policies. Inflation indexes are meant to be kept below the official inflation target of 4 per cent.
Risks have continued to intensify, reflecting heightened global uncertainty amid re-escalation of trade tensions and rising financial volatility, Sebastian said.
Those external risks are compounded by domestic vulnerabilities, including potential slippages in fiscal consolidation, Stated-Owned Enterprises and banking sector reforms could undermine investor sentiment and growth prospects, he said. — VNS

Vietnam was the fastest growing tourism market of Japan with rise of 125.9 percent in 2018, according to the Japanese Ministry of Land, Infrastructure, Transport and Tourism (MLIT)'s 2019 white paper on tourism.

As one of the top tourist attractions in northern Vietnam, Ha Long city is working to improve its service quality and protect the environment.