Con Dao Islands give visitors special feelings with its historic relics and breathtaking scenes. This time of the year is ideal for making a trip to the islands boasting beautiful blue sea and white sand.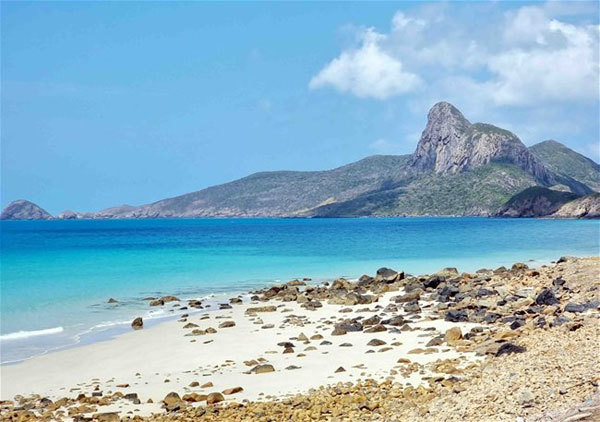 The crystal blue sea of Con Dao Islands.
Con Dao is 97 nautical miles off Vung Tau City and 120 nautical miles off the coast of HCM City. It is in fact an archipelago with 16 islets. Among them, Con Son is the largest, covering 51 square kilometers. Other smaller ones are Hon Bay Canh, Hon Cau, Hon Bong Lan, Hon Tai, to name but a few.
The islands feature mesmerizing beaches with crystal blue water and white sand. Islanders of Con Dao are hospitable, who can make tourists feel at home. The untapped beaches on the islands allow visitors to enjoy an action-packed day of sunbathing, swimming, and food tasting.
Tourists on a floating eatery enjoy seafood.
Adventurous travelers should make a trip to Mui Ca Map (Shark Cape) and Nhat Beach by motorbike to enjoy fine white sand beaches and azure ocean views. Furthermore, tourists can go fishing on Bong Lau Island, take a night trip to catch squids, go snorkeling or diving on Tre Island, or, if they are lucky enough, watch turtles laying eggs at night on Bay Canh Island. They can also explore Ong Dung and So Ray forests, which have abundant flora and fauna.
A poetic road on the island. – Photos: Le Dan Nam/SGT
Last but not least, Con Dao Museum is a must-visit destination to travelers interested in history, which exhibits photos showing the history and artifacts of the archipelago.
SGT

Travel magazines Lonely Planet (Australia) and Travel and Leisure (USA) have voted Con Dao off Ba Ria - Vung Tau Province to be the "most mysterious" and "sexiest" island on the planet.

When mentioning Con Dao island, people often remember Con Dao prison, once considered "Hell on Earth" during the war against the foreign invaders. 

Prestigious magazine Vogue Paris has named Con Dao island in Vung Tau province among the nine most beautiful secret islands which travelers should visit this winter.