One of Vietnam's oldest German restaurants is still as popular as ever. Located on Dong Khoi Street in District 1, it is rightly famed for its sausages, wide variety of beers, and German and Continental dishes. My Duyen reports. 
Vietnamese beer joins int'l beer festival in Berlin
German beer for free at Ba Na Hills Beer Festival 2016
Oktoberfest expects to cheer up beer lovers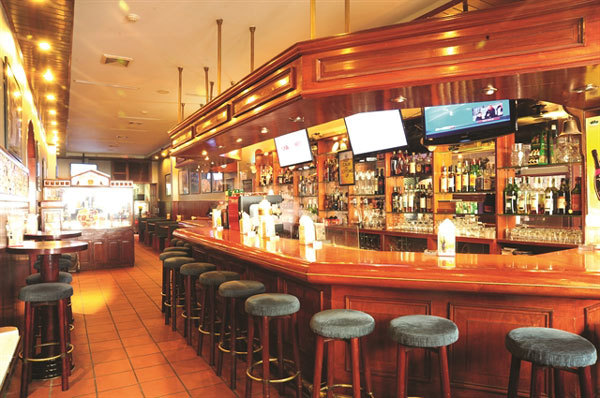 Gartenstadt has a long teakwood bar designed in the Bavarian style.

If you're a lover of traditional German food and beer, you don't need to wait to attend HCM City's version of Germany's famed annual Oktoberfest, the world's largest food and beer festival.
You can enjoy your favourites in the heart of downtown at one of the most authentic German restaurants in Vietnam, Gartenstadt German Bar & Restaurant.
"This is the one place in the city where I really love to drink my favourite beer and eat classic German dishes," said a regular visitor who preferred to be anonymous. "The atmosphere, food and service are all great. I'm always excited about visiting this great place."
Located on bustling Dong Khoi Street, the restaurant has been a popular spot for locals and expats for more than two decades. It is deservedly famous for its authentic cuisine and Bavarian atmosphere.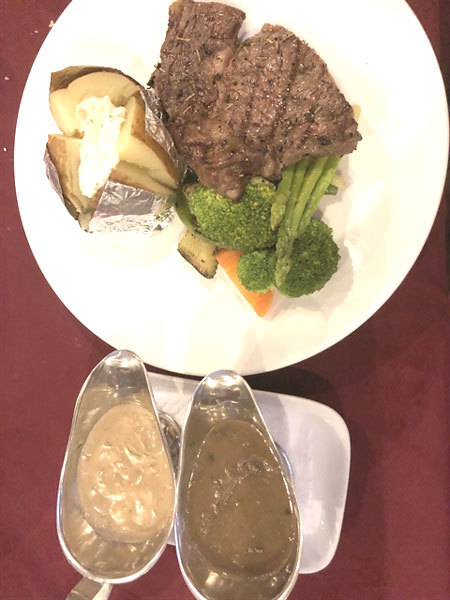 Grilled premium US beef is one of the favourite dishes served alongside choice side dishes.

Stepping into Gartenstadt, also known as Duc Bao Restaurant for locals, diners will immediately see the long teakwood bar designed in the Bavarian style, evoking the ambiance of a traditional German eatery.
The restaurant features spacious seating with private dining options on the second floor, including balcony seating overlooking scenic Dong Khoi Street.
Aside from German classics such as sausages, schnitzel and roast pork knuckle, Gartenstadt also offers the latest cuisine from Germany and flavours to match Vietnamese tastes. Featured dishes include German sausage, pork knuckle and sauerbraten.
The restaurant is also home to imported Schneider Weisse and Krombacher beer, as well as a large collection of choice schnapps.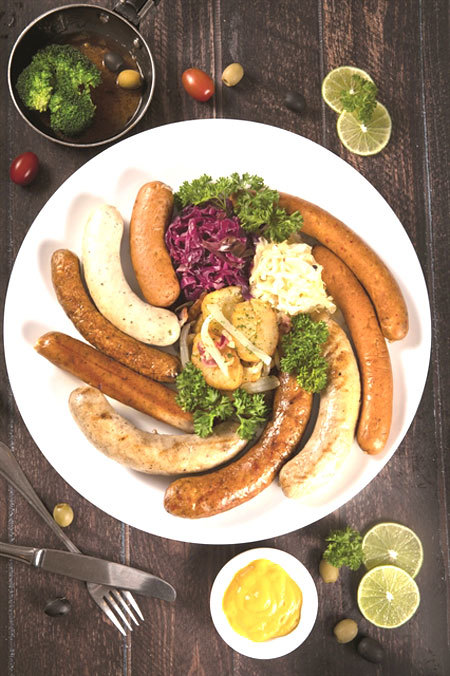 Sausage platters feature traditional German sausages with nine different flavours.
It was a little bit late and rainy when we arrived at the restaurant for a family dinner to reward my children for their school achievements. Since our party had three children, we decided to go upstairs where there was a non-smoking space and cosy ambience.
Duc Bao offers more than 40 food items including classic dishes designed for lunch and dinner featuring beef, pork, chicken or seafood.
At least nine different kinds of imported German sausages, created to match local tastes, are on offer with an extensive drink list from German beers to wines, cocktails and coffee.
The two adults in our party wanted to try classic recipes while my daughter asked for a cream of asparagus soup for VND100,000 and my son and my cousin shared a grilled US beef strip loin (VND510,000 for 220g).
My brother and I started our meal with German-style potato pancakes served with apple sauce (VND130,000). The appetizer was crispy and quite good but it seemed too small, so we asked for a sausage platter for VND760,000, including nine different German sausages and salads, to share with everyone.
Any meal at Gartenstadt would be incomplete without imported German beers, both bottled and draught, starting from VND88,000.
To add more fun to our meal, we ordered a Krombacher dark and a Krombacher draught for VND98,000 and VND.88,000, respectively.
The sausage extravaganza featured a wide range of flavours and textures: smoked, fried and crunchy, spicy and Frankfurter, with chicken, ostrich or lamb, and home-fried potatoes, red cabbage and sauerkraut.
Each had its own taste and stunning flavour, so it was hard to say which was the best. I preferred the smoked and the fried and crunchy. The fine beers and tasty sausages whetted our appetite, helping us to digest our high-calorie meal.
My brother loved the spicy chicken sausages complemented well by the red cabbage and sauerkraut.
The colour of the cream of asparagus soup reflected the freshness of the ingredients and its taste was exceptional.
"I love it. It's delightful," my daughter said.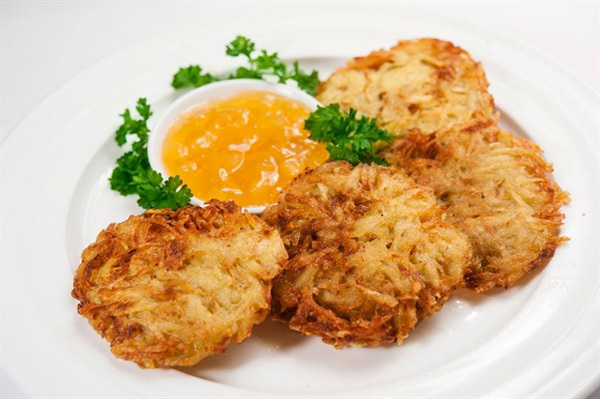 German potato pancakes served with apple sauce is a must-try. VNS Photos Minh Phi

Meanwhile, my son was enjoying his beef served with asparagus, baked potato, vegetables and herb sauce. "Irresistibly juicy," he said.
Aside from German classics like sausages and knuckles, Duc Bao is famous for its specialties including imported beef roasted in red wine with raisin sauce (VND310,000) and rabbit Pot de Provence served with mashed potatoes and vegetables (VND390,000).
For those loving German-style fried foods or snacks, fried dumplings and potato pancakes are must-tries at a price of VND130,000.
Still unsatisfied, my twins insisted that I try Swabian cheese noodles with caramelised onions and Gruyere cheese for VND210,000.
My daughter, a cheese lover, loved the noodles. "I'm not disappointed," she said.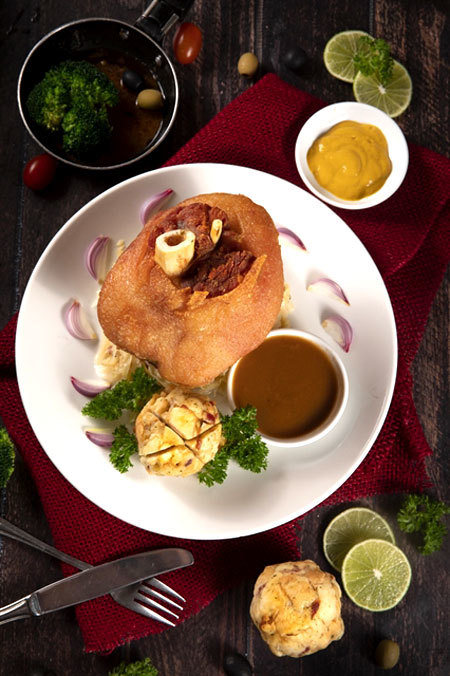 Pork knuckle, crispy crust served with German bread dumplings, sauerkraut and gravy sauce is a specialty at Gartenstadt.

After the sausage platter and beer, we adults were stuffed, but my twins and my cousin wanted dessert. Besides Vietnamese cakes, the menu also offered German and other European style sweets and cakes.
Instead of their typical request for ice cream, they chose the homemade creme brulee for VND60,000. They weren't disappointed with this, either, and said they wanted it again on our next visit to Gartenstadt.

Gartenstadt German Bar & Restaurant
34-36 Dong Khoi Street, District 1, HCMC
Tel: (028) 3822 3623
Hours: 10:30am – 12pm (Mon-Sun)
Comment: Original German restaurant on a busy downtown HCM City street. Classic German food and atmosphere with friendly service.
My Duyen
VNS