Airfares are now more affordable for people who want to travel. The coronavirus outbreak has hit the civil aviation industry hard, so air ticket prices have edged down.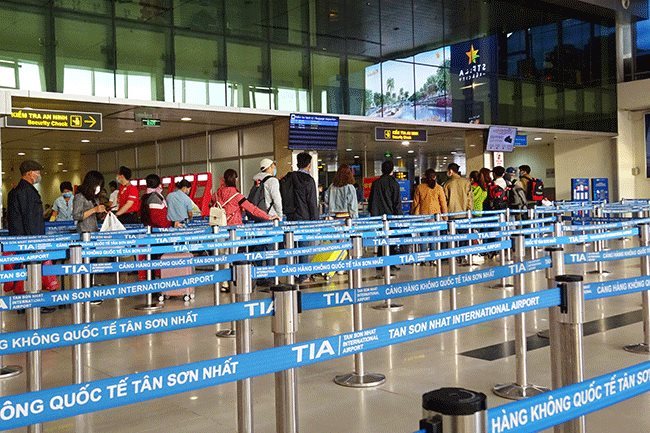 The check-in area at Tan Son Nhat International Airport is not as busy as usual as the coronavirus outbreak scares passengers away
For those who carry out travel plans after the virus is put under control, they are advised to make ticket bookings now to enjoy attractive prices.
The current scene at Tan Son Nhat International Airport is a far cry compared with the days before and during the New Lunar Year holiday. The airport is not as busy as usual. Most of the passengers there wear surgical masks to protect themselves from being infected with the virus, which emerged in the Chinese city of Wuhan in late 2019. A Jetstar Pacific flight attendant said that all flight attendants are required to don masks, too. For passengers, it's up to them.
This is a precautionary measure at a time when the coronavirus, which the World Health Organization (WHO) has named Covid-19, claims hundreds of lives and infecting thousands of others each day worldwide, the vast majority of them in China.
Tan Son Nhat is on the list of airports outside of China at high risk of being most affected by the coronavirus outbreak, according to research by Johns Hopkins University.
As the WHO declared the virus as a public health emergency of international concern, people are too scared to travel. Therefore, air tickets are now more affordable, and services such as accommodation and food are also being discounted to attract travelers.
Easy to find cheap air tickets
Emirates Airline, the largest five-star carrier of the Middle East, based in Dubai, launched a campaign called "Unprecedented Preferential Fares" on February 7 for those buying tickets and flying before the end of November. Two-way tickets for the HCMC-Paris route cost US$775 while the price of a return ticket to Washington is also the same but departures should take place before the end of February. Those wishing to fly to Dubai and back to Vietnam will just pay from US$353.
The four-star French airline, Air France, which has a codeshare arrangement with Vietnam Airlines, offers HCMC-Paris return tickets in March at about US$775 under its "Oh Lala Deals" campaign. But cancellations are not allowed.
Meanwhile, Royal Brunei Airlines, Brunei's four-star airline, is promoting services from HCMC to Asian and Australian cities, but passengers should depart before the end of July this year.
On the company's website, one can find a two-way ticket with February 15 departure to the Australian city of Melbourne at about US$547. But there will be a layover of over 19 hours in Bandar Seri Begawan.
Actually, Tran Giang San, general manager of Royal Brunei Airlines in Vietnam, said that if passengers fly to Melbourne, they will have two options. For the first option, passengers will have 50 minutes to transit Bandar Seri Begawan while the second option requires them to spend over 19 hours in Brunei before they can fly on to Melbourne. While in Brunei, they will be offered a hotel room and a sightseeing tour at no extra charge. This might be a great deal for many.
Meanwhile, Malaysia Airlines charges a two-way economy-class flight between HCMC and Melbourne at US$826 on the same day as the Royal Brunei Airlines service. But it may be upgraded to business class via bidding.
Room rates also down
By the time the pneumonia-like virus is brought under control, air ticket prices would unlikely bounce back immediately. China would not be a place which travel firms would recommend to their guests shortly after the crisis is over.
If one needs to travel now, they can find cheap tickets, even from four-star carriers. Despite the coronavirus outbreak, air carriers need to maintain operations and reduce losses. According to Thanh Nien newspaper, Vietnam Airlines could lose up to US$12 million in monthly revenue given the suspension of its services between Vietnam and China. If the carrier suspends its services to two Chinese territories – Hong Kong and Macau, its lost revenue would be far higher.
On the Vietnam Airlines website, HCMC-Hong Kong two-way tickets with departures between February 15 and the end of the month cost around US$210, about half the normal level.
Accommodation is also more affordable now. In Hong Kong, an expensive place to visit and stay, the Ibis's rate for February 15 is US$70 on Booking.com, while the normal price is over US$100. If you rent an entire apartment through Airbnb, the price would be about the same. 
For food, needless to say, it's cheaper than usual. In Hong Kong, before the coronavirus outbreak, a bowl of wonton noodles cost 60 or 70 Hong Kong dollars but the present price is down to 50 dollars.
Seventeen years ago, when the SARS epidemic killed 299 people in Hong Kong out of 775 people worldwide, Hong Kong's tourism industry was devastated. When the epidemic was over, they launched a large-scale promotion campaign in order to get travelers back. One of their measures was to keep service prices low. SGT
Ngoc Tran

Local carriers had incurred total losses of over VND10 trillion as of February 10, Tuoi Tre reported, citing the head of the Civil Aviation Authority of Vietnam (CAAV) Dinh Viet Thang.  

Vietnamese travel firms are focusing on seeking ways to attract domestic visitors amid the coronavirus spread.