Vietnam Airlines and budget airline Jetstar Pacific have announced plan to adjust schedules of their flights to and from Nha Trang, Phu Yen, Quy Nhon, Da Lat, Pleiku and Buon Ma Thuot on October 30 as storm Matmo is approaching.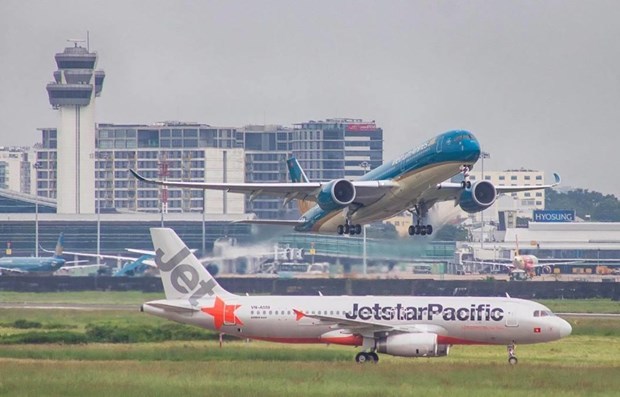 Vietnam Airlines and Jetstar Pacific have announced plan to adjust schedules of their flights  to and from airports in the south central region due to storm Matmo.
Vietnam Airlines said flights connecting Hanoi and Ho Chi Minh City with NhaTrang, namely VN1564, VN1565, VN1358 and VN1359, are canceled. Meanwhile,flights VN440 and VN441 between Nha Trang and the Republic of Korea's Seoulwill be delayed until October 31.
Bad weather also leads to the cancellation of flights VN1650 and VN1651 betweenHo Chi Minh City and Phu Yen, and flights VN1396, VN1397, VN1624 and VN1625between Hanoi/Ho Chi Minh City and Quy Nhon.
The airline plans to shelve flights between Ho Chi Minh City, Da Nang and DaLat, including VN1384, VN1385 and VN1955.
Several flights connecting Da Nang with Buon Ma Thuot (VN1914 and VN1915), HaNoi with Pleiku (VN1613), Pleiku with Ho Chi Minh City (1427), Hanoi and BuonMa Thuoc (VN1603), and Buon Ma Thuot with Ho Chi Minh City (VN1415) will takeoff from 45 minutes to 2 hours and 25 minutes earlier than the previousschedule.
In a bid to ensure safety for its passengers, Jetstar Pacific has cancelledflights BL434 and BL435 on Ho Chi Minh City – Phu Yen route.
As other domestic flights may be affected by the storm, Vietnam Airlines andJetstar Pacific recommended their passengers, who have plans to travel to andfrom airports in the south central region, to keep close watch on the weatherdevelopment, and update information from the carriers.
Passengers on the rescheduled flights will receive support from the carrier inline with current regulations.
For further information, Vietnam Airlines' passengers can visit the airline'swebsite www.vietnamairlines.com, its Facebook pagewww.facebook.com/VietnamAirlines, and call ticket offices nationwide orcustomer service 1900 1100 (within the country) or 84 24 38320 320 (in foreigncountries), while customers of Jetstar Pacific should visit the website www.jetstar.com/vn, Facebook page www.facebook.com/JetstarVN or callcustomer service 1900 1550./.VNA

Storm Matmo is forecasted to hit Quang Ngai and Ninh Thuan provinces on October 30 afternoon.