My trip to Hon Nghe started at Ba Hon Port in Kien Luong District, Kien Giang Province. Although the boat was small, it still had enough seats for everyone of us. We could sit comfortably to enjoy the seascape during the boat ride.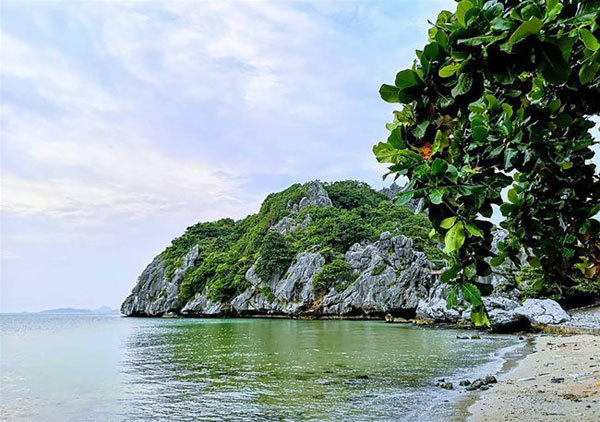 A small tranquil beach on Hon Nghe Island. – Photos: Le Dan Nam
On the way, I engaged in conversation with some passengers sitting close to me. Before my eyes, one island appeared after another amid the calm sea. Occasionally, I saw some birds flying in the sky and sea waves slapping.
After an hour of boat ride, we finally caught glimpse of Hon Nghe Island. The 3.8-square-kilometer island came closer and closer. Formed mostly by sandstone and karst, the peaceful and majestic island is surrounded by blue sea, mountains and forests. The beaches on the island are not big. At the time, the crystal clear blue seawater was covered by sparkling sun rays. We felt free as we could indulge ourselves in the blue sea, white clouds, the golden sun and the tranquil scenery.
Located in the Gulf of Thailand, Hon Nghe is almost spared from storms. The local weather is cool all year round. Therefore, travelers can visit the island at any time. However, spring is the most perfect time as the island fully exposes its beauty, especially at sunset.
A mountain trekking tour allowed us travelers to better explore the island. We next trekked the forest where we listened to birds singing and felt the cool fresh air in a restful space. We were able to find some singing stones which can produce a pure sound. The forests are also the habitat of yellow snails endemic to Hon Nghe. Continuing our way, we got past more rocks and crevices and finally reach the Buddhist Cave and the Bodhidharma Temple. Some caves lead to the top of mountains or beaches where explorers may be dazzled by the sunlight or as well immerse themselves in the sounds of sea waves breaking on the shore.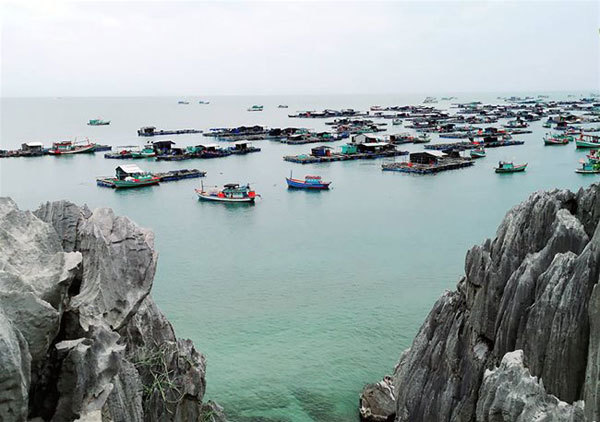 The ocean's surface is dotted with floating fish cages.
Some of us chose to remain on the top of mountain to watch the ocean's surface dotted with fish cages. The floating houses on the fish cages provide tourism with fresh seafood. 
Hon Nghe, in my mind, is one of the best destinations I have visited. 
SGT

Kien Giang, a coastal province at the southwestern pole of Vietnam, was endowed with many beautiful landscapes and tourist destinations such as Phu Quoc, Ha Tien and Kien Luong.

Vistiors to Hai Tac (Pirate) Island in Kien Giang Province can dive for sea urchins and eat them raw as local fishermen do.