China remains the largest source market for Vietnam's tourism, but the average spending of each Chinese tourist is only at the 8th place among Vietnam's top ten source markets to reach over VND19 million.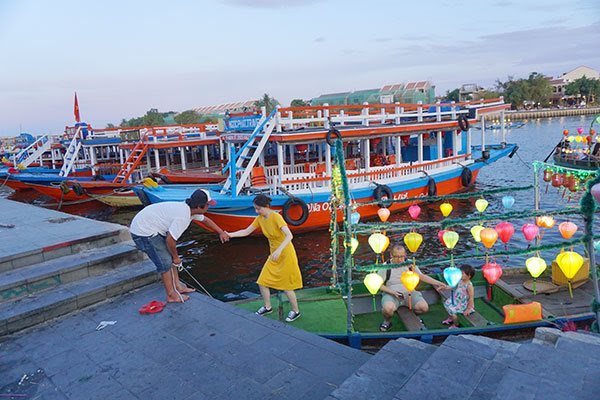 Tourists are seen at Hoi An Ancient Town. Average spending by each Chinese tourist only reached the 8th place among Vietnam's top ten source markets
The number of Chinese visitors to Vietnam totaled almost five million arrivals last year, which was 1.48 million arrivals higher than that of South Koreans, but the gap between their total spending in Vietnam remained quite small, at VND94 trillion and VND92 trillion, respectively, according to the Vietnam Tourism Annual Report 2018 released by the Vietnam National Administration of Tourism (VNAT).
The average spending of South Korean tourists was some VND26 million each, while that of each Chinese was a mere VND19 million, followed by tourists from Malaysia and Thailand, at some VND17 million and VND16 million, respectively.
Commenting on these two major markets of Vietnamese inbound tourism, VNAT said that China still remains Vietnam's main source of tourists, but its growth momentum has been slowing down. No effective measures had been available, to date, to encourage sustainable development from this neighboring market.
Meanwhile, Vietnam recorded a sharply rising number of South Korean visitors over the last couple of years, and there is still much room to exploit the potential of the South Korean market.
In addition, Vietnam saw the highest average spending from Australian tourists, at more than VND36 million each, followed by that of tourists from Russia and the U.S.
The report also shows that the local tourism sector gained over VND630 trillion in revenues last year, up 17% against the 2017 figure, with revenues contributed by international tourists accounting for some 60%.
Vietnam's top ten source tourism markets include China, South Korea, Japan, and Taiwan, which contributed over 70% to the country's total revenues from international tourists. Of this, revenues generated from the two largest markets, China and South Korea, made up over 48%. SGT
Dao Loan