Two local carriers, Bamboo Airways and Vietjet Air, have suspended operations on four air routes: Nha Trang-Thanh Hoa, Vinh-Pleiku, Vinh-Hanoi and Haiphong-Can Tho.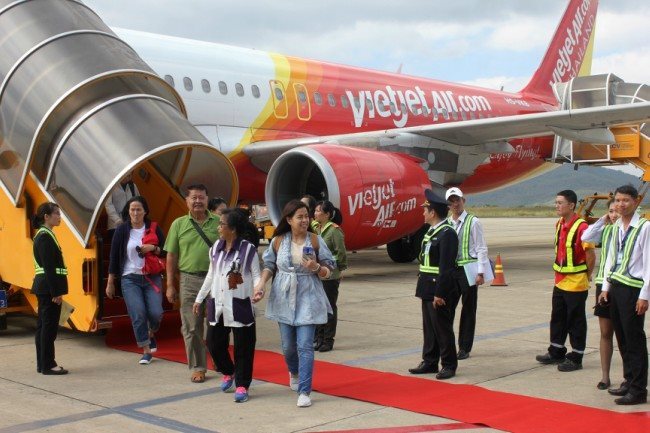 Passengers disembark from an aircraft operated by local low-cost carrier Vietjet. The private air carrier has suspended operations of the Nha Trang-Thanh Hoa and Vinh-Pleiku routes
Though the routes were launched only recently, the country's newest carrier, Bamboo, announced that operations on the Vinh-Hanoi and Haiphong-Can Tho routes would be suspended from June 1, Tuoi Tre newspaper reported.
Passengers who booked tickets for flights on the Vinh-Hanoi route will get a refund, Bamboo noted in an announcement.
For the Haiphong-Can Tho route, passengers holding tickets will be refunded in full or given the option to switch to flights on the Hanoi-Can Tho route. Bamboo will subsidize each passenger traveling between Haiphong and Hanoi by VND150,000 per leg.
Similarly, the two routes operated by low-cost airline Vietjet-Nha Trang-Thanh Hoa and Vinh-Pleiku- now face suspension as well.
The reasons for the suspension remain undisclosed.
According to a local carrier's representative, some carriers had to make up for losses on certain domestic routes due to the low number of passengers. SGT

Travelers now have more choices for flights as air carriers have opened new air routes and offered more flights to tourist sites with attractive sale promotion programs in the summer high season.

A national flag carrier Vietnam Airlines flight to Frankfurt, Germany, had to return to Noi Bai International Airport in Hanoi just 30 minutes after taking off because of a technical problem.

Vietnam Airlines has issued an apology to 200 passengers when a flight to Germany was delayed 33 minutes to wait for a passenger.