Tasty and delicious bánh rợm or bánh nếp (sticky rice dumpling) is a popular traditional cake made by locals in Vietnam's northern region.
Banh gio, softest rice dough dumpling
"Pau Po Cu" Corn Cake - A traditional cake in Lao Cai
Banh gai – Vietnamese multi-purpose cake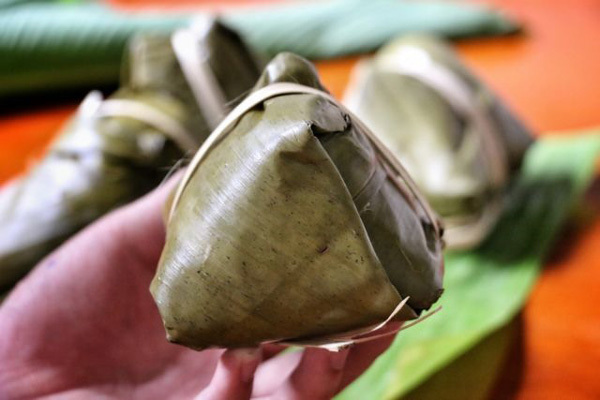 DIFFERENT SHAPES: Bánh rợm (sticky rice dumpling) a specialty of the Tay ethnic minority group.
It is said that the cake originated from the Tay ethnic group in the northern province of Cao Bang.
Nguyen Thi Hien, 50, said the name rợm came from the word for straw. After harvesting glutinous rice, straw was dried around the commune. The scent of the drying straw was carried by the wind to all corners of the locality. The cake shares this same fragrance, hence its name.

Hien recalled that more than 50 years ago, her parents resettled in Cao Bang, which is homeland of the Tay and other ethnic minority groups who have many traditional treats, including bánh rợm.
"To join the community, my mother also made the cake for big anniversaries such as rằm tháng bảy (middle of the seventh lunar month) or Tết (Lunar New Year Festival) to worship our ancestors and send to our relatives in Nam Dinh Province," she said.
Hien was the eldest daughter in her family so she was very busy helping make the cake by cutting banana leaves from her garden, drying them under the sun for a day before cleaning them for her mother to wrap the bánh rợm.
She said her Tay neighbours often went into the forest to cut banana leaves to wrap the cake because they said these kind of leaves help make the cake more fragrant and tasty.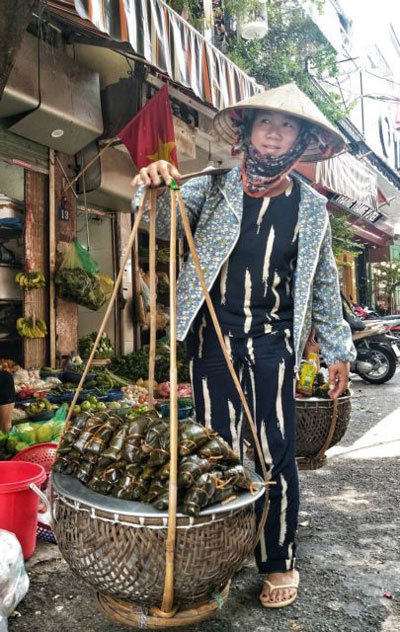 FOR SALE: The dumpling is now available in cities like Hanoi.
Her mother would go to the market to carefully choose khẩu pét (glutinous rice grown in Cao Bang) and green beans to make the sweet filling. Sometimes she used minced pork with dried onions, wood ears, peppers and fish sauce to make a salted version.
"To make the cake filling, my mother would buy thin green beans which are much more fragrant compared with others," Hien said.
"I had to cook and grind the beans so that the materials are ready for my mother to mix with sugar," she said.
"We can wrap the cake in any shape. My mother wraps the cake in a traditional way – in the form of a pyramid," Hiền said, adding that these cakes were put on the alter to worship ancestors and send to relatives in the lowlands as a specialty from the mountains.
The cake is so tasty that people in other northern provinces learned how to make it, becoming popular among street vendors in Hanoi and HCM City.
Truong Thi Huyen in Hanoi's Old Quarter sells a lot of traditional cakes such as bánh rợm, bánh dày (round sticky rice dumpling), bánh khoai (taro), bánh cốm (young sticky rice), bánh phu thê (wedding dumpling) and many others.
In Hanoi they call it quà quê (gifts of homeland).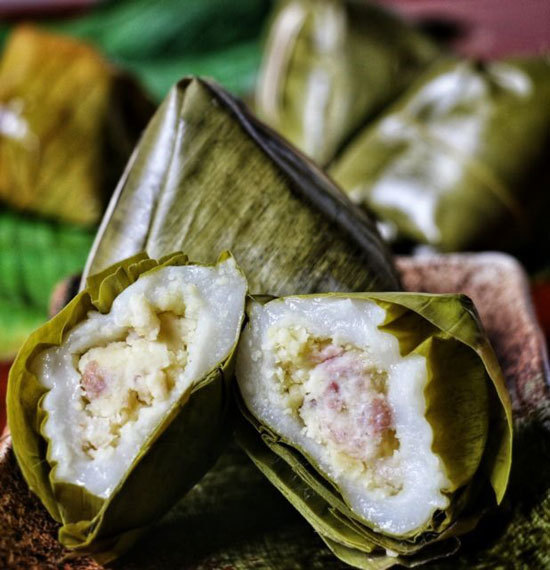 SWEET TREAT: Bánh rợm is a delicious reminder of childhood. — VNS Photos Doan Tung
Each cake represents a rural locality and has its own flavour although they use the same ingredients – sticky rice and green beans, Huyen said, adding that the cakes were made by her relatives in Hanoi, Cao Bang, Nam Dinh and Bắc Ninh provinces and delivered to her shop early in the morning, ready for her customers, including foreign tourists and travellers visiting the capital city.
Despite selling them in the bustling Old Quarter, which is full of modern and imported cakes from foreign countries, Huyen's quà quê still sells well from 7am to 10pm.
Pham Tuan Hai, 54, former judge on Viet Nam Master Chef, said he is a regular customer of Huyen's shop. "I like eating quà quê, particularly bánh rợm and bánh tẻ (rice dumpling) so much because it reminds me of my grandmother who often made it for us." VNS
Ha Nguyen & Ho Hoang