Hu tieu, a type of rice noodle served with seasoned, sautéed beef is a signature dish of Vietnam's southwestern region.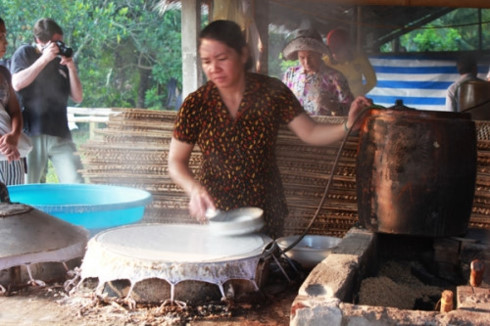 Local workers make the silky white, soft, fragrant, but chewy noodles. (Photo: baocantho)
Tran Van Cuu and Huynh Huu Nghiem are among those in Cai Rang district, Can Tho City to maintain the traditional craft of making Hu Tieu.
In addition to serving daily orders, their workshops welcome domestic and foreign visitors who want to know more about the production process.
A workshop in Cai Rang traditional craft village covers around 300 square meters and has a spacious yard with roof to dry the rice noodles. Local workers still make the silky white, soft, fragrant, but tough noodles manually.
Each household has its own technique in making the product stand out from the others. The rice used must be white to fit the saying about Can Tho City, also known as the Western Capital, "Can Tho, white rice, clear waters. Those who come never want to leave."
The rice is soaked for a long time, then ground smoothly, and finally stirred slowly into starch which will be thinly coated over molds. This step is difficult requiring a deft hand so that the cakes can be evenly thin. The cakes are treated well by steam.
Craftsman Tran Van Cuu introduces the traditional method of making Hu Tieu: "The soft hu tieu thread noodles don't need to be dried and are used within a day. The Hu Tieu cakes made of Tapioca flour should be dried before cutting into small threads. This type can be used for two weeks. Each day my family sells up to 700 kilos."
After coating, the Hu Tieu cakes with their smooth and shiny surface will be put on bamboo frames to air out for a couple of hours. Veteran workers can perform each stage precisely without having the need of a clock.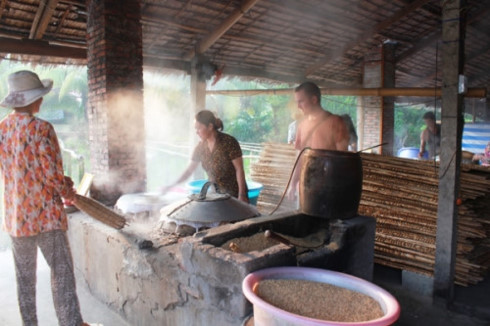 All steps of noddle making are conducted manually. (Photo: baocantho)
Huynh Huu Nghiem who has 45 years of experience said the craft is hard and depends much on weather, adding that impatient people can't follow it. Nghiem said the best Hu Tieu noodles should be made of Nung rice, a locally grown type of rice.
But currently Hu Tieu makers in Can Tho must go to the neighboring province of Dong Thap to buy other types of rice to replace Nung rice which has become scarce. 
Nghiem said to maintain the product's typical characteristics, the locals have used the La Giang tree, scientifically known as aganonerion polymorphum, a plant available in the forest.
"The first step is to choose the rice. Second is to mix the rice and wheat flour in the proper ratio. Let's say 70% of rice and 30% of wheat. I have to mix them again and again until I am satisfied with a so-called standard recipe which will be kept and practiced to make Hu Tieu noodles for a long time," said Nghiem.
Nghiem told VOV that although many workshops in the village have automated the noodle making process and used chemicals instead of natural ingredients, his family keeps the traditional methods and ingredients.
"The La Giang trees grow widely everywhere but few people know how to use them. Their extracts are mixed with the flour soaked in water to produce more limpid thread noodles," noted Nghiem.
Dao Hong Phuoc from the Can Tho Hu Tieu making village said machinery has been applied in several steps to increase productivity and double the income of workers.  
"We have invested in machines and automated equipment using the state's loans. As a result, four main workers of my workshop can produce up to one ton of noodles. We also employ part-time workers who are the locals or from neighboring areas, providing them with additional income for daily life. Old people and children take up appropriate tasks. I feel glad to see the locals work hard, have more money and see their living conditions improved," said Phuoc. vov