Phu Quoc Express JSC has announced the launch of the Can Tho-Con Dao express ship will be delayed, as it has yet to complete the relevant legal procedures, the representative of the firm said.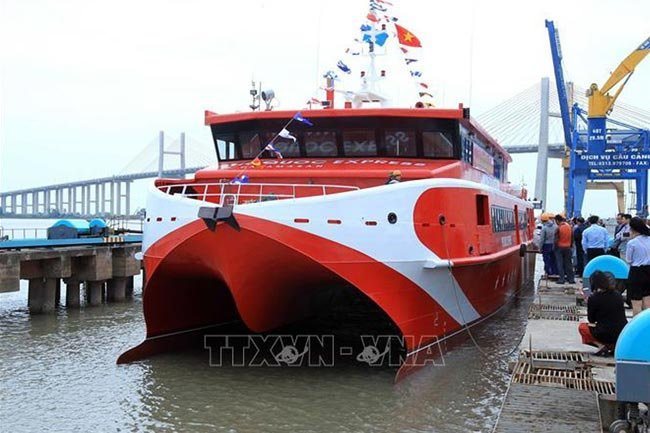 File photo of the double hull high-speed ship Con Dao Express 36. Phu Quoc Express JSC has announced the launch of the Can Tho-Con Dao express ship, called Trung Trac Express, will be delayed. The ship will the second-largest high-speed ship in Vietnam, after Con Dao Express 36
The firm had earlier said that the launch ceremony for the ship would take place on May 12 at Ninh Kieu Wharf and that the firm would begin selling tickets on May 13, Phap Luat Online newspaper reported. However, the launch of the ship was put on hold.
Nguyen Ngoc Thuy, director of the Port Authority of Inland Waterway Area 4, under the Vietnam Inland Waterway Administration, said that the authority had received the application from Phu Quoc Express but was waiting for higher authorities to make a decision.
The authority is facing a bottleneck as the Can Tho-Con Dao route is set to run from the coast to the island, Thuy said. However, in line with Circular 15 on inland waterway routes, the route between Ninh Kieu Wharf and Con Dao Island, off Ba Ria-Vung Tau Province, is not included on the list of approved routes.
As such, Phu Quoc Express has yet to be licensed to operate the ship.
Besides this, as the number of passengers visiting Con Dao Island is skyrocketing by 40% year-on-year, the Con Dao District authority has sent a notice to the Ba Ria-Vung Tau government and the provincial Department of Transport, reporting Ben Dam Port's capacity to handle passenger ships.
Accordingly, Con Dao District proposed the provincial government and the department temporarily suspend the arrivals of new passenger ships.
The Con Dao District authority explained in its proposal that Con Dao is currently operating only one port, Ben Dam Port, which is under repair and unable to receive new passenger ships.
Three berths at the port accommodate cargo vessels, passenger ships, fishing boats and other specialized ships, acting as both a seaport and an inland waterway port.
The Con Dao authority pointed out that the arrival of two Superdong speedboats and Con Dao Express 36, with a total of 900 passengers on board, as well as oil and cargo vessels has been overloading Ben Dam Port.
Apart from the forecast undersupply of water and power services due to rising demand for ship arrivals, Ben Dam Port is facing high risks of pollution from wastewater and daily waste discharged by passengers.
Trung Trac Express is said to be the second-largest high-speed ship in Vietnam, after Con Dao Express 36. The ship was designed to accommodate 600 passengers. It takes 3.5 hours to travel from Can Tho to Con Dao. Ticket prices are expected to range from VND660,000 to VND1.2 million per passenger. SGT